UPSIDC AE Syllabus 2020 PDF along with Assistant Architect, Accounts Officer, etc Posts are available at www.onlineupsidc.com with which the contender needs to list out the Subjects that come in the Exam and have to start learning the UPSIDC Assistant Engineer Syllabus in the process of achieving the best score. Also, Follow the UPSIDC AE Exam Pattern to know the Question Paper structure that makes the Exam Preparation easier.
UPSIDC AE Syllabus 2020 | UPSIDC Assistant Engineer Exam Pattern
UPSIDC Board already informs the UPSIDC AE Exam Pattern 2020 within the Recruitment Notification itself informing the Subjects and Marks that are given with Total Time Duration. Then based on those UPSIDC Assistant Engineer Syllabus PDF also be prepared and given by Jobschat.in of which candidate must use them and get keep continuing the preparation as the Officials have given proper time for the exam. It is suitable for those who already on the learning of the particular UPSIDC AE Syllabus because they already Covered the Subjects. But, those who are preparing for the first time may not cover all the Topics, unless if they planned maximum hours in a day for gaining the knowledge related to www.onlineupsidc.com Assistant Engineer Syllabus 2020.
Also, Check: UPSIDC AE Admit Card 2020
Overview Of UPSIDC AE Syllabus 2020
| | |
| --- | --- |
| Name Of The Organisation | Uttar Pradesh State Industrial Development Corporation/ Authority (UPSIDC) |
| Name Of The Posts | Assistant Engineer, Law Officer, Assistant Architect, Accounts Officer, Company Secretary Posts |
|  Number Of Posts | 62 Posts |
| Category | Syllabus |
| Starting Date To Apply | 03.12.2019 |
| Last Date To Apply | 01.01.2020 |
| Final Date To Submit Fee in Challan Mode | 03.01.2020 |
| Official Site | www.onlineupsidc.com |
UPSIDC Assistant Engineer Exam Pattern 2020
Sl.No
Subject Names
Number Of Questions
Number Of Marks
Time Duration
1
Subject Related Field
150
150
3 Hours
2
General Knowledge/ Awareness
20
20
3
Reasoning
20
20
4
General Hindi
10
10
From UPSIDC Board, as per the UPSIDC AE Exam Pattern 2020, the Exam will be conducted in Objective Mode attaining the Questions from Four Subjects as listed for a total of 200 Marks by giving 200 Questions for a total of 3 hours of time. A total of 0.25 Negative marking also be there for every wrong answer. So, try to validate the questions in the exam with the knowledge acquired through UPSIDC Accounts Officer Syllabus 2020.
UPSIDC Syllabus – Topic Wise
Civil Engineering
Strength of Materials.
Project Management and Estimating.
Building Materials and Construction Practices.
Environmental Engineering and Pollution Control.
Hydraulics and Water Resources Engineering.
Engineering Survey.
Geotechnical Engineering.
Urban and Transportation Engineering.
Structural Analysis.
Design of Reinforced Concrete, Prestressed Concrete and Steel Structures.
Electrical Engineering
Electrical Machines.
Measurements and Instrumentation.
Electrical Circuits.
Electric and Magnetic Fields.
Renewable Energy Sources and Storage Devices.
Power Systems.
Control Systems.
Digital Processing and Communication.
Analog and Digital Electronics.
Power Electronics and Drives.
Design Engineering
Topics Related to Desing Aspects
General Knowledge/ Awareness
National Dance
Music & Literature
Political Science
World organizations
Countries and Capitals
Famous Places in India
Books and Authors
Indian Culture
Important Dates
About India and it's neighboring countries
Science and innovations
New inventions
Economic problems in India
Geography of India
National and International current affairs
Scientific observations
Reasoning
Arithmetical Reasoning
Mathematical Operations
Venn diagrams
Number Series
Figural Pattern
Cubes and Dice
Analogies
Non-Verbal Series
Coding-Decoding
Logical Venn Diagrams
Directions
Number, Ranking & Time Sequence
Number Ranking
Figurative Classification
Classification
Blood Relations
Arrangements
General Hindi
Antonyms
Active and Passive Voice
Substitution
Sentence Improvement
Synonyms
Spelling Test
Fill in the blanks
Spotting Errors
Para Completion
Joining Sentences
Error Correction
Substitution
Passage Completion
Idioms and Phrases
Sentence
Completion
Error Correction
Transformation
Prepositions
Sentence Arrangement
UPSIDC Assistant Engineer Syllabus Download @ www.onlineupsidc.com
By preparing this UP State Industrial Development Corporation Syllabus of AE, Law Officer, anybody can grab the maximum knowledge that is enough for anyone to easily pass the exam. But, proper base work is necessary for an applicant if they want to attain the score. So, plan according to the Subjects available in the UPSIDC AE Syllabus 2020 at www.onlineupsidc.com. All the Subjects' knowledge needs to be gained by the contender, otherwise, they may not be able to clear the exam. Because of individual section score is also taken into validation for the Contender selection. So, at this point in time, only the required thing is to do proper preparation from the Basic Knowledge onwards of the UPSIDC Syllabus Of Assistant Engineer.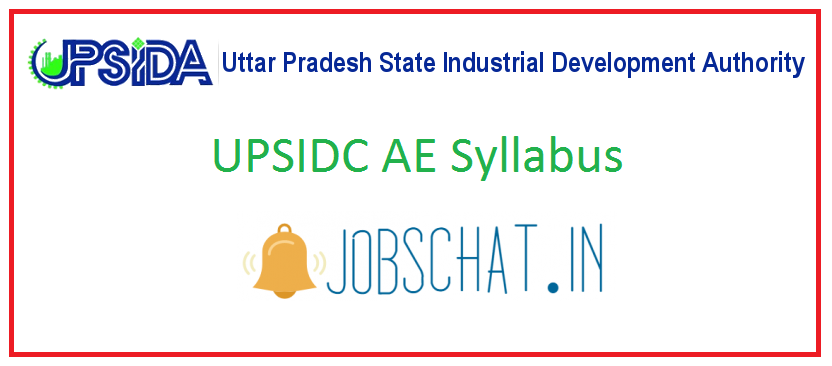 UPSIDC AE Exam Pattern
Mostly, contenders browse for UPSIDC Accounts Officer Exam Pattern 2020 for the exam preparation to get a proper idea about the Subjects that contain maximum marks. Then first those Subject Syllabus will be completed and go for solving remaining topics. Those who do not refer to the UPSIDC Assistant Engineer Exam Pattern are unable to maintain enough score for getting qualified. That's why although the Topics are difficult or heavy Topics are there simply those must be learned by everyone sincerely and if necessary solve the UPSIDC AE Previous Papers and get the knowledge of old questions even which make contender easier in noticing the answers in the coming exam.
Also, Check: UPSIDC AE Previous Papers
Useful Links
UPSIDC Assistant Engineer Syllabus 2020: Download
As the UPSIDC AE Syllabus 2020 PDF is given free of cost, download it and use it maximum and revise the entire topics in order to make get ideas of solving the questions. Don't waste the available practice time for the Preparation and try to attempt the mock exams after covering the www.onlineupsidc.com Assistant Engineer Syllabus 2020.