AGRICET Notification 2019 is released by the Acharya N.G Ranga Agriculture University on 06.06.2019 for providing the Diploma Completed ones to Four years B.Sc. (Hons) Agriculture Degree programme. So, the Interested ones who want to Go for B.Sc (Hons) must view the Agriculture CET 2019 Notification once and after getting the details have to submit the AGRICET Application Form in Online at angrau.ac.in from 06th to 30th June 2019 and with a late fee until 05.07.2019 and to the Applicants of Agriculture CET Exam 2019 the ANGRAU Board will held exam on 21.07.2019 by releasing the Admit Card on 14th July 2019.
AGRICET Notification 2019
Agriculture Common Entrance Test Notification 2019 is given by the Acharya N.G Ranga Agriculture University. Students who want to pursue B.Sc. (Hons) in Agriculture across Colleges in Andhra Pradesh by having the Diploma qualification in Agriculture/ Seed Technology/ Organic Farming have to apply for AGRICET Notification 2019. Because those who get best marks in this Entrance Exam, they will get admission into Top Agricultural College in AP State. That's why just go with the AGRICET Notification 2019 which was released on 06.06.2019 and scrutinize each and every detail given for the Applicants about the eligibility, necessary qualifications, Submission of AGRICET Online Application Form etc.
Overview Of AGRICET Notification 2019
Name Of The University
Acharya N.G Ranga Agriculture University (ANGRAU)
Name Of The Exam
Agriculture Common Entrance Test (AGRICET – 2019)
Offered Course
 B.Sc. (Hons) Agriculture Seats (supernumerary)
Category
Entrance Examination
Starting Date To Apply
06th June 2019
Ending Date To Apply

30th June 2019 (Without Late Fee)
05th July 2019 (With Late Fee)

Admit Card Date
14th July 2019
Exam Date
21st July 2019 (10.30 AM to 12.00 PM)
Course Location
Andhra Pradesh
 Official Website
angrau.ac.in
Eligibility Criteria
Educational Qualifications
Candidates should have passed two year Diploma in Agriculture/ Seed Technology/ Organic Farming from ANGRAU/ PJTSAU and Final Year ones who are going to complete their Diploma in 2018-19 also apply by submitted a Completion Certificate from the concerned Head of the Institute as per the AGRICET Notification 2019.
Age Limits
As on 31.12.2019, the Applicants must have a Minimum Age Limits of 17 Years and Maximum Age Of 22 Years For General Candidates and 25 Years for SC, ST Conteders and 27 Years for PH Candidates. Those who don't have this Age are not allowed to Send their AGRICET 2019 Application Form.
Application Fee
Those who are applying for Agriculture Common Entrance Test Notification 2019, must pay the fee as follows.
General Candidates: Rs.500/-
SC, ST, PH Candidates: Rs.250/-
Those who submit the AGRICET 2019 Online Application lately should pay late fee of Rs.1000/- along with Application Fee
Admission Process
ANGRAU Board will Provides the Admission for the students based on
Written Test
Document Verification through Counselling Process
Available Seats For AGRICET Counselling

Steps To Apply For AGRICET Notification 2019:
Initially, the Applicant must Open the ANGRAU Website @ angrau.ac.in
Then Go for Admissions/Examinations/Results Section.
On the Admission List, Choose AGRICET 2019 Notification And Online Application.
Check the Details and Then open AGRICET Application Form and Fill the details and attach the documents.
Pay the Fee and Submit the Agriculture CET Application Form in Online and keep a copy of it for reference sake.
Agriculture Common Entrance Test Application Form
Students who are ready to Register themselves for the AGRICET 2019 Notification, will opens AGRICET 2019 Application Form in order to get a clarity of what the documents to be uploaded and format of Applying. As the AGRICET Application will be accepted during 06th to 30th June 2019, the applicants very fastly by gathering the information must Open the Agriculture Common Entrance Test Application Form, and have to fill the form carefully without committing any mistakes. There is also chance for the applicants for doing modification if they commit any mistake. And stay tuned to Jobschat.in to get the updates about the Examination dates.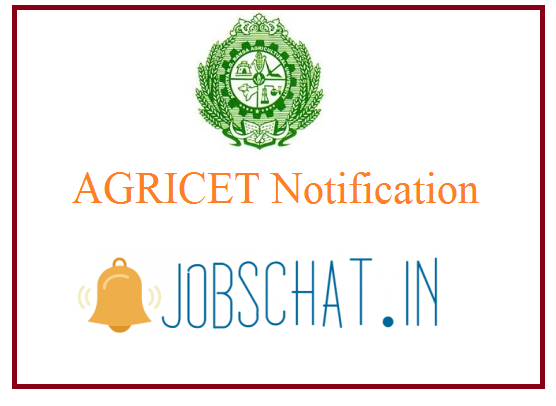 ANGRAU AGRICET Advertisement
Students who are looking for the best College Admission For B.Sc (Hons) in Agriculture must Apply for AGRICET Notification 2019 and prepare well for the exam with ANGRAU Previous Papers beause As the AGRICET Exam is scheduled on 21.07.2019, ANGRAU will provide the admission for the Students based on their AGRICET Exam Marks and Category they belongs to. Respective Counselling Dates after the Examination also be scheduled by ANGRAU Board. If you are late chance for applying to the AGRICET Notification 2019 may delay. That's why be fast to get complete the registration by using the AGRICET Online Application given below.
Useful Dates And Links
Online Application Submission Date: 06.06.2019
Final Date of Submitting Online Forms: 30.06.2019 (Without Late Fee) and 05.07.2019 (With Late Fee)
Hall Ticket Date: 14.07.2019
AGRICET Exam Date: 21.07.2019
Official AGRICET Notification 2019
AGRICET 2019 Information Brouchure
Online AGRICET Application Form 2019
Official Website: angrau.ac.in
In addition with the AGRICET Official Notification 2019, information broucher, Application Form and Steps to Register is given in an understandable manner for the Diploma Completed ones. So, they simply follow those information and enrol their names for the ANGRAU AGRICET Exam Notification 2019 in specified format on scheduled dates.