AP LAWCET Syllabus 2020 along with AP PGLCET Syllabus 2020 offered by APSCHE board with SKU, Anantapur at sche.ap.gov.in/LAWCET/ and requested all the students who enrolled for the AP LAWCET Notification must use the Andhra Pradesh LAWCET Syllabus 2020 to identify the Subjects, as well as the marks to be offered for every subject, must be done and after that simply cover the topics involved in it. And follow the AP LAWCET Exam Pattern 2020 to get topic wise marks and time allotment because they need to work as per the Test Pattern only because of the time factor that will make inform the candidates to get ready for the exam and to complete the exam within the time given.
AP LAWCET Syllabus 2020 | AP LAWCET Exam Pattern
Students who are waiting for the AP PGLCET Syllabus and Exam Pattern 2020 can gather them from sche.ap.gov.in/LAWCET/ and simply make an idea about the time and difficulty level of the Subject and then start learning them because the aspirant need to evaluate the time and start their preparation, otherwise, the student may get leave some of the Subjects in the AP LAWCET Syllabus 2020 due to lack of time and may not score up to the mark. That's why if they check the Andhra Pradesh LAWCET 2020 Syllabus immediately after a registration process, there is a scope for them to cover maximum topics along with revision and may answer the questions easily. In the process also verify AP LAWCET Exam Pattern 2020 and AP PGLCET Exam Pattern 2020 and go on the concentration of subjects if any missed in normal groundwork.
Also, Check: AP LAWCET Notification 2020
AP LAWCET Syllabus 2020 Details
Organization Name
Andhra Pradesh State Council of Higher Education (APSCHE)
Name Of The Exam
Andhra Pradesh LAW & PGLAW Common Entrance Test 2020
Exam Conducted By
Sri Krishnadeveraya University, Anantapur, Andhra Pradesh
Admission Location
Andhra Pradesh
Category
Entrance Exams Syllabus
Notification Date
10.03.2020
 Starting Date Of Application
11.03.2020
Ending Date of Application
10.04.2020
Ending Date To Pay Fee with Last Dates

with Rs.500/- 19.04.2020
with Rs.1,000/- 28.04.2020
With Rs.2,000/- 30.04.2020

Application Correction Dates
20th and 21st April 2020
Hall Ticket Date
03.05.2020
Test Date
08.05.2020
Official Site
sche.ap.gov.in/LAWCET/
AP PGLCET Exam Pattern 2020
Part
Section
No. of Questions
Maximum Marks
Time Duration
Part A
Jurisprudence 20
Constitutional Law 20
40
40
90 Minutes
Part B
Public International Law 16
Mercantile Law 16
Labour Law 16
Crimes and Torts 16
IPR & Other Laws 16
80
80
"
Total
3 sections
120 Questions
120 Marks
AP LAWCET Exam Pattern 2020
| Part | Section | No. of Questions | Maximum Marks | Time Duration |
| --- | --- | --- | --- | --- |
| Part A | General Knowledge & Mental Ability | 30 | 30 | 90 Minutes |
| Part B | Current Affairs | 30 | 30 | " |
| Part C | Aptitude for the Study of Law | 60 | 60 | " |
| Total | 3 sections | 120 Questions | 120 Marks | |
AP LAWCET and PGLCET Exam Pattern 2020 are different and are informed here, so, that all the aspirants make use of those Patterns to qualify the exam. And there is no negative marking in the exam. Just follow it and complete the exam.
AP PGLCET Syllabus Download @ sche.ap.gov.in/LAWCET/
Through the portal sche.ap.gov.in/LAWCET, all students can find AP PGLCET Syllabus 2020 along with Test Pattern of which both of them combined used to make continue the groundwork in a successful manner. Because knowing AP PGLCET Syllabus 2020 will not make qualify the exam if they have an idea of the marks that are asked from subjects available and if they make continue the groundwork according to it all will get top marks in the exam. That too after the completion of Syllabus if aspirants do solve the questions of AP LAWCET Previous Papers then they will easily understand their mistakes and have the chance to get reduce them by practicing them again and again.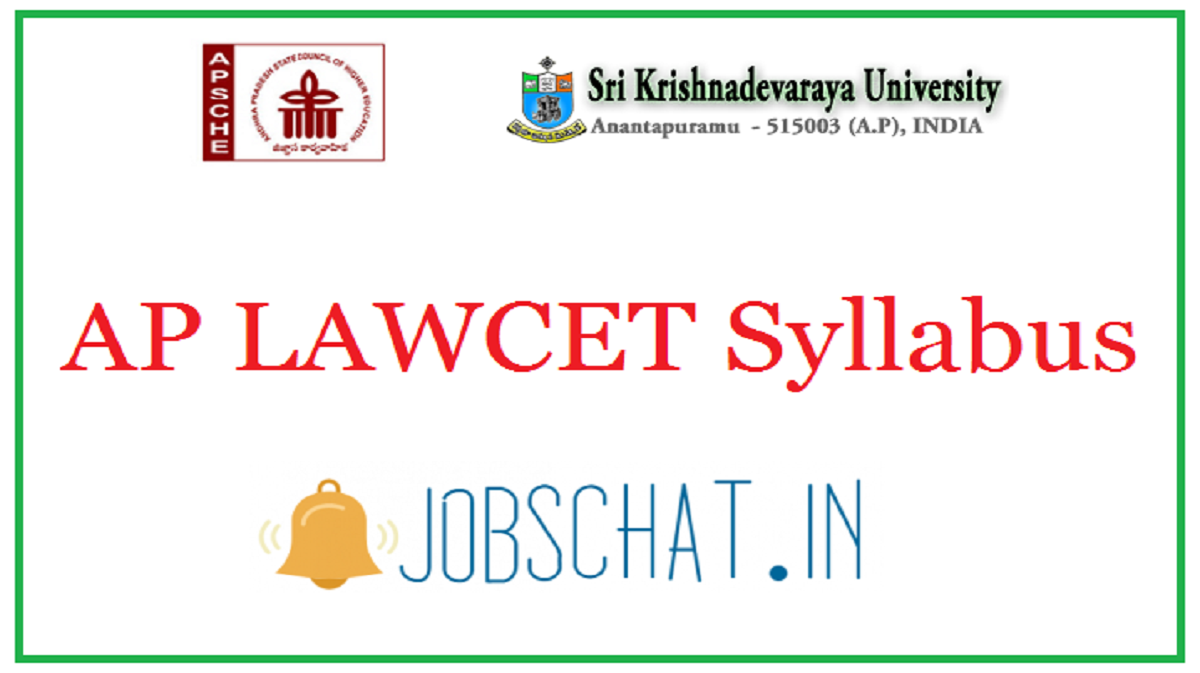 Also, Check: AP LAWCET Answer Key 2020 
AP LAWCET Exam Pattern 2020
AP LAWCET, PGLCET Exam Pattern 2020 is made available and requesting all the Students who are with an aim to achieve top marks. Definitely, using the tricks i.e covering and revising more marks subjects in the exam, the aspirant can get more marks but whereas in the low covering subject marks they can give less time but to be completed as every subject marks individually and whole are essential in deciding student rank as it decides whether the student gets a seat in the topmost college or not. As the AP LAWCET Exam Pattern differs from the AP PGLCET Exam Pattern is different, according to that prepares for the exams.
Also, Check: AP LAWCET Previous Papers
Download Links
Andhra Pradesh LAWCET & PGLAWCET Syllabus 2020: Download
AP LAW Common Entrance Test Syllabus 2020 learning is mandatory for an applicant to qualify for the exam. But, they require to maintain a time schedule to complete these entire topics because of those who give less time for the groundwork definitely may disqualify the examination.
Frequently Asked Questions
What are the Qualifying Marks in AP LAWCET and AP PGLCET Exam?
In AP LAWCET Exam, Qualifying marks is 35% (i.e. 42 marks out of total 120 marks) and for the AP PGLCET Exam, Qualifying marks is 25% (i.e. 30 marks out of total 120 marks) and There will be no minimum qualifying marks for S.Cs & S.Ts for ranking.
What is the Time offered for the students to complete the AP LAWCET Exam?
Only 90 minutes will be provided for everyone to complete the AP LAWCET Examination.