For the downloading purpose, the CSPHCL DEO Syllabus 2018 is waiting on their official site of @ www.cspc.co.in. Aspirants whoa re going to appear the written test those ones should download the CSPHCL Data Entry Operator Syllabus in this page for improving your knowledge. This provided syllabus and CSPHCL DEO Exam Pattern is essential in the prep[artion purpose.
Our site members also provide the Chhattisgarh PHCL Data Entry Operator Syllabus PDF on this page. If the syllabus was issued in the prescribed format, you can easily download it. So, follow this page and should download in an easy way. The syllabus downloading links are published at the end of the page. Read this article completely and know the importance of the syllabus.
CSPHCL DEO Syllabus 2018
The Chhattisgarh State Power Holding Company Limited (CSPHCL) releases the CSPHCL Data Entry Operator Syllabus officially fro the applied candidates downloading purpose. After the finishing of the registration process, the candidate's thoughts are moved on to the syllabus. Because every applicant wishes to give the best performance in the written test and get the job opportunity. For the sake of we, can provides the CSPHCL DEO Syllabus in the order of the CSPHCL board. So without delay should catch it and follow it in the preparation time.
Also, Check: CSPHCL DEO Recruitment 2018 || Apply 670 Chhattisgarh SPHCL Data Entry Operator Posts @ www.cspc.co.in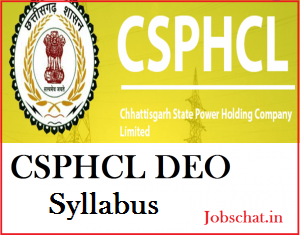 CSPHCL Data Entry Operator Syllabus
If you have the thought to crack the exam, definitely download the Chhattisgarh PHCL Data Entry Operator Syllabus. Already most of the applied ones getting the syllabus and starts the preparation also by using the saving study material. Aspirants who are following this syllabus, they knew the importance of the CSPHCL DEO Syllabus @ www.cspc.co.in. Before the starting of the preparation, the candidates have a minimum idea about the exam included syllabus and exam pattern. For the awareness purpose, most of them refer the syllabus in before the starting of the preparation. You can also catch Previous Papers on this page.
Chhattisgarh PHCL DEO Syllabus 2018 Details
| | |
| --- | --- |
| Organization Name | Chhattisgarh State Power Holding Company Limited (CSPHCL) |
| Job Name | Data Entry Operator |
| Number of Vacancies | 670 Posts |
| Job Location | Chhattisgarh |
| Job category | Syllabus |
|  Starting date of Application | 6th Oct 2018 |
| Ending Date of Application | 5th Nov 2018 |
| Selection Process | Written Exam, Skill Test and Interview |
| Official Site | www.cspc.co.in |
CSPHCL Data Entry Operator Exam Pattern 2018

(In Hindi)
CSPHCL Data Entry Operator Exam Pattern 2018

(In English)
S.No
Subject Names 
Questions
Marks 
Duration
Negative Marking 
1
General Knowledge
50
200 Marks
2 Hours
1/4 Negative Marking for each wrong answer
2
Computer Knowledge
30
3
Mental Ability
30
4
General Aptitude
30
5
English
40
6
Hindi
20
CSPHCL DEO Skill Test Exam Pattern 2018
Subject Wise CSPHCL DEO Syllabus 2018
 General Knowledge
Geography of India
About India and it's neighboring countries
History of India
Famous Places in India
World organizations
International issues
Indian Culture
New inventions
Scientific observations
National and international current affairs
National news (current)
Economic issues in India
Countries and Capitals
Science and innovations
Political Science
 Computer Knowledge
Algorithms
Operating System
Digital Logic
Computer Networks
Theory of Computation
Web Technologies
Computer Organization and Architecture
Data Bases
Compiler Design
Information Systems and Software Engineering
Programming and Data Structures
 English
One word substitution
Theme detection
Synonyms
Comprehension
Choosing the correct/incorrect sentence
General English
Active and Passive voice
Rearrangement of a sentence in paragraph
Double Synonyms
Spotting errors
Sentence completion
Direct and Indirect Speech
Spelling test
Choosing the appropriate filler
Usage of Grammar
Reconstruction of sentences
Antonyms
Vocabulary test
Common errors
Homonyms
Transformation
Idioms and phrases
 Mental Ability
Number, Ranking and Time Sequence Test.
Analogy.
Mathematical Operations.
Direction sense test.
Sitting Arrangements.
Alphabet test.
Inserting Missing Characters.
Coding-Decoding.
Arthematic Reasoning.
Classification.
Logical Venn Diagrams.
Eligibility Test.
Blood Relations.
Series.
 General Aptitude
Time and Distance
Problems on Numbers
Mixtures and Allegations
Pipes and Cisterns
Areas
Problems on Trains
Races and Games
Probability
Odd Man Out
Ratio and Proportion
Averages
Simple Interest
Numbers and Ages
Boats and Streams
Simple Equations
Time and Work Partnership
Problems on L.C.M and H.C.F
Indices and Surds
Permutations and Combinations
Quadratic Equations
Mensuration
Compound Interest
Percentages
Simplification and Approximation
Volumes Profit and Loss
Hindi
Correct use of words
fill in the blanks (using verbs, preposition, articles etc.)
Phrases and idioms
Plural Forms
Grammar
Vocabulary
Synonyms
Antonyms
Sentence completion
Error recognition.
Sentence structure
Ability to write language correctly, precisely and effectively.
CSPHCL Data Entry Operator Exam Pattern
The board of Chhattisgarh State Power Holding Company Limited (CSPHCL) wants to conduct the written test and skill test in the process of the selection. For these tests purpose the CSPHCL DEO Exam Patterns are provided in this page. In the exam pattern, all exam related information was presented like no.of.ques, no.of.marks included subjects and time period etc. This written test will be conducted for 200 Marks within 2 hours time duration. In which subjects are included in the exam pattern, all those subjects CSPHCL Data Entry Operator Syllabus also issued in this page on subject wise.
@ cspc.co.in DEO Syllabus PDF
Some Candidates can't follow the CSPHCL DEO Syllabus in the preparation time and the prepare blindly. Postulates, that is the wrong thing. AT present the competition was heavy. In this competition, without preparation, you can't do anything and at the same time does not give the worthy performance. Already you can waste your time without following the test pattern and syllabus. Whenever should follow the @ cspc.co.in Data Entry Operator Syllabus in our web page of @ www.jobschat.in 
Useful Links To Catch The CSPHCL DEO Syllabus 2018
CSPHCL DEO Syllabus 2018 (HINDI PDF)