HPCL HRRL Syllabus 2020 For Engineer, Finance, IT, HR, Legal streams is given and based on the HRRL Engineer Syllabus an applicant need to learn and qualify the exam. Due to the reason that HRRL Syllabus 2020 decides what topics to come in the exam, So, if the contenders come to know and get full topic knowledge of the HPCL Rajasthan Refinery Limited Syllabus 2020, then applicant can easily qualify the exam well. In the preparation itself, all must know the HRRL Exam Pattern even that makes know applicant about subject wise marks.
HRRL Syllabus 2020 | HRRL Engineer Exam Pattern
HPCL Rajasthan Refinery Limited Engineer Syllabus 2020 can be utilized by the applicant if they want to qualify the exam in an easier manner. Because of the questions to be asked in the Written test is as per the HRRL Exam Syllabus 2020. So, if the exam appearing ones get a clear knowledge on these given topics definitely there is a probability of getting selected for remaining rounds. For that, reason the primary duty of the contender is to continuously learn the Total Topics involved in the HPCL HRRL Syllabus of Engineer. As the officials also give normal time for answering the entire questions aspirants must be in a position to answer the questions in a tremendous manner. A proper plan also are there if the applicant wants to cover all the topics if there is very less time to cover entire topics.
Also, Check: HRRL Recruitment 2020
HRRL Syllabus 2020 Brief Details
| | |
| --- | --- |
| Name Of The Department | HPCL Rajasthan Refinery Limited (HRRL) |
| Name Of The Posts | Engineer, HR, Legal, Finance, Fire and Safety, Information System Officers |
| Number Of Posts | 72 Posts |
| Advertisement Date | 18.03.2020 |
| Initial Date Of Registration | 20.03.2020 |
| Final Date Of Registration | 24.03.2020 |
| Category | Syllabus |
| Official Website | www.hrrl.in |
HRRL Exam Pattern 2020
Sl.No
Subject Names
Part I
General Aptitude (Intellectual Potential test, testing Logical Reasoning & Data interpretation, Quantitative Aptitude test,
test of English Language)
Part II
(Technical/ Professional Knowledge comprising of questions related to
Qualifying degree / Educational background/work experience required for the position applied for)
Minimum Qualifying Marks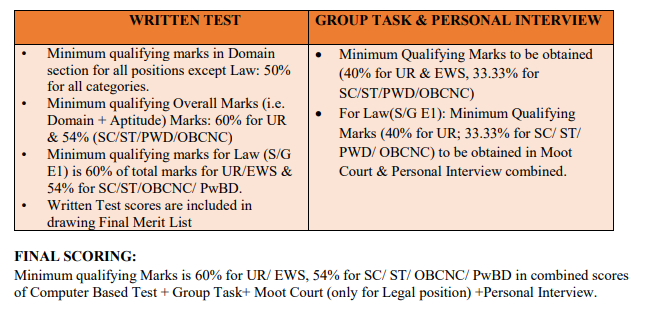 As per the HRRL Test Pattern 2020, Written Test contains Paper I and II i.e Normal Topic and Technical Topics of which the contender need to achieve the above-given qualifying marks if they want to get promoted for the next rounds.
HRRL Syllabus 2020 – Topic Wise
Data Interpretation
Bar Graph
Line Chart
Tabular Form
Caselet Form
Radar/Web
Pie Chart
Missing Data Interpretation
Reasoning
Analogy
Series Completion
Verification of truth of the Statement
Situation Reaction Test
Direction Sense Test
Classification
Data Sufficiency
Alpha-Numeric Sequence Puzzle
Puzzle Test
Blood Relations
Coding-Decoding
Assertion and Reasoning
Arithmetical Reasoning
Operations of Mathematics
Venn Diagrams
Word Sequence
Missing Characters
Sequential Output training
Directions
Test on Alphabets
Eligibility Test
Dot Situation
Identical figure groupings
Forming figures and analysis
Construction of Squares and Triangles
Series
Analytical Reasoning
Paper Folding
Paper Cutting
Cubes and Dice
Water Images
Mirror Images
Figure Matrix
Completion Incomplete Pattern
Spotting embedded figures
Classification
Rules Detection
Quantitative Aptitude
Time and Work Partnership
Ratio and Proportion
Boats and Streams
Simple Interest
Time and Distance
Problems on Trains
Areas
Races and Games
Numbers and Ages
Mixtures and Allegations
Mensuration
Permutations and Combinations
Problems on L.C.M and H.C.F
Pipes and Cisterns
Percentages
Simple Equations
Problems on Numbers
Averages
Indices and Surds
Compound Interest
Volumes
Odd Man Out
Quadratic Equations
Probability
Profit and Loss
Simplification and Approximation
English Language
Idioms and Phrases
Sentence Improvement
Synonyms
Sentence Arrangement
Substitution
Prepositions
Antonyms
Fill in the blanks
Passage Completion
Spotting Errors
Substitution
Sentence
Active and Passive Voice
Completion
Spelling Test
Error Correction (Underlined Part)
Transformation
Para Completion
Joining Sentences
Error Correction (Phrase in Bold)
Technical Topics
Mechanical Engineering
Engineering Mechanics
Engineering Materials
Mechanisms and Machines
Fluid Mechanics
IC Engines, Refrigeration and Air conditioning
Turbo Machinery
Thermodynamics and Heat transfer
Power Plant Engineering
Renewable Sources of Energy
Design of Machine Elements
Manufacturing
Industrial and Maintenance Engineering
Mechatronics and Robotics
Electrical Engineering
Analog and Digital Electronics
Systems and Signal Processing
Control Systems
Electrical Machines
Electrical and Electronic Measurements
Engineering Mathematics
Electric Circuits and Fields
Computer Fundamentals
Basic Electronics Engineering
Electrical Materials
Power Systems
Power Electronics and Drives
Civil Engineering
The flow of Fluids, Hydraulic Machines and Hydro Power
Fluid Mechanics, Open Channel Flow, Pipe Flow
Hydraulic Machines and Hydropower
Hydrology and Water Resources Engineering
Environmental Engineering
Water Supply Engineering
Building Materials
Structural Analysis
Design of Steel Structures
Design of Concrete and Masonry structures
Construction Practice
Planning and Management
Waste Water Engineering
Solid Mechanics
Solid Waste Management
Air, Noise pollution, and Ecology
Geotechnical Engineering and Foundation Engineering
Surveying and Geology
Transportation Engineering
Highways
Tunneling
Railways Systems
Harbours
Airports
Instrumentation Engineering 
Digital Electronic Circuits
Electrical Measurements
Electronics Instruments
Analog Electronics
Analytical, Optical & Bio-Medical Instrumentation
Instrumentation
Signals & Systems
Control Systems
Electronics Circuits
Fundamentals
Microprocessors and Micro Computers
Chemical Engineering 
Atoms and Molecules.
Reaction Dynamics.
Electrochemistry.
Stereochemistry.
Spectroscopic Techniques.
Organic Reactions.
Photochemistry.
Transition Metal Chemistry.
HRRL Engineer Syllabus 2020
Using the HRRL Engineer Syllabus 2020 make the applicant stronger on what they possess the knowledge. Because contenders who already in preparation of competitive exams will have a normal idea of the Subjects and based on the exam they preparing will do more concentration. Likewise, by checking the Subjects given on HRRL Engineer Syllabus 2020, everyone must go on learning and make use that knowledge in answering the questions. That too questions may be given either in easier or difficult mode. So, all must have a proper base plan on all Topics of the HPCL Rajasthan Refinery Limited Syllabus of Engineer if they want to qualify the exam. If not, most of the applicants will not get qualifying marks even.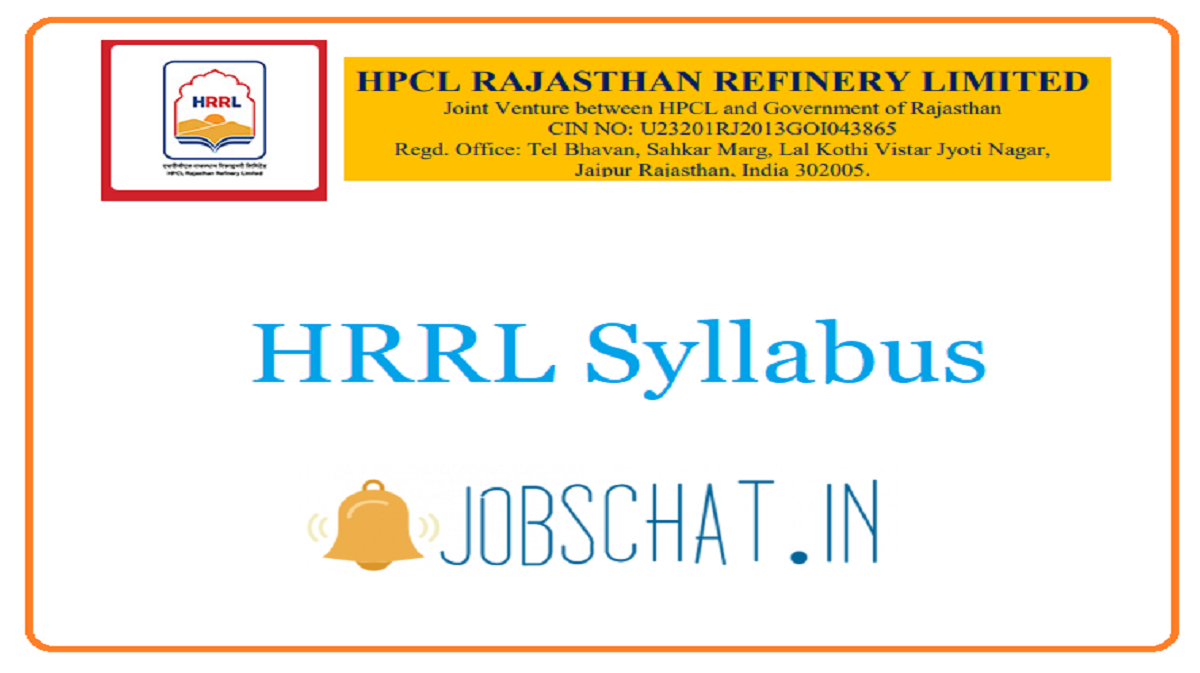 HPCL Rajasthan Refinery Limited Exam Pattern 2020
As multiple contenders appear for the Written test, competition automatically increases. So, without any time waste Downlod HPCL HRRL Syllabus 2020 from www.hrrl.in after completing application submission. Then the applicant cover maximum topics, otherwise, it leads to confine the applicant's preparation to only some topics that may directly confirm the reduction of the applicant's score. So, in order to not get that situation, all have to cover all the complete HRRL Exam Syllabus 2020 must. And do follow the HRR: Exam Pattern which contains question paper pattern. Based on this all will possess an idea that how many questions from the particular subjects with concerned marks in the exam. Then it will be easy for making themselves stronger in all the subjects where they are weak and can answer every question with full confidence of the HPCL Rajasthan Refinery Limited Engineer Syllabus 2020.
Also, Check: HRRL Previous Papers
Useful Links
HRRL Engineer Syllabus 2020: Download
But, those who don't priority to any of the topic involved in the HRRL Engineer Exam Syllabus 2020, definitely they might lose the marks in the exam because question paper is framed with a mutiple subjects questions. So, if they not having an idea of particular subject get it from revising the subject topics that are listed here.
Frequently Asked Questions
Where can I Get HRRL Syllabus 2020?
From Jobschat.in a Direct HPCL HRRL Engineer Syllabus PDF Link can be available with which candidate must use them for preparation.
Is there any qualifying marks in the HRRL Engineer Exam?
Yes, a Minimum qualifying Marks is 60% for UR/ EWS, 54% for SC/ ST/ OBCNC/ PwBD in combined scores of CBT, Group Task, Moot Court (only for Legal position), Personal Interview.