HSSC Lab Attendant Syllabus 2021 is uploaded by the Haryana Staff Selection Commission at the official website www.hssc.gov.in. Utilize the Haryana Laboratory Attendant Syllabus 2021 and try to answer maximum questions in the HSSC Exam correctly. HSSC gave the HSSC Lab Attendant Exam Pattern 2021. So, candidates after understanding the Exam Pattern finish the Total Topics of the HSSC Laboratory Attendant Syllabus 2021. Competitors also must practice Previous Papers in preparation to strengthen the subjects.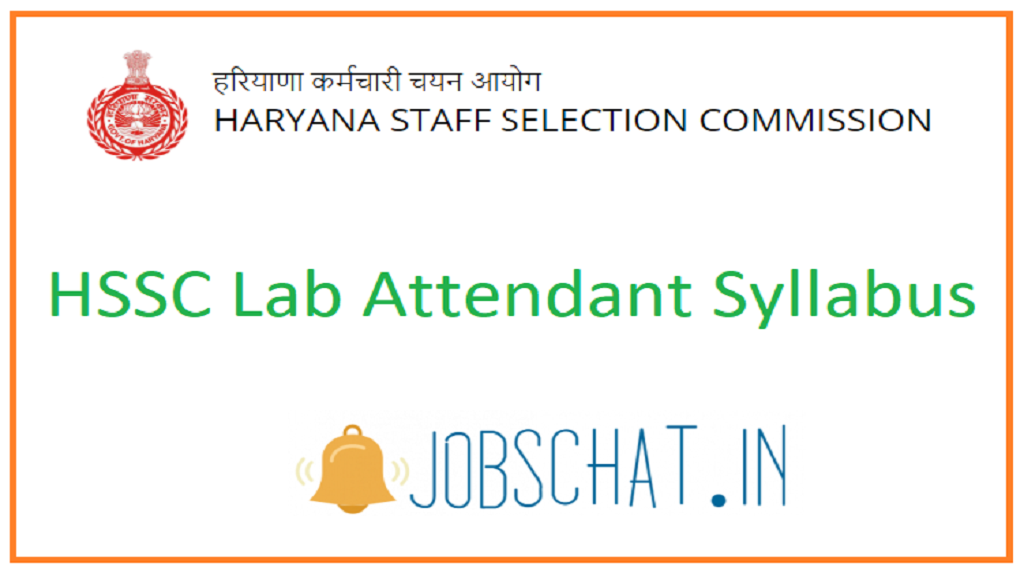 Details Of HSSC Lab Attendant Syllabus 2021
| | |
| --- | --- |
| Name Of The Organisation | Haryana Staff Selection Commission |
| Post Name |  Lab Attendant Posts |
| Total Vacancies | 28 Posts |
| Category | Syllabus |
| Selection Method | Written Test |
| Official Website | www.hssc.gov.in |
HSSC Laboratory Attendant Syllabus 2021
Are you searching for the Haryana Lab Attendant Syllabus 2021? If yes, kindly refer to this page to Download HSSC Lab Attendant Syllabus 2021. So, first, know the Subjects involved in the Written Test by referring to HSSC Laboratory Attendant Syllabus 2021. After that, do the preparation by referring to the HSSC Lab Attendant Exam Pattern 2021. Contenders must learn every subject of the HSSC Lab Attendant Syllabus 2021 to get the Maximum Score in the written test. All must complete the Syllabus along with revision. Then the possibility of remembering the Topics is more for the candidates.
Contenders who follow Haryana Lab Attendant Syllabus 2021 surely get qualifying marks in the exam. Next to Syllabus, use the HSSC Lab Attendant Question Paper to test how better they perform in the Test. And according to that performance, the Applicant does revise the Syllabus.
Useful Links
HSSC Lab Attendant Exam Pattern 2021
Sections
Parts
Subjects
Total Questions
Total Marks
Time Duration
Section I
Part I
General Awareness, Reasoning, Maths, Science, Computer, Hindi, English and Concerned Subjects (75% Weightage)
90
90
1 Hour 30 Minutes
Part II
History, Current Affairs, Literature, Geography, Civics, Culture, etc of Haryana (25% Weightage)
Section II
Socio-Economic Criteria & Experience
10
Total
100 Marks
HSSC Lab Attendant Exam Pattern 2021 is mentioned at www.hssc.gov.in. Aspirants by refering that knows Written Test contains 90 Multiple Choice Questions and each question contain 1 Mark. The Written Test time duration is 90 minutes. In Section II questions related to Socio-Economic Criteria & Experience are asked and the maximum marks for that topic is 10 Marks. By completing the Topics mentioned in the above Haryana Lab Attendant Exam Pattern do complete the Preparation.
Haryana Laboratory Attendant Syllabus – Topic Wise
General English
Error Correction
Articles
Synonyms
Vocabulary
Sentence Completion
Fill in the Blanks
Grammar
Unseen Passages
Adverb
Theme detection
Passage Completion
Sentence Rearrangement
Antonyms
Idioms & Phrases
Subject-Verb Agreement
Tenses
Word Formation
Verbs
Comprehension
Environment
Environmental Studies
Our Culture and Civilization
Matter and Energy
Public places and Institutions
Living Beings
Personal Hygiene
Family
Discussion
Experimentation/Practical Work
Profession
Transport and Communication
The significance of Integrated & Environment Studies
Approaches to presenting concepts
Comprehensive and Continuous Evaluation
Clothes and Habitats
Teaching material/Aids
Problems of Teaching
Concept &scope of Environment Studies
Environmental Studies and Environmental Education Learning Principles
Scope and Relation to Science & Social Science
Activities
General Science
Scientific Methodology Concepts, Principles, and Techniques
Physics
Chemistry
Life sciences (Biology)
The earth/space sciences, technologies, etc
General Awareness
Indian Economy
Constitution
International Organizations
Indian and World History
Other Miscellaneous GK
Current Affairs
Indian and World Geography
Indian Polity
Physical Geography
Everyday Science
Awards and Honors
General Hindi
समोच्चरित भिन्नार्थक शब्द पर आधारित प्रश्न
वाक्यांश के लिए एक शब्द पर आधारित प्रश्न
शब्द निर्माण
वाक्य – अशुद्धि संशोधन पर आधारित प्रश्न
विलोम शब्द पर आधारित प्रश्न
पर्यायवाची शब्द पर आधारित प्रश्न
मुहावरे/लोकोक्तियाँ पर आधारित प्रश्न
अनेकार्थी शब्द पर आधारित प्रश्न
भाव पल्लवन/ भाव विस्तार पर आधारित प्रश्न
वाक्य परिवर्तन पर आधारित प्रश्न
General Mathematics
Average
Percentages
Problems on Ages
Time and Distance
Ratio and Proportion
Time and Work
Mixture and Allegation
Boats and Streams
Simple & Compound Interest
Discounts
Number Systems
Pipes and Cisterns
H.C.F. and L.C.M
Profit and Loss
Data Interpretation
Computer Knowledge 
MS Word.
Computer Software.
MS Power-Point
Internet Usage
MS Excel.
Computer Hardware.
Operating System.
Aptitude
Partnership
Simple interest
Compound interest
Mixtures
LCM and HCF
Simplifications
Data interpretation
Reasoning Topics
Number series
Numbers
Averages
Age-related problems
Ratio
Time and Work
Boats and Streams
Percentages
Profit and Loss
Analogy
Syllogism
Sitting arrangement
Sequential output tracing
Direction sense test
Arithmetical operations
Logical Venn diagram
Classifications
Blood relations
Coding-decoding
Puzzle test
Inserting the missing characters
Data Sufficiency
Eligibility test
Inequalities
Assertion and reason
Situation reaction test
Verification of truth of the statement
Machine input
Decision making
Numbers, ranking & time sequence test
Alphabet test
Alpha-numerical sequence puzzle
Mathematical operations
Logical sequence test
Reasoning
Arithmetic Number Series
Arithmetical Reasoning
Similarities and Differences
Figures Classification
Spatial Visualization
Visual Memory
Discrimination
Relationship concepts
Spatial Orientation
Non-verbal series
Analogies
Observation
Coding and Decoding etc
Important Links
Download HSSC Lab Attendant Syllabus 2021 – Check Now