Indian Coast Guard Navik Syllabus 2020 is the reference for the Written Exam. This ICG Navik Domestic Branch Syllabus 2020 is shared by the officials at www.indiancoastguard.gov.in. So, the candidates who are appearing for the ICG Navik Exam need to check first the Indian Coast Guard Navik Exam Pattern 2020 and Syllabus and have to combined do the preparation. Every Topic knowledge is required for the contender if they want for higher score in the exam. So, revise the ICG Navik DB Syllabus 2020 as many times as possible.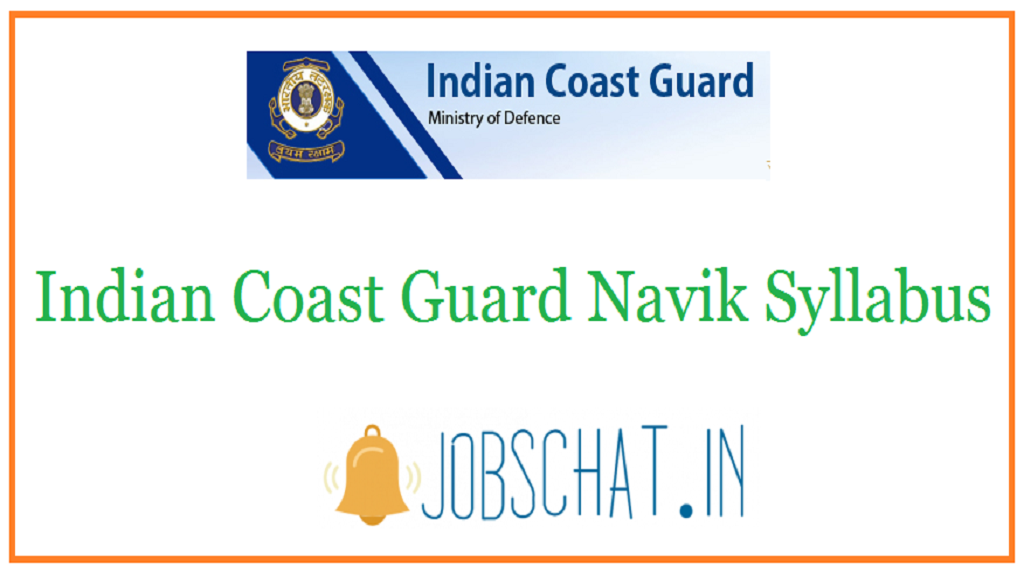 Indian Coast Guard Navik DB Syllabus 2020 is updated on this page for the exam preparing aspirants who want to improve the topics related to the exam. The exam contains topics like Quantitative Aptitude, Mathematics, General Sciences, General English, General Awareness, and Reasoning. Aspirants, who are preparing the exam, have to refer to all these topics provided with the ICG Navik (DB) Syllabus 2020. That too Indian Coast Guard Navik Exam Pattern also shared by Jobschat.in. So, one will have a clear idea of the Examination Structure.
Useful Links
Test Type
Name of the Subjects
Objective Type
Quantitative Aptitude
Mathematics
General Sciences
General English
General Awareness
(Current Affairs & General Knowledge)
Reasoning (Verbal & Non-Verbal)
ICG Navik Exam Pattern Pdf 2020 says that the Exam is an Objective type and contains the Subjects as mentioned above. So, all the contenders shall follow the below-mentioned topic-wise Indian Coast Guard Navik Domestic Branch Syllabus and prepare them according to the Indian Coast Guard Navik GD Exam Pattern. If there is any negative marking, better the candidates need to not answer any unknown questions. Further, the candidate can assess themselves by solving ICG Navik Old Question Papers which is available on this page.
Mathematics
Additions of Vectors.
Binomial Theorem.
Trigonometry.
Algebra.
Complex Numbers.
Differential equations.
Direction Cosines and Direction Ratios etc.
Transformation of Axes.
Inverse Trigonometric Functions.
Properties of Triangles.
The product of Vectors.
Random Variables and Probability Distributions.
The Straight Line.
Coordinate Geometry.
Pairs of Straight Lines.
Integration.
Circle.
Ellipse.
The system of circles.
Mathematical Induction.
Partial fractions.
Matrices.
Theory of Equations.
Hyperbolic Functions.
Permutations and Combinations.
Probability.
Parabola.
Locus.
Hyperbola.
Limits and Continuity.
Definite Integrals.
Differentiation.
Three-Dimensional Coordinates.
Applications of Derivatives.
Differential equations
English:
Articles.
Active & Passive Voice.
Sentence Rearrangement.
Synonyms.
Vocabulary.
Verb.
Tenses.
Direct/Indirect Speech.
Adverb.
Subject-Verb Agreement.
Fill in the Blanks.
Transformation of Sentences.
Comprehension.
Antonyms
Idioms & Phrases.
Grammar.
Unseen Passages etc.
General Knowledge:
Science & Technology.
Indian Constitution.
Current Affairs – National & International
History – India & World.
Geography – India & World.
Indian National Movement.
About India.
Economy
Cultural Heritage.
General Policy.
General Science
Physics:
Thermodynamics and Statistical Mechanics
Electronics
Mathematical Methods
Classical Mechanics and Relativity
Nuclear and Particle Physics
Experimental Physics
Electromagnetic Theory
Atomic and Molecular Physics
Condensed Matter Physics
Quantum Theory and its Applications
Basic Chemistry:
Chemistry of Transition elements
Inorganic reaction mechanism
Nuclear chemistry
Photochemistry
Electrochemistry
Acids and Bases
Redox Reactions
Structure and Bonding
Analytical Chemistry
Analytical Techniques
Thermodynamics
Organic Synthesis
Quantum Chemistry
Chemical Kinetics
Bio-inorganic chemistry
Quantitative Aptitude:
Discount.
Percentage.
Average.
Profit & Loss.
Simple & Compound Interest.
Mensuration.
Time & Work.
The test of Arithmetical and Numerical abilities.
Number Systems including questions on Simplification.
Ratio & Proportion.
Fractions.
Time & Distance.
Tables & Graphs,
L.C.M.
Decimals.
H.C.F.
Important Links
Indian Coast Guard Navik Domestic Branch Syllabus 2020 – Check Now