JK Bank PO Syllabus 2018 was issued by the officials of Jammu & Kashmir Bank for the posts of Probationary Officer. Aspirants who are applied for this 250 Probationary Officer posts, those ones should download this JK Bank Probationary Officer Syllabus on the official site of @ www.jkbank.com along with the JK Bank PO Exam Pattern.
For the applied postulates downloading purpose, we can update the Jammu & Kashmir Bank PO Syllabus pdf on this page. Candidates you can get the syllabus in the prescribed format. All syllabus topics are subtopics are updated in this page on subject wise. Once read this article completely and get the preparation tips also.
JK Bank PO Syllabus 2018
Hello to the Jammu & Kashmir candidates. Are you applied for the JK Bank PO recruitment notification? If your valuable answer was yes, should follow this page and download the JK Bank Probationary Officer Syllabus. This syllabus and exam pattern are issued by the officials and this study material is very helpful for the candidates who have enrolled their names for these posts. Already most of the contenders should download the JK Bank PO Syllabus and they can also start the preparation by using this syllabus. So hurry up catch this material and starts the preparation.
Also, Check: JK Bank PO Recruitment 2018 || Apply 250 Probationary Officer Vacancy @ www.jkbank.com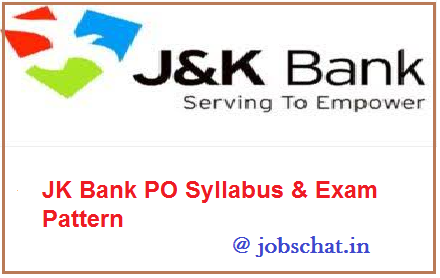 Jammu & Kashmir Probationary Officer Syllabus
The minimum knowledge is essential for the candidates in before the written test. So first should get the Jammu & Kashmir Bank PO Syllabus. If once use this syllabus in the preparation time, no doubt you can get the minimum qualified marks in the written test. Candidates at the same time as soon as possible to complete your preparation along with the JK Bank PO Syllabus. Because you have the chance to take more revisions. With more revisions, you have the chance to get the more marks. Candidates also download the Admit Cards in this page.
Also, Check: JK Bank PO Admit Card 2018 || Check 250 Probationary Officer Posts Exam Date @ www.jkbank.com
JK Bank  Probationary Officer Syllabus 2018 Details
| | |
| --- | --- |
| Organization Name | Jammu & Kashmir Bank |
| Job Name | Probationary Officer |
| Number of Vacancies | 250 Posts |
| Job Location | Jammu & Kashmir |
| Category | Syllabus |
| Admit Card Released Date | December 2018 |
| Exam Date | Dec 2018 / Jan 2019 |
| Selection Process | Written Exam, Skill Test and Interview |
| Official Site | @ www.jkbank.com |
JK Bank PO Prelims Exam Pattern 2018
S.No
Name of Test
No. of
Questions
Maximum
Marks
Time
Alloted for
each Test
1
English Language
30
30
20 minutes
2
Quantitative
Aptitude
35
35
20 minutes
3
Reasoning Ability
35
35
20 minutes
Total
100
100
 1 hr
JK Bank PO Mains Exam Pattern 2018
S.No
Name of Test
No. of
Questions
Maximum
Marks
Time
Allowed for
each Test
1
English Language
40
40
35 minutes
2
Quantitative
Aptitude
50
50
45 minutes
3
Reasoning Ability &
Computer Aptitude
50
60
45 minutes
4
General / Financial
Awareness
50
50
35 minutes
Total
190
200
 160 minutes
JK Bank PO Syllabus 2018 PDF
 Reasoning
Letter and Symbol Series.
Verbal Classification.
Puzzles
Logical Reasoning.
Data Interpretation.
Artificial Language.
Matching Definitions.
Making Judgments.
Analytical Reasoning.
Number Series.
Data Sufficiency.
Non-Verbal Reasoning.
Verbal Reasoning.
Theme Detection.
Cause and Effect.
Statement and Argument.
Essential Part.
Analogies
Logical Problems.
Statement and Conclusion
Logical Deduction.
Verbal Reasoning
Alphabet test,
Series Test,
Number,
Statement and assumptions,
Statement and arguments,
Statement and conclusions Syllogism,
Ranking and time sequence,
Direction Sense Test,
Analogy, Classification,
Word formation,
Assertion and reasoning,
Passage and conclusions,
Decision-making test,
Figure series,
Coding-Decoding,
Blood Relations,
Input/output,
Sitting Arrangement
Non-Verbal Reasoning
Series test,
Miscellaneous Test
Odd figure Out,
Analogy,
Computer knowledge
Compiler Design.
Digital Logic.
Computer Organization and Architecture.
Operating System.
Web Technologies.
Algorithms
data Bases
Computer Networks.
Programming and Data Structures.
Theory of Computation.
Information Systems and Software Engineering etc.
 English
Idioms and Phrases.
substitution
Error Correction (Phrase in Bold).
Fill in the blanks.
Joining Sentences.
Sentence Completion.
Sentence Arrangement
Spelling Test.
Theme Detection,
Topic rearrangement of passage
Data Interpretation.
Spelling Test.
Antonyms
Homonyms,
synonyms
Transformation
Passage Completion.
Direct and Indirect speech
Active and Passive Voice.
prepositions
Sentence Arrangement.
Error Correction (Underlined Part).
Sentence Improvement.
Spotting Errors.
Word Formation
Para Completion.
General Knowledge
Indian Polity & Governance.
Science & Technology.
Everyday Science.
Sports and Games.
Economic Scene.
Scientific observations.
International issues.
Abbreviations.
Space & IT.
Indian Constitution.
National news (current).
About India.
History – India & World.
Cultural Heritage.
General Science.
Economy.
Political Science.
Science – Inventions & Discoveries.
Important Days.
General Knowledge of Karnataka.
Indian Culture.
Indian Constitution.
History.
General Politics.
Indian National Movement.
Important Financial & Economic News.
Current events.
Geography.
Current Affairs.
Inventions in the World.
Indian Economy.
Current Affairs – National & International.
Awards and Honors.
Culture.
Books and Authors.
Social Science.
Indian Parliament.
 Quantitative Aptitude
Compound Interest.
Pipes and Cisterns.
Partnership
Mixtures and Allegations.
Areas
Numbers and Ages.
Problems on L.C.M and H.C.F.
Numbers and Ages.
Probability
Problems on Trains.
Problems on Trains.
Problems on L.C.M and H.C.F.
Compound Interest.
Mixture and Allegations.
Percentages
Volume and Surface Area,
Partnership Business.
Percentages
Interest
Discount
Time and Distance.
Averages
Square Roots.
Decimals and Fractions.
Relationships between Numbers.
Simple Equations.
Boats and Streams.
Problems on Numbers.
Odd Man Out.
JK Bank PO Syllabus Exam Pattern
In the Jammu & Kashmir Bank decided to conduct the 2 steps of written test like Prelims and Mains. We can update both prelims and mains JK Bank Probationary Officer Exam Pattern in this page. In the prelims exam consists of 100 questions for 100 marks within a time period of 1 hr and the mains exam consists of 190 questions for 200 marks within the time duration of 2 hrs. In which subjects are mentioned in the exam pattern all those subjects JK Bank PO Syllabus in this page. POstulates also download the Previous Papers in this page for improving your time skills in the point of the written test.
@ jkbank.com Probationary Officer Syllabus
Mostly after the completion of the registration process, all candidates have searched the syllabus for the preparation purpose. In the same way, the applicants also refer the JK Bank PO Syllabus. Candidates don't waste your time in the browsing purpose. For the sake of in this page of @ www.jobschat.in, we can update the syllabus links for the downloading purpose. Contenders, you can download the syllabus in the prescribed format. Just give an only one click on the visible download link and get the @ jkbank.com PO Syllabus Pdf with free of cost.
Useful Links To Download JK BANK PO SYLLABUS 2018
Click Here>>>> JK Bank Probationary Officer Syllabus 2018