05th February 2021 Completed Exam JMRC Answer Key of JE, Maintainer released on 15th February 2021. Those who appeared for the exam definitely check the JMRC Maintainer Answer Key 2021 because by checking it, the answers are known for all the questions. By comparing the JMRC JE Exam Key 2021, the expected marks are known and the candidates can compare them with the JMRC Cut Off Marks 2021. If the candidate attainable marks are not equal to the JMRC Junior Engineer Cut Off's, then the candidate needs to understand that they are not shortlisted for the next selection rounds.
JMRC Answer Key 2021 OUT !!!
Latest Update (15th Feb 2021): The JMRC Answer Key 2021 has released. So, candidates check now, the links are available on the below page.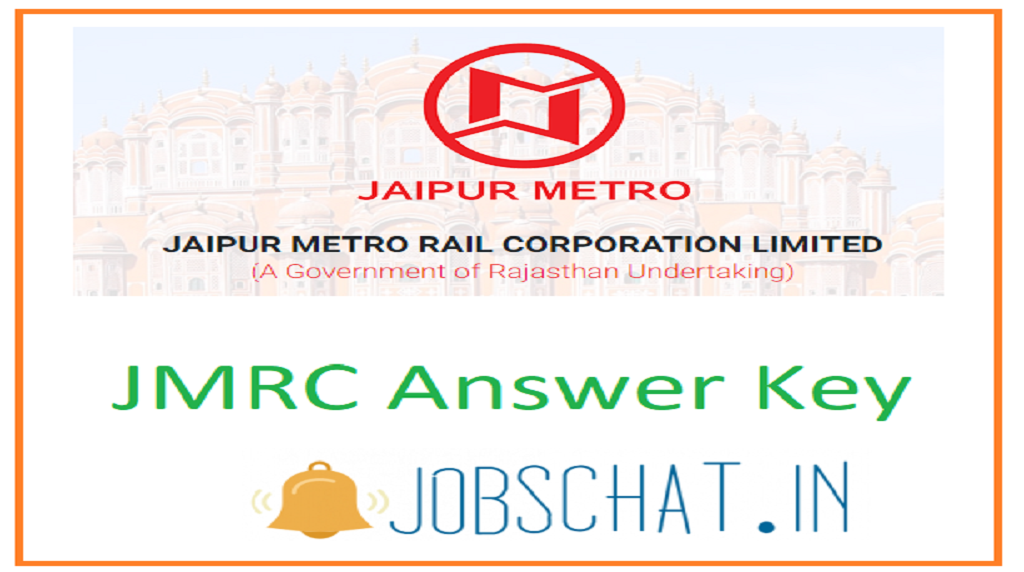 JMRC Answer Key 2021 Overview
Board Name
Jaipur Metro Rail Corporation Limited, Rajasthan
Position Names
Junior Engineer, Station Controller/ Train Operator, Customer Relations Assistant, Maintainer
Number Of Openings
67 Posts
Category
Answer Key & Cut Off Marks
Exam Date

Station Controller/ Train Operator: 26th November 2020
JE, Maintainer: 05th February 2021

Answer Key Date
JE, Maintainer: 15th February 2021
Official Site
www.jaipurmetrorail.in
JMRC Maintainer Answer Key 2021
Jaipur Metro Rail Answer Key 2021 of JE, Maintainer of 05.02.2021 finished exam be referred by the candidate for having an idea of the answers. As a part of sharing the Answers for the CBT Exam, the JMRC Answer Key 2021 published. So, one must follow the JMRC Answer Key 2021 and identify how many questions they gave the answers to. If the candidate answered questions count is equal to JMRC Maintainer Cut Off Marks, then there may be a chance for the applicant to be eligible for the Next Phase of Selection. Jaipur Metro Rail Cut Off mark category wise is not the same and prepared according to the Previous Year Cut Off, Number of candidates appeared for the test, etc. Meanwhile, JMRC gives a specified time, for the candidates to send their individual objections on the Jaipur Metro Rail Junior Engineer Answer Key 2021. Then according to the Objections, JMRC review the Key released and make the changes if there is any.
Related Links
What is the method to Download JMRC Answer Key of Junior Engineer @ www.jaipurmetrorail.in?
All JMRC Exam Appeared aspirants must Open the JMRC official site www.jaipurmetrorail.in
On the Opened page, the candidate needs to select For Recruitment Process, Please Visit www.jmrcrecruitment.in
Then they can choose the Post-Wise, Set-Wise JMRC Maintainer Answer Key 2021.
Know the question wise answers and count the totally expected marks with the Jaipur Metro Rail Answer Key 2021 Junior Engineer, Maintainer.
Official Links
Jaipur Metro Rail Corporation Limited Answer Key 2021 – Link 1 || Link 2 (Released)
Jaipur Metro Rail Corporation Limited Cut Off Marks 2021 – Check Now (Not Released)