R19, R16 JNTUK 4-2 Syllabus 2022 B.Tech, B.Pharmacy Courses is mentioned by JNTU, Kakinada. Students to prepare for the Semester Exam must maintain proper knowledge of JNTU Kakinada 4-2 Syllabus 2022. For every regulation, Some of the Subjects, topics may change. So, Students must have an awareness of it. But, the reference Text Books that the students prepare are almost the same. So, one must continue to listen to the concepts from the Classes and prepare them by referring to the textbooks mentioned with the JNTUK B.Tech 4-2 Syllabus 2022.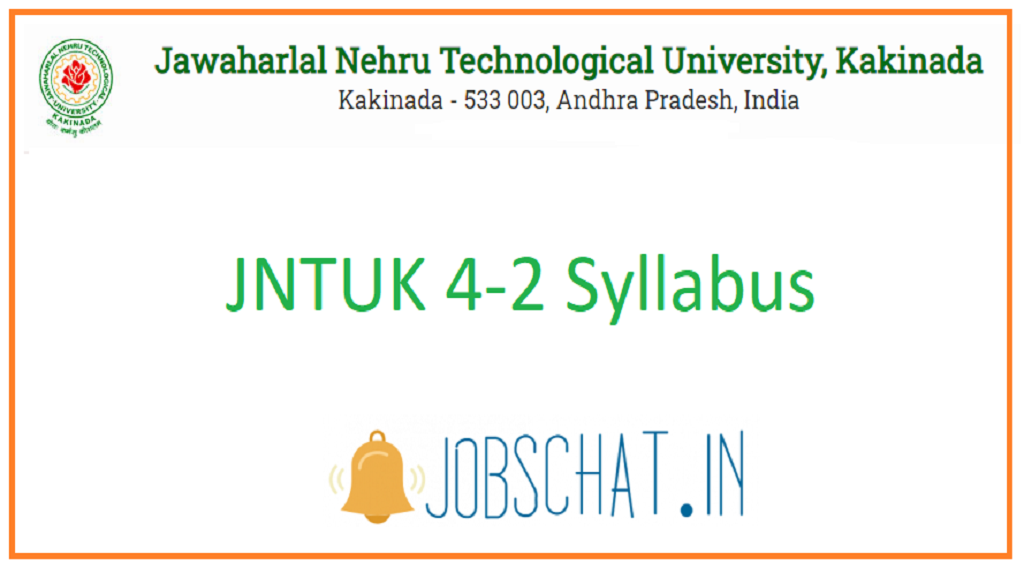 JNTUK 4-2 Syllabus 2022 Overview
| | |
| --- | --- |
| University Name | Jawaharlal Nehru Technological University, Kakinada (JNTUK) |
| Offered Courses | Bachelor Of Technology (All Courses), Bachelor Of Pharmacy |
| Regulations | R19, R16 |
| Category | JNTU Kakinada Syllabus |
| Official Page | www.jntuk.edu.in |
JNTUK B.Tech 4-2 Syllabus 2022
JNTU Kakinada 4-2 Syllabus R19, R16 is mentioned by Jobschat.in. Students of 4th Year who are preparing for the 8th Semester Exams must practice JNTUK 4-2 Syllabus 2022. Students when the Semester Started, the College itself share the Subject wise Syllabus. But, students on their own need to Download JNTUK B.Pharmacy 4-2 Syllabus 2022 and make self reference. Because the Faculty may share only limited knowledge on the subject they deal with. To score higher marks, that much knowledge is not enough. So, earn knowledge by framing notes on JNTU Kakinada 4-2 Syllabus their own with Text Books.
For the Students convenience sake, All Semesters Regulation wise JNTUK Question Papers (All Sets) were also mentioned. So, by checking them students know how the JNTUK asks questions, awards marks. Then students understand how they should do the preparation with the JNTUK 4-2 Syllabus 2022 to get their expected percentages. Even the Previous Regulation Syllabus also be useful for the students' preparation because Most Important topics may do not change for the New regulations. You can also check the Results, Time Tables of All B. Tech branches, B.Pharmacy course from JNTU Fast Updates page.
Concerned Links
Official Links
JNTUK B.Tech 4-2 Syllabus 2022 (R19, R16 Regulations – All Branches) – Click Here
JNTUK B.Pharmacy 4-2 Syllabus 2022 (R19, R16 Regulations) – Click Here