JNTUK MBA Syllabus 2021 R19, R16 is offered at the site www.jntuk.edu.in. So, students who join MBA (Two Years Course) at JNTUK Undertaking Colleges learn JNTU Kakinada MBA Syllabus I, II, III, IV Semesters. Every Regulation and for Every Semester, the Subjects involved in the JNTUK Master of Business Administration Syllabus 2021 is not the same. So, students according to the JNTUK MBA Curriculum and Regulations prepare the Subjects according to their Semester perfectly for aiming good marks. Students also choose the Elective Subject in the 3rd, 4th Semester of your choice according to the Latest Trending Subjects in the mentioned List of JNTUK MBA Syllabus 2021 and can take the examination.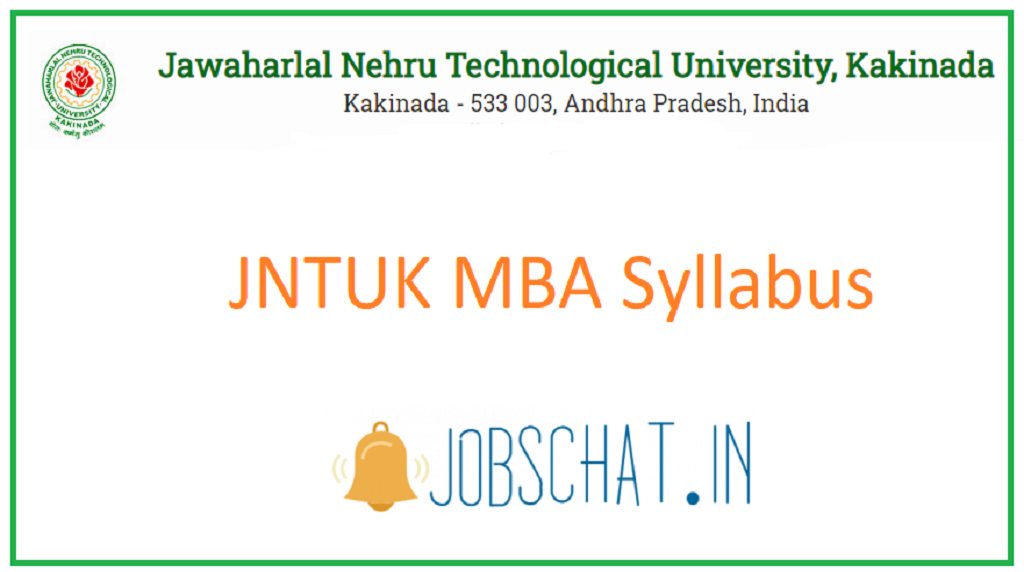 JNTUK MBA Syllabus 2021 Particulars
| | |
| --- | --- |
| Name Of The University | Jawaharlal Nehru Technological University, Kakinada (JNTUK) |
| Course Names | Master Of Business Administration |
| Regulations | R19, R16 |
| Category | JNTUK Syllabus |
| Official Site | www.jntuk.edu.in |
JNTU Kakinada MBA Syllabus 2021
Jobschat.in specified R19, R16 JNTUK MBA Syllabus 2021 of I, II, III, IV Semesters. Students who attend the Semester exams of respective semester of MBA follow and learn the Subjects mentioned in JNTUK MBA Syllabus 2021. As per the Academic Regulation, the Marking schema for Internal, External Examination changes. So, students as per that learn the Subjects to grab the marks. JNTUK specify that if the student attains 40% of Marks both in Internal, External exam to pass a subject. So, everyone prepares the JNTUKakinada MBA Syllabus 2021 to score more than 70% Marks.
In addition to the JNTUK MBA Syllabus 2021, students also find the Regular, Supply Question Papers of previously held examination. Try to answer those questions to assess the student knowledge in their completed Units. Students must complete all the Topics specified in the JNTU Kakinada Master Of Business Administration Syllabus 2021 then only they are in a position to answer the question in the Question Paper even though the JNTUK Frame the question paper difficult. Students also follow the JNTU Fast Updates page to know the Mid Exams Exam Dates, Semester Results, etc & other information.
Related Links
Important Links
JNTUK R19 Master Of Business Administration Syllabus 2021 – Download
JNTUK R16 MBA Syllabus 2021  – 1st Semester || 2nd Semester || 3rd Semester || 4th Semester