Khammam District Court Recruitment 2018 Notification is released by the Khammam District Court Authorities. So, the eligible aspirants must Apply for Typist, Steno And other jobs which are of total 200 Jobs in Offline by taking an application from www.ecourts.gov.in and the last date to apply for this is 09th Feb 2018.
Khammam District Court Recruitment 2018
Khammam District Court Jobs Notification 2018: A very good news for all the candidates how are looking for Telangana Govt Job Openings. yes !!! The Khammam District made a career announcement the government recruiting candidates for Court post which are of 200 Posts in Steno, Typist and Other. It is a good opportunity for all the candidates belongs to Telangana. Khammam Court wants to hire both intending and eligible freshers and Experienced candidates for filling up the unoccupied 200 vacancies of the post. All the aspects who are interested to do work in government sector can apply for this recruitment. Here on this site www.jobschat.in, we are providing all the details of the Khammam Dist Court 2018 Recruitment and all the needed things while applying f the r recruitment process.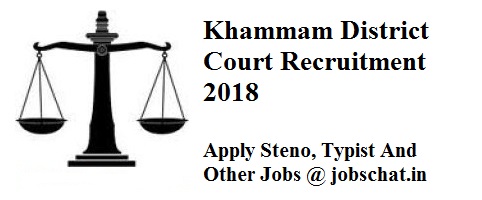 Also, Check: TSPSC Lab Technician Recruitment 2018
Khammam District Court 200 Job Openings
As per the Khammam Dist Court 200 Vacancy 2018 Notification, complete essentials like eligibility criteria, education qualifications, age limit, application fee details and also the process of applying and Khammam District Court application links too. So, candidates grab this opportunity to be placed in a government sector is not an easy task. But by following our site, candidates get full jobs info which is updated daily. Clearly, check the details and apply for Khammam Court 200 posts through our site. also we are providing official Notification link to Khammam District Court Jobs. Simply, scroll down to Open Link and apply for the recruitment and Latest SSC Vacancy.
Khammam District Court Recruitment 2018 Overview
Khammam జిల్లా కోర్టు రిక్రూట్మెంట్ 2018 నోటిఫికేషన్ ఖమ్మం జిల్లా కోర్టు అధికారులు విడుదల. అందువల్ల www.ecourts.gov.in నుండి దరఖాస్తు చేసుకోవడం ద్వారా ఆఫ్లైన్లో మొత్తం 200 ఉద్యోగాలను కలిగి ఉన్న టైపిస్ట్, స్టెనో మరియు ఇతర ఉద్యోగాలు కోసం అర్హత పొందిన అభ్యర్థులు తప్పనిసరిగా దరఖాస్తు చేయాలి.
| | |
| --- | --- |
| Organization Name | Khammam District Court |
| Post Name(s) | Stenographer Grade III, Junior Assistants, Typist, Field Assistant, Examiners, Copyist, Driver, Process Servers, Office Subordinates (Outsourcing) |
| Number of Vacancies | 200 Posts |
| Apply Mode | Offline |
| Start Date | 30th Jan 2018 |
| Ending Date | 09th Feb 2018 |
| Job Location | Khammam, Telangana |
| Website | www.ecourts.gov.in |
Also, Check: TSTRANSCO JLM Hall Ticket 2018
Khammam District Court Recruitment 2018 Eligibility Conditions
Age Limits:
The lower and upper age limit of the applicants must be within the 18 and 34 years and the age relaxation is as per the Court Job Norms.
Educational Norms: 
Candidates should have completed SSC/ 10th in any field or Intermediate (12th) or its equivalent from any recognized University. For further details, aspiants must See the official Khammam District Court Notification 2018 through the official link given below for more detail.
Application Fee:
Candidates can obtain their application fee from the Khammam District 200 Job Openings 2018.
Selection Procedure:
The Khammam District Court will organise the following rounds i.e
Written Test
Personal Interview
Salary Criteria:
| | | |
| --- | --- | --- |
| Name of Post | No. of Posts | Salary Offered |
| Stenographer Gr. III | 06 | Rs.17,500- Per month |
| Drivers | 03 | Rs.15,000- Per month |
| Process Servers | 28 | Rs.15,000- Per month |
| Junior Assistant | 43 | Rs.15,000- Per month |
| Typist | 17 | Rs.15,000- Per month |
| Field Assistant | 12 | Rs.15,000- Per month |
| Examiner | 10 | Rs.15,000- Per month |
| Copyist | 05 | Rs.15,000- Per month |
| Office Subordinates | 76 | Rs.12,000- Per month |
How to Apply Khammam District Court Recruitment 2018:
Candidates first go to the Courts Homepage  by log on to the official link @ ecourts.gov.in
Click on District Courts of India.
Select the state as Telangana and District Khammam.
Now candidates need to click on Advertisement of Khammam District Court 200 Jobs 2018 posts link.
Read the Furnished details first and the eligible candidates must Click on the link to "Recruitment for Khammam District Court jobs."
Click and download the Khammam District Court offline application link which is available below.
Fill the application form in the given format without any mistakes.
Paste Photo and Signature and attach the Required documents.
Submit the application before the last date to the address given.
Keep a copy of the Application for future reference.
Postal Address:
To
The M/s. Sree Sairam Agencies, Honourable District Court and sessions, Khammam, Telangana.
Important Dates:
Applying Start Date: 30th Jan 2018
Applying Ending Date: 09th Feb 2018
Khammam Court 200 Steno, Typist Job Advertisement
So, according to the Khammam Court 200 Job Openings for various jobs, the candidate need to apply for this in the Offline mode before 09.02.2018, to avoid postal delay. All the applicant's applications will be verified by the Court and allow only the eligible aspirants for the Written and interview rounds which are announced soon. So, the aspirants must perform well in those in order to get select for the applied post. Because anchored on this Test Results, the selection involved. So, to get enhance the knowledge level the aspirants also need to concentrate on Khammam Dist Model Papers and then attend the Selection rounds.
Official link:
Official Khammam District Court Recruitment 2018
Khammam District Court Jobs Recruitment 2018 Application Form