MRPL Technical Assistant Syllabus 2021 and Exam Pattern for all the Non-Management Cadre Posts is mentioned at www.mrpl.co.in. Candidates have to follow the MRPL Technical Assistant Trainee Syllabus 2021 in their exam preparation. Because it's confirmed that the Question Paper is prepared according to the Subjects mentioned as per the MRPL Technical Assistant Exam Pattern 2021. Then candidates can qualify for the Skill Test with a High score. Only General Awareness is common to all the Posts and the Technical Subjects depend according to the Post applied by the candidate. So, applicants must maintain knowledge on all the topics of the Mangalore Refinery and Petrochemicals Limited Technical Assistant Syllabus 2021.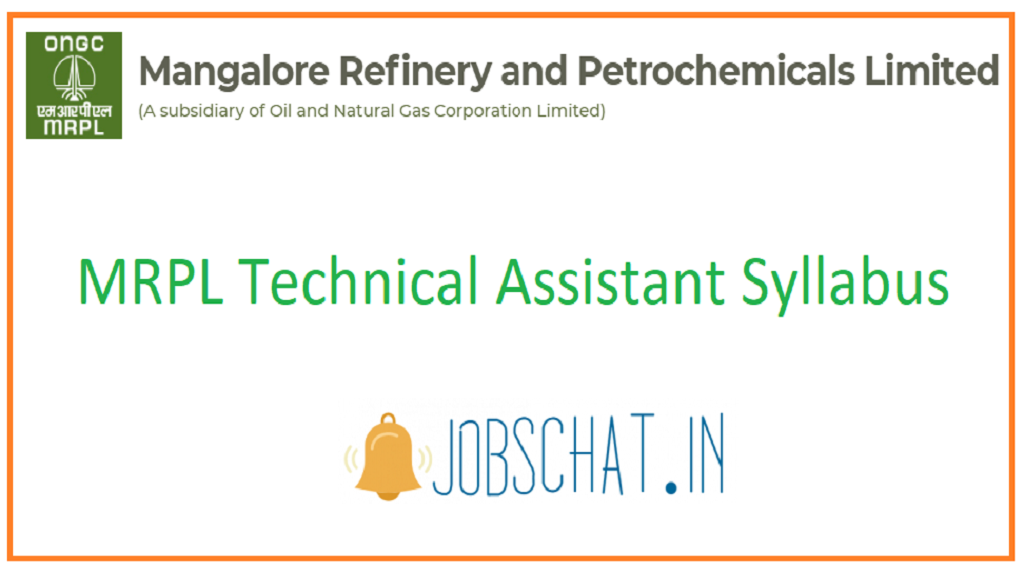 MRPL Technical Assistant Syllabus 2021 Details
| | |
| --- | --- |
| Board Name | Mangalore Refinery and Petrochemicals Limited (MRPL) |
| Position Names | Non-Management Cadre Posts (Security Inspector, Junior Officer, Junior Chemist Trainee, Technical Assistant Trainee, Draftsman Trainee & Trainee Assistant) |
| Number Of Posts | 233 Posts |
| Category | Syllabus |
| Selection Method | Written Test, Skill Test |
| Official site | www.mrpl.co.in |
MRPL Trainee Assistant Syllabus 2021
Jobschat.in Provided MRPL Trainee Assistant Syllabus 2021 is the exact syllabus for the Non-Management Cadre Posts. So, Job Applicants must Download MRPL Trainee Assistant Syllabus 2021 now and make try to gain knowledge by continuous practice. Make sure to practice for the test using Model Papers also. Then candidates understand the topics still need to get improved. Then they can revise the MRPL Non-Management Cadre Posts Syllabus 2021 and appear for the exam with full knowledge.
And MRPL Trainee Assistant Exam Pattern 2021 discloses that the Exam type is Objective. It contains two sections, One is General Awareness which contains 40 Questions and the other is Discipline Related which contains 80 Questions. Every Question contains One Mark and there is no negative marking. The maximum time allowed for the exam is 120 Minutes. In English and Hindi, the Question Paper is prepared. For UR, EWS, OBC Candidates, the qualifying marks are 60% of Total Marks and for SC, ST, PWD it's 50% of Total Marks. So, try to maintain the detailed knowledge of MRPL Technical Assistant Syllabus 2021.
Related Links
MRPL Technical Assistant Trainee Exam Pattern 2021
Subjects
Number Of Questions
Total Marks
Time Duration
Type Of Test
General Awareness
40
40
2 Hours
Objective Type
Discipline/ Subject Wise
80
80
Total
120
120
MRPL Technical Assistant Syllabus 2021 – Topic Wise
General Awareness
National Dance
Music & Literature
Indian Culture
Scientific observations
Political Science
World organizations
Countries and Capitals
Famous Places in India
Books and Authors
Important Dates
About India and it's neighbouring countries
Science and innovations
New inventions
Economic problems in India
Geography of India
National and International current affairs
Indian History
Indian Culture & Heritage
Current Events – National & International
Indian Polity
Indian Constitution
Science & Technology
Indian Geography
IT & Space etc
Indian Economy
Hindi
अलंका
शब्द-रूप
अर्थबोध
हिंदी वर्णमाला विराम चिन्ह
पर्यायवाची शब्द
तत्सम एवं तद्भव देशज विदेशी (शब्द भंडार)
अनेकार्थी शब्द
रस
वर्तनी
मुहावरे एवं लोकोक्तियाँ
संधि समास
शब्द रचना वाक्य रचना अर्थ
वाक्यसंशोधन- लिंग, वचन, कारक, काल, वर्तनी, त्रुटि से संबंधित
हिंदी भाषा के प्रयोग में होने वाली अशुद्धियाँ
क्रियाएँ
विलोम शब्द
वाक्याशों के लिये एक शब्द निर्माण.
लोकोक्तियां एवं मुहावरे.
Finance
Advanced derivatives
Asset markets
Behavioural finance
Corporate finance
Economics/econometrics
Financial mathematics
Financial management
Financial markets
Financial planning
Financial engineering
Financial accounting
Financial reporting
International finance
Private equity
Risk management
Venture capital
Knowledge of the stock market, trade, and investment
Electrical Engineering
Analog and Digital Electronics
Systems and Signal Processing
Control Systems
Electrical Machines
Electrical and Electronic Measurements
Engineering Mathematics
Electric Circuits and Fields
Computer Fundamentals
Basic Electronics Engineering
Electrical Materials
Power Systems
Instrumentation Engineering
Digital Electronic Circuits
Electrical Measurements
Electronics Instruments
Analog Electronics
Analytical, Optical & Bio-Medical Instrumentation
Instrumentation
Signals & Systems
Control Systems
Electronics Circuits
Fundamentals
Microprocessors and Micro Computers
Chemical Engineering
Atoms and Molecules.
Reaction Dynamics.
Electrochemistry.
Stereochemistry.
Spectroscopic Techniques.
Organic Reactions.
Photochemistry.
Transition Metal Chemistry.
Mechanical Engineering
Engineering Mechanics
Engineering Materials
Mechanisms and Machines
Fluid Mechanics
IC Engines, Refrigeration and Air conditioning
Turbo Machinery
Thermodynamics and Heat transfer
Power Plant Engineering
Renewable Sources of Energy
Design of Machine Elements
Manufacturing
Industrial and Maintenance Engineering
Mechatronics and Robotics
Important Links
MRPL Non-Management Cadre Posts Syllabus 2021 – Download