Neyveli Lignite Corporation India Limited Posted out the NLC Apprentice Result 2018 o 12th Feb 2018. And the NLC offering the candidate to check the NLC TAT, GAT Merit List PDF which is updated along with NLC Apprentice Results on www.nlcindia.com. NLC shortlist the aspirants based on the Merit-Based as per the Candidates Qualification.
NLC Apprentice Result 2018
NLC Graduate Apprentice Result 2018: NLC India Apprentice Results is announced by the Neyveli Lignite Corporation India Ltd. Recently, NLC Board offered 460 Apprentice Jobs in Graduate And Technical Apprentice. A tremendous response from India appeared for this and many of the graduates registered for this in order to get the job. NLC Shortlisted the Candidates for the Jobs based on their Marks secured in Graduation and ITI and released the NLC Graduate Results on 12.02.2018. Now, everyone is searching for this to find whether they are shortlisted or not. All those aspirants must grab the complete information here and find the NLC Apprentice Qualified List 2018 PDF clearly in the site Jobschat.in. Candidates can also find their Score and also check the further steps imparted here.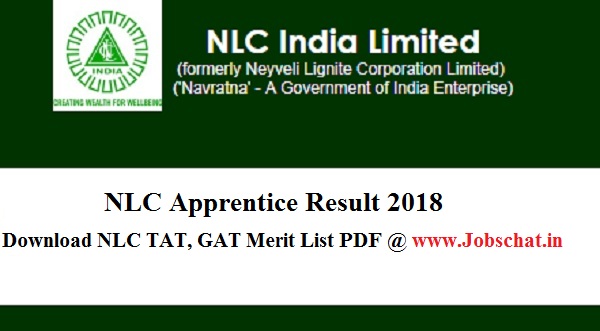 Also, Check: Southern Railway Trade Apprentice Recruitment 2018
Check NLC Apprentice Selection List 2018 Online
Candidates must Catch NLC TAT, GAT Merit List 2018 PDF which is clearly given. In it, the Qualified List of aspirants is provided with those who get Top marks in their education. NLC doesn't organise any examination for this selection. Those who had shortlisted for the NLC Apprentice Training 2018, must ready with all the documents provided on the NLC Apprentice Merit List and all should join immediately on 19.02.2018 on the Venue given. For that qualified Aspirants, the Training will be offered by the NLC organisation for a stipulated period of time and then provide a Government Job opportunity for them. During Training a Stipend of Rs.3,542/- for Trade Apprentice and Rs.4,984/- for Graduate Apprentice will be awarded.
NLC Apprentice Result 2018 Overview
नेवेली लिग्नाइट कॉर्पोरेशन इंडिया लिमिटेड ने एनएलसी अपरेंटिस परिणाम 2018 अक्टूबर 12 वीं फ़रवरी 2018 को पोस्ट किया। और एनएलसी ने एनएलसी टीएटी, जीएटी मेरिट लिस्ट पीडीएफ की जांच करने के लिए उम्मीदवार की पेशकश की, जो एनएलसी अपरेंटिस के परिणाम के साथ www.nlcindia.com पर अपडेट किया गया है। एनएलसी उम्मीदवारों के योग्यता के आधार पर मेरिट-आधारित पर आधारित उम्मीदवारों को सूची में सूचीबद्ध करता है।
Organisation Name: Neyveli Lignite Corporation India Limited
Name Of The Post(s): Graduate Apprentice, Technical Apprentice
No. Of Vacancies: 460 Posts
Category: Results
Result Status: 12th Feb 2018
Date Of Joining: 19th Feb 2018(10.00 AM)
Official Site: www.nlcindia.com
Also, Check: ISRO Scientist Recruitment 2018
Download NLC Graduate And Technical Apprentice Result @ nlcindia.com
Candidates must Download NLC GAT And TAT Results From the site nlcindia.com which is available from 12.02.2018 onwards. The Results announced by the NLC on its main portal only. As there is No Examination, the NLC takes more than a month to announce the Apprentice Results. Simply, the aspirant needs to check their names by opening the respective TAT, GAT Qualified list. Those who get their names should join the Tranining immediately. Aspirants must attend the Training Perfectly and then with the certificate provided by the NLC the Candidates search and apply for Forthcoming Indian Govt Jobs also.
Downloading Procedure Of NLC Apprentice Result 2018:
Graduates who had applied for NLC Apprentice Posts open new website i.e www.nlcindia.com
On the Home Page find the Careers tab and open it.
On the page find the NLC TAT, GAT Merit List PDF available.
Open it in a new tab and enter the Reg No and DOB/ Password that is required.
Then the NLC Apprentice Result will be open.
Download it and use it for future reference.
Important Dates:
Result Status: 12th Feb 2018
Date Of Joining: 19th Feb 2018(10.00 AM)
Important Links:
NLC TAT Result 2018 – Download
NLC GAT Result 2018 – Download