PGCIL Authorities announced PGCIL Executive Trainee Syllabus 2020 and Exam Pattern exclusive for the contenders for free. All can directly open the page www.powergridindia.com to Download PGCIL Executive Trainee Finance Syllabus 2020 to concentrate simply on the topics that are given on the Subjects that are informed. As multiple subjects are involved in the exam, all must make a time schedule, then all can complete the maximum topics involved in the test. In the same way, all must follow the PGCIL Executive Trainee Exam Pattern 2020 for knowing subject wise marks and time given to solve the question paper.
PGCIL Executive Trainee Syllabus 2020 | Test Pattern
Those who find the PGCIL Executive Trainee Finance Exam Pattern 2020 first can have a visualization towards the Exam Pattern and their ability i.e how much marks they achieve. Then they come to the actuality that in how many subjects they are good and in how many they are weak and according to that can plan a time strategy for preparation towards the written test with PGCIL Executive Trainee Syllabus 2020. Likewise, who will prepare subject wise must have a chance of attaining the sufficient marks that makes everyone to qualify the exam. Additionally, if the applicant adds solving the PGCIL Executive Trainee Previous Papers it would be more helpful as they come to know what model of questions appear in the exam and level of the questions.
Also, Check: PGCIL Executive Trainee Admit Card 2020
PGCIL Executive Trainee Syllabus 2020 Overview
| | |
| --- | --- |
| Name Of The Department | Power Grid Corporation of India Limited (PGCIL) |
| Post Names | Executive Trainee (Finance) Posts |
| Number Of Posts | 25 Posts |
| Category | Syllabus |
| Start Date To Register | 07.03.2020 |
| Final Date To Register | 06.04.2020 |
| Official Website | www.powergridindia.com |
PGCIL Executive Trainee Exam Pattern 2020
Sl.No
Name Of The Subjects
Number Of Marks
Number Of Questions
1
Professional Knowledge Test (PKT)
120
120
2
Executive Aptitude Test (EAT) – vocabulary,
verbal comprehension, quantitative aptitude, reasoning ability, data sufficiency and interpretation &
numerical ability
50
50
Total
170 Marks
170 Questions
As per the above mentioned PGCIL Executive Trainee Exam Pattern 2020, EAT and PKT Subjects are given for 170 marks containing 170 questions i.e 1 mark for one question and PGCIL allows 0.25 minus mark for the wrong answer. And coming to the qualifying marks, For UR/EWS Category, minimum 40% marks subject to at least 30% marks in EAT and PKT separately and For OBC(NCL)/SC/ST/PwD Category, it's of minimum 30% marks subject to at least 25% marks in EAT and PKT separately.
Qualifying Marks in GD & Interview:
| | |
| --- | --- |
| Category | Qualifying Marks in Interview |
| Unreserved/EWS | 40% |
| OBC (NCL) / SC /ST / PwD | 30% |
Weightage to Different Parameters:
| | |
| --- | --- |
| Marks in Test | 85% |
| Group Discussion | 3% |
| Personal Interview | 12% |
PGCIL Executive Trainee Syllabus 2020 – Topic Wise
General English
Tenses
Fill in the Blanks.
Antonyms.
One Word Substitution.
Comprehension.
Transformation of Sentences.
Active & Passive Voice.
Direct & Indirect Speech.
Synonyms.
Idioms & Phrases.
Vocabulary.
Reasoning
Verbal Reasoning
Alpha-numerical sequence puzzle
Mathematical operations
Numbers, ranking & time sequence test
Puzzle test
Machine input
Inequalities
Decision making
Syllogism
Sitting arrangement
Sequential output tracing
Direction sense test
Number series
Analogy
Classifications
Blood relations
Coding-decoding
Logical Venn diagram
Alphabet test
Logical sequence test
Arithmetical operations
Inserting the missing characters
Data Sufficiency
Eligibility test
Assertion and reason
Situation reaction test
Verification of truth of the statement
Non-Verbal Reasoning
Water-image
Spotting out the embedded figures
Construction of squares and triangles
Completion of incomplete pattern
Figure matrix
Paper folding
Paper cutting
Rule detection
Grouping of identical figures
Cubes and dice
Dot situation
Series
Analogy
Classification
Analytical reasoning
Mirror-image
Quantitative Aptitude
Square Root and Cube Root
Stocks and Shares
Surds and Indices
Time and Distance
Time and Work
Height and Distance
Logarithm
Mixture and Alligation
Numbers
Partnerships
Percentage
Permutations and
Combinations
Pipes and Cistern
Probability
Profit and Loss
Races and Games
Series – Odd Man Out
Series – Find Missing Number
Simple Interest
Compound Interest
Simplification
Trains
Age
Area
Average
Banker's Discount
Boats and Streams
Calendar
Chain Rule
Clock
Decimal Fractions
H.C.F. and L.C.M.
Technical Subjects:
Finance Awareness
Indian Economy
Finance Commissions
Taxes on Income and Expenditure
Financial and Railway Budget
Revenue of Central Government
Economic Planning
Inflation
National Income
Public Finance
Bills
Concept of Budget
Schemes and Policies implemented by Government
Indian Banking Industry History
Functions of Banks
Types of Banks
RBI and its Monetary Policy
Capital market in India
Money Market in India
Role of Banking
Civil Engineering
Steel Design
Building Materials, Estimating
Environmental Engineering
Structural Engineering: Theory of Structures
Concrete Technology
RCC Design
Costing and Valuation
Surveying
Soil Mechanics
Hydraulics
Irrigation Engineering
Transportation Engineering
Electrical Engineering
Fractional Kilowatt Motors and single phase induction Motors
Synchronous Machines
Electrical Machines
Generation, Transmission, and Distribution
Estimation and Costing, Utilization and Electrical Energy
Basic Electronics
Basic concepts
Circuit law
Magnetic Circuit
AC Fundamentals
Measurement and Measuring Instruments
Electronics
Circuit Law
Basic Electronics
Synchronous Machines
Magnetic Circuit
Fractional Kilowatt Motors & Single Phase Induction Motors
Electrical Machines
Estimation and Costing
Transmission and Distribution
Utilization and Electrical Energy
Mechanical Engineering
Theory of Machines and Machine Design
Engineering Mechanics and Strength of Materials
Properties of Pure Substances
IC Engine Cooling & Lubrication
Rankine cycle of System
IC Engines Combustion
Boilers
Classification
Specification
Fitting & Accessories
Air Compressors & their cycles
Refrigeration cycles
Principle of Refrigeration Plant
Nozzles & Steam Turbines
Properties & Classification of Fluids
Fluid Statics
Measurement of Fluid Pressure
Fluid kinematics
Dynamics of Ideal fluids
Measurement of Flow rate
basic principles
Hydraulic Turbines
Centrifugal Pumps
Classification of steels
1st Law of Thermodynamics
2nd Law of Thermodynamics
Air standard Cycles for IC Engines
IC Engine Performance
PGCIL Executive Trainee Finance Syllabus 2020
Through www.powergridindia.com, or from Jobschat.in an applicant must get www.powergridindia.com Executive Trainee Syllabus 2020 PDF and can make go on starting the topics immediately. Because exam topics are more as they to be managed within the time before the examination. Otherwise, it's not possible to cover maximum topics, which in turn makes the contender unable to answer only limited questions. That makes them disqualify from the written test. So, all must concentrate on the PGCIL Executive Trainee Finance Exam Syllabus 2020 maximum time to learn and practice them as many times as possible which makes everyone strengthen in the fundamentals, concepts, and formulas. So, that, it will be helpful for everyone more helpful to identify the marks easily.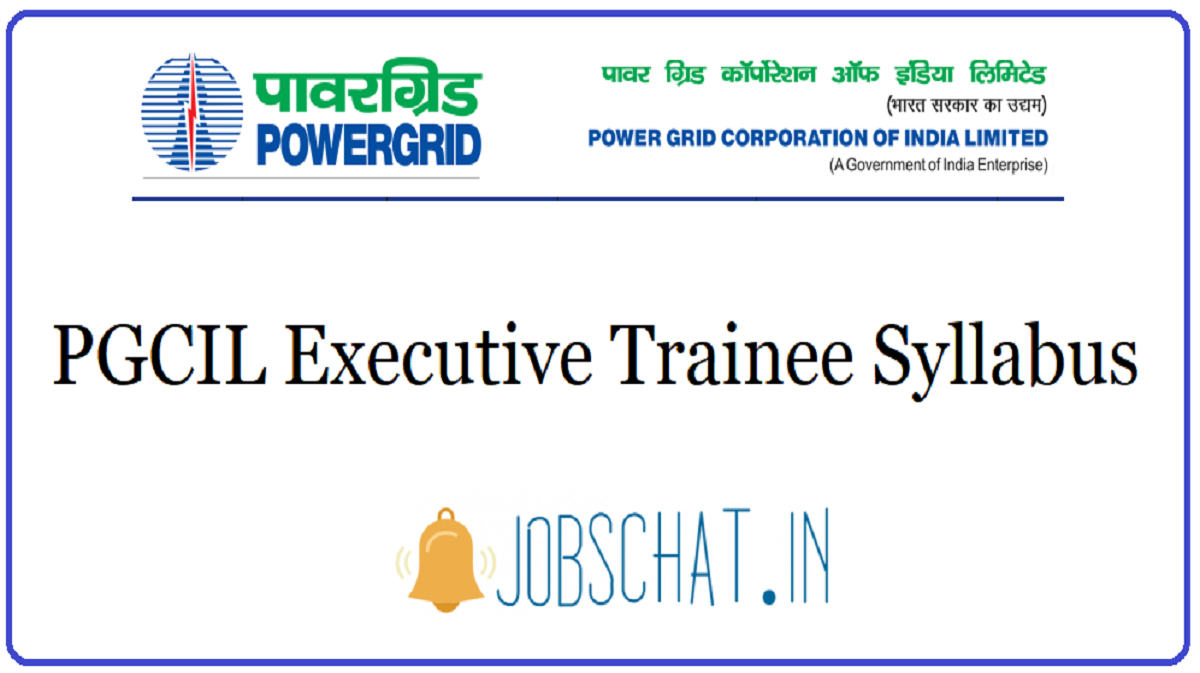 PGCIL Executive Trainee Finance Exam Pattern 2020
For this exam, initially, the applicant must have a complete idea of the PGCIL Executive Trainee Finance Exam Pattern 2020 that makes all the contenders about the structure of the exam. Then it will be more helpful for all how to schedule the subject's learning process. So, that all can perform well by simply concentrating on the subjects that are given. Those who don't consider the PGCIL Executive Trainee Exam Pattern 2020 or syllabus that is involved it will be more useful for an applicant for qualifying the exam. If an applicant does not have sufficient knowledge of the subjects that are involved in the PGCIL ET Finance Syllabus 2020, immediately concentrate more on it because everyone leads to an increase in the marks of the contender in the exam.
Also, Check: PGCIL Executive Trainee Previous Papers
Download Links
PGCIL Executive Trainee Finance Syllabus 2020: Download
Frequently Asked Questions
What is the PGCIL Executive Trainee Exam Pattern 2020?
From Professional Knowledge Test, 120 questions for 120 marks and from the Executive Aptitude Test, 50 questions from 50 marks are given. There are 0.25 minus mark is available for the wrong answer. And all must achieve qualifying marks as mentioned.
Where is the direct link to Download PGCIL Executive Trainee Syllabus 2020?
PGCIL Executive Trainee Finance Syllabus 2020 can be attained from Jobschat.in and www.powergridindia.com