RSMSSB Board offers RSMSSB Investigator Previous Papers Pdf for free of cost for candidates who enrolled for these posts at rsmssb.rajasthan.gov.in. So, all must go in solving RSMSSB Anveshak Model Papers in order to make confirm how far they gained success in the learning syllabus and complete solving the questions. So, use all Subjects RSMSSB Rajasthan Investigator Previous Papers and get notice a wide range of questions and remember the most repetitive model and concentrate on them to easily grab the score in the exam. With the solving of these, all can get knowledge on RSMSSB Investigator Exam Pattern even.
RSMSSB Investigator Previous Papers | RSMSSB Anveshak Old Question Papers
At rsmssb.rajasthan.gov.in, RSMSSB Agriculture Investigator Previous Year Question Papers PDF are available and the contenders who are searching for these Papers may open the site and get a number of papers for preparation. Those who are attempting the exam for the first time, don't know how the questions asked in previous years. If applicants visited the RSMSSB Investigator Previous Papers definitely they have a clear idea of the paper and questions and can easily if they utilized the papers in a prepared way. Because practice is the only way to attain perfect knowledge and make them useful in the correct way that make gain higher marks. So, solve maximum questions of the RSMSSB Anveshak Model Papers to evaluate the contender's knowledge.
Also, Check: RSMSSB Investigator Admit Card 2020
RSMSSB Investigator Previous Papers Particulars
| | |
| --- | --- |
| Name Of The Board | Rajasthan Subordinate and Ministerial Service Selection Board (RSMSSB) |
| Post Names | Investigator (Anveshak) – Agriculture Posts |
| Number Of Vacancies | 62 Posts |
| Category | Previous Papers |
| Official Website | rsmssb.rajasthan.gov.in |
RSMSSB Investigator Exam Pattern
Part Name
Subject Names
Total Marks
Total Questions
Time Duration
Part A
General Knowledge of Rajasthan State
50
50
3 Hours
Part B
General Mathematics
100
100
Total
150
150
How To Download RSMSSB Investigator Previous Papers?
All Exam Appearing ones open RSMSSB page rsmssb.rajasthan.gov.in
Click on Download and Select Archive.
Then find RSMSSB Previous Question Papers of Investigator of various years in the list.
Choose all the RSMSSB Anveshak Previous Papers and Download.
Then make start preparation for the exam using these Papers.
RSMSSB Investigator Answer Key
RSMSSB Anveshak Previous Year Question Papers
RSMSSB Rajasthan Anveshak Previous Papers are the most useful ones during preparation where contenders gain the highest knowledge although they are good at the syllabus. Because Syllabus will inform the topics to be covered in the exam and how to solve questions. But, solving questions of the rsmssb.rajasthan.gov.in Investigator Previous Year Question Papers makes all how to use the formulas, fundamentals, etc to opt for the solution. So, both preparation is mandatory if an applicant needs to achieve the proper score. And it's mentioned that these RSMSSB Agriculture Investigator Previous Year Question Paper are only for reference sake and there is no probability for asking the same questions on the exam.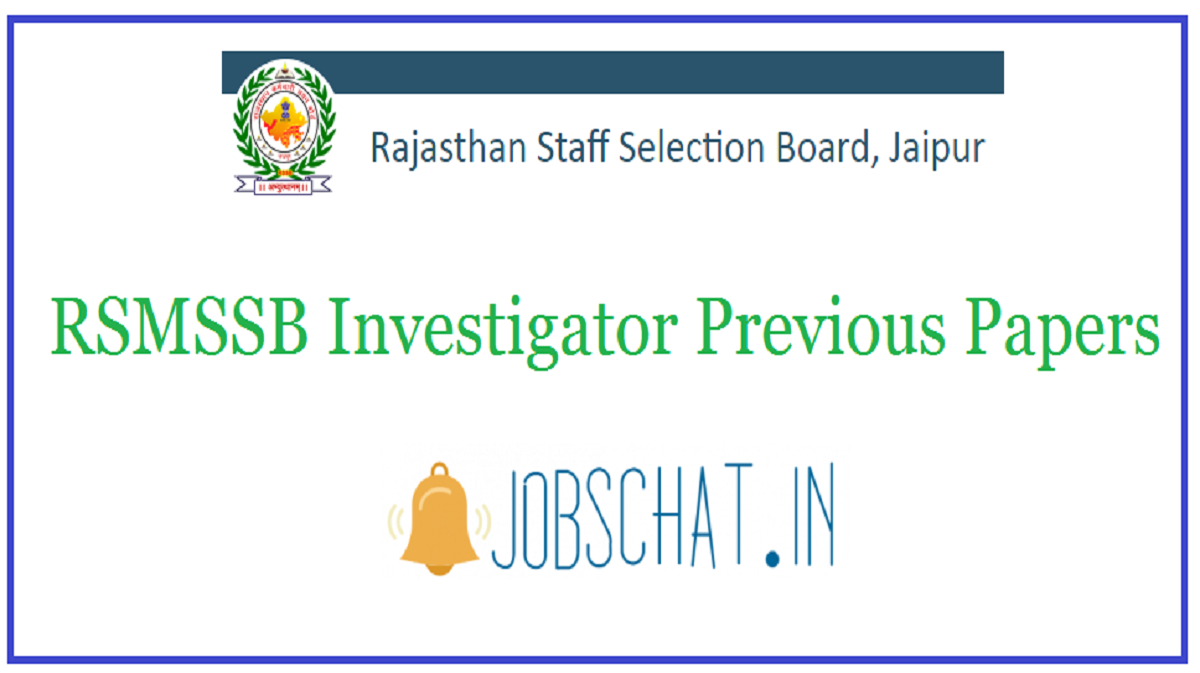 RSMSSB Investigator (Anveshak) Model Papers
RSMSSB Agriculture Investigator Old Question Papers definitely make contenders more knowledgeable towards Subjects and it can be kept only if they keep on continuous practice. Because without having preparation for these, no one has the option to qualify for the exam. That too these Rajasthan Investigator Previous Papers are given for free. That means acquiring knowledge is full of free and you need not buy any material if used the given Papers for groundwork. But, before that full groundwork must be with the Syllabus, because those who don't maintain sufficient knowledge on it not get able to solve maximum questions of the RSMSSB Investigator Old Question Papers.
Also, Check: RSMSSB Investigator Syllabus 2020
Useful Links
RSMSSB Investigator Previous Paper PDF: Download
RSMSSB Agriculture Investigator Old Question Paper: Download
RSMSSB Anveshak Previous Paper: General Maths
RSMSSB Rajasthan Investigator Model Paper: General Knowledge
Jobschat.in offered RSMSSB Investigator Question Papers contains both General Knowledge and Maths Subjects questions which are asked in the last year and by checking these all have an idea regards the exam questions framing and all can strive hard to work on that particular subject or topic finally, to make them strengthen in all the ways.
Frequently Asked Questions
Where Aspirants can get official RSMSSB Investigator Previous Question Papers?
From RSMSSB portal rsmssb.rajasthan.gov.in or from Download Link of the site Jobschat.in, all can get RSMSSB Rajasthan Anveshak Model Papers.
In what way the questions are asked in the Rajasthan Anveshak Question Paper?
In Objective Mode only, questions will be framed in the RSMSSB Anveshak Model Papers.