RVUNL AE Syllabus 2021 is now available to the candidates from the official site www.energy.rajasthan.gov.in. So, all the applicants go and visit the page to get the RVUNL AEN Syllabus 2021 or check the link obtained below to download RVUNL Assistant Engineer Syllabus 2021. After then the candidates start their preparation by using the RVUNL Syllabus 2021. The contenders are also suggested to check the RVUNL AE Exam Pattern 2021 for better preparation for the exam. Our page is providing direct links for the candidates to check the RVUNL Assistant Engineer Syllabus 2021 and also RVUNL Assistant Engineer Exam Pattern 2021 so that it can be useful for them to prepare for the exam to gain max marks.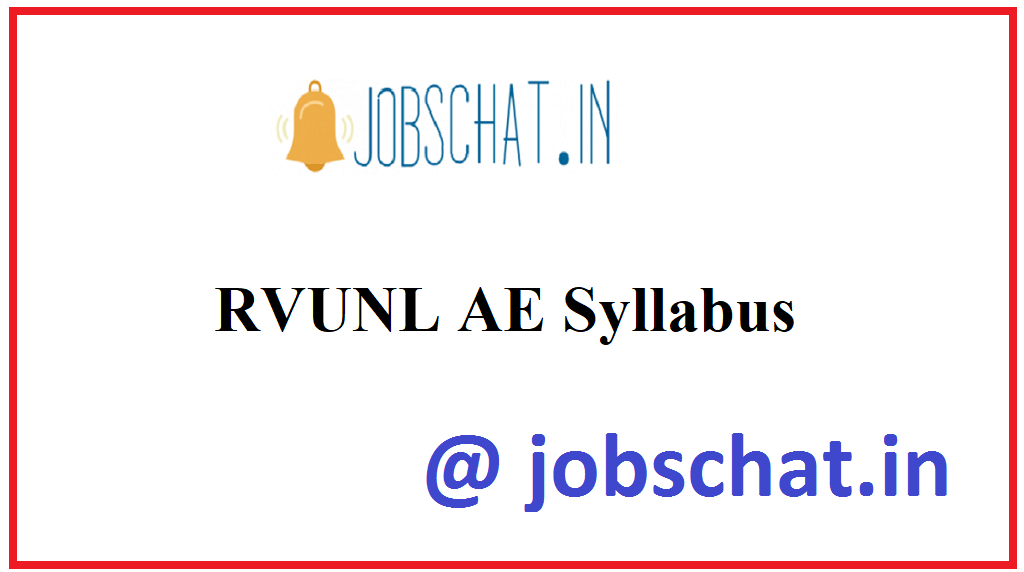 Particulars of RVUNL AE Syllabus 2021
| | |
| --- | --- |
| Name of the Organization | Rajasthan Rajya Vidhyut Utpadan Nigam Ltd |
| Name of the Post | Assistant Engineer |
| No of Posts | 39 Posts |
| Category | Syllabus |
| Location | Rajasthan |
| Official Website | energy.rajasthan.gov.in |
RVUNL AEN Syllabus 2021
As most of the candidates are preferring for the govt jobs compared to private jobs, the competition is getting higher. So, the candidates who are preparing for the RVUNL exam are advised to go through the RVUNL AE Recruitment Syllabus 2021. All the contenders make use of this RVUNL Assistant Engineer Syllabus 2021 for their preparation to attain top scores in the exam. As it is mentioned that the candidates who got the highest score will be selected for the interview/personality test. So, that is possible only by following RVUNL AE Syllabus 2021. All the candidates, check after the RVUNL AEN Syllabus 2021 carefully and work hard to get qualified in the exam.
The aspirants should also remember that the RVUNL Assistant Engineer Exam Pattern 2021 is also mandatory to prepare for the exam in an easy way. For that sake, we have given the RVUNL AE Exam Pattern 2021 below in a detailed tabular form. So, the candidates just go and check RVUNL Assistant Engineer Exam Pattern 2021 and get ready to start their preparation as soon as possible. If the candidates are searching for any other information about RVUNL Syllabus 2021 then bookmark our page to know the updates.
Related Links
RVUNL AE Exam Pattern 2021
Serial No
Type of Test
Part
Names of Concepts
Weightage
Duration  Time
1
Objective Type
A
Concerned Subjects
60%
2 Hours
2

B

Reasoning & Mental Ability
40%
3
Mathematics
4
General Knowledge & Everyday Science
5
Hindi General
6
English General
RVUNL Assistant Engineer Syllabus 2021
Part A- Technical Subjects
Civil Engineering:
Transportation Engineering
Environmental Engineering
Civil Engineering Materials and Construction
Solid Mechanics, Structural Analysis
Concrete Technology
Soil Mechanics and Foundation Engineering
Reinforced Concrete Structures
Surveying
Hydrology & Water Resources Engineering
Hydraulic Structures
Estimation, Costing, and Specifications
PSC Structures
Fluid Mechanics
Construction and Project Management
Steel Structures
Bridge Engineering
Environmental Studies
Electrical Engineering:
Electric Circuits and Fields
Signals and Systems
Electrical and Electronic Measurements
Analog and Digital Electronics
Electrical Machines
Communication Systems
Electromagnetic
Analog and Digital Circuits
Power Systems
Control Systems
Signals and Systems
Control Systems
Networks/Electric Circuits
Electronic Devices and Circuits
Power Electronics and Drives
Mechanical Engineering:
Engineering Mechanics
Mechanics of Materials
Heat-Transfer
Thermodynamics
Power Engineering
Turbo-machinery
Engineering Materials
Vibrations
Machine Design
Theory of Machines
Fluid Mechanics
Machining and Machine Tool Operations
Operations Research
Refrigeration and air-conditioning
Production Planning and Control
Casting, Forming, and Joining Processes
Metrology and Inspection
Computer Integrated Manufacturing
IC Engines
Inventory Control etc
Computer Science and Information Technology:
Databases
Computer Networks
Theory of Computation
Compiler Design
Digital Logic
Computer Organization and Architecture
Programming and Data Structures
Algorithms
Operating System
Fire & Safety
Part B- 40% Weightage
General English:
Sentence Arrangement
Error Correction (Phrase in Bold)
Idioms and Phrases
Substitution
Fill in the blanks
Prepositions
Homonyms
Sentence Arrangement
Word Formation
Active and Passive Voice
Synonyms
Direct and Indirect speech
Transformation
Sentence Completion
Sentence Improvement
Spotting Errors
Error Correction (Underlined Part)
Antonyms
Topic rearrangement of passage
Joining Sentences
Para Completion
Spelling Test
Passage Completion
Theme Detection
Data Interpretation
Spelling Test
Reasoning & Mental Ability:
Puzzle Test
Blood Relations
Classification
Data Sufficiency
Alpha-Numeric Sequence Puzzle
Analytical Reasoning
Paper Folding
Paper Cutting
Cubes and Dice
Coding-Decoding
Assertion and Reasoning
Arithmetical Reasoning
Water Images
Mirror Images
Operations of Mathematics
Venn Diagrams
Word Sequence
Missing Characters
Sequential Output training
Eligibility Test
Dot Situation
Identical figure groupings
Forming figures and analysis
Construction of Squares and Triangles
Series
Analogy
Directions
Test on Alphabets
Series Completion
Verification of truth of the Statement
Situation Reaction Test
Completion Incomplete Pattern
Spotting embedded figures
Classification
Direction Sense Test
Figure Matrix
Rules Detection
General Knowledge & Everyday Science
Science
Indian History, Civics, Geography, Indian Polity, etc., with special reference to Rajasthan.
Current events including issues of State(Rajasthan)
National & International importance
Persons & Places in recent news
Games & Sports
Hindi Grammar and language (Class-X level).
Important Links
RVUNL AE Syllabus: Check Here