HRDD, Sikkim Board Announced the Sikkim TET Syllabus 2018 along with Official Exam Pattern where the Candidates make use of them for Practising purpose for Exam. As Sikkim TET Exam Syllabus has the important role in preparing because the candidate marks will be decided by the preparation of the topics inculcated in it.
Addition to that, Sikkim TET Exam Pattern for Paper I & II is offered. The candidate who started the Groundwork need to Solve the Topics listed on the STET Syllabus with the help of Exam Pattern then they understand the Topics very easily and not forget them. HRDD, Sikkim advising the Contenders not to neglect the Preparation of Topics available on the sikkimhrdd.org Teacher Eligibility Test Syllabus 2018.
Sikkim TET Syllabus 2018
HRDD, Sikkim Recently Notified the Sikkim TET Notification 2018 and offered the Sikkim TET Syllabus 2018 also for the Postulants. Because every one after doing the Registration, search for the Sikkim Teacher Eligibility Test Syllabus for making the Groundwork to the Exam because Officials will hire the Candidates for the Teacher Jobs based on the Sikkim TET Exam Marks only. So, to help the Postulants Jobschat in association with HRDD, Sikkim offers the Sikkim Primary Level & Elementary Level Teacher Syllabus Clearly with Exam Pattern also. Applicants must refer them effectively and do the practice sincerely as there is enough time for the Exam Date.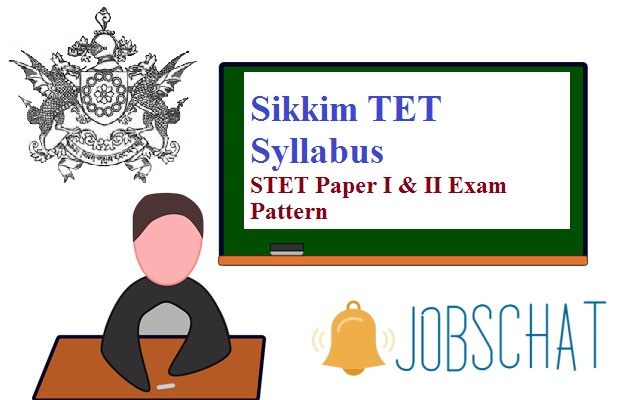 Check Sikkim Teacher Eligibility Test Syllabus Online
Every Candidate Need To Check Sikkim Teacher Eligibility Test Syllabus 2018 in Online at sikkimhrdd.org because Officials offer free of cost for those who register For STET Notification. So, they need to Go for the Preparation of STET Syllabus 2018 which is officially placed here. Candidates as per the Subjects covered in the Exam schedule the time period and must cover the Topics available confidently without leaving any minute topic though it does not have the weightage. Because there is a chance to ask the questions from that section. Meanwhile, the candidate can note down the Important Concepts, Formulas & Definitions on a notebook and may refer them a day before the Exam once without checking the Sikkim TET Exam Syllabus.
Also, Check: Sikkim TET Previous Papers
Sikkim TET Syllabus 2018 Details
| | |
| --- | --- |
| Name Of The Organisation | Human Resource Development Department (HRDD), Sikkim |
| Post Name(s) | Primary Level And Elementary Level Teacher Jobs |
| Number Of Vacancies | Various Posts |
| Name Of The Exam | Sikkim Teacher Eligibility Teacher 2018 Exam – November 2018 |
| Category | Syllabus |
| Date Of Exam | 11th November 2018 |
| Official Website | sikkimhrdd.org |
Sikkim Primary Level & Elementary Level Teacher Syllabus
The Contenders who Look for the Sikkim Primary Teacher Syllabus and Elementary Teacher Syllabus are at the right place. They simply need to start the preparing the topics available in the Topics listed. If the candidate weak at some subjects they can improve it by allocating more time for it because the competition is going to be very bigger. So, candidates have to not give any chance for doing mistake because each and every mark which they gain in the exam is mandatory. Those who qualify this test only be called For Teacher Job. Keeping it in mind, the postulant has to utilise this Sikkim TET Syllabus with Exam Tips to get the top marks in the exam.
Also, Check: Sikkim TET Admit Card 2018
Sikkim TET Paper I Exam Pattern

Sikkim TET Paper II Exam Pattern

Sikkim TET Exam Pattern 2018
If the Candidate Visited the Sikkim TET Exam Pattern 2018 they simply understand that from which Subject How many questions are asked. Then the candidate finds any subject has high weightage then there is a chance to Prepare once again to check whether the candidate misses any topic. Then after Try to solve the Previous Papers also which enhances their preparation style because it rectifies the mistakes which are done by a candidate in any exam generally like taking more time to solve the questions etc.
Sikkim TET Syllabus 2018 – Topic Wise
Sikkim TET 2018 Syllabus – Environmental Studies
Solar System.
Our Punjab.
Food, resources, and care.
Basic needs.
Air.
Water.
Pollution.
Transportation, communication and its development.
Weather & climate.
National property.
Diseases.
Community Buildings.
Our Surroundings.
Natural Resources.
Parts of Body
Disaster management.
First Aid.
Clothes dresses & their care.
Habitats, types.
Festivals (school, family & national).
Group songs.
Looking after the trees, plants & animals.
Health, good habits & personal hygiene.
Parts of plants.
Living and nonliving.
Days and Nights.
Geographical features and changes.
Local Bodies (Rural & Urban).
Disposal of solid waste.
Sikkim TET Syllabus 2018 – Child Development And Pedagogy
Intelligence.
Adjustment.
Learning Difficulties.
Meaning and purposes of Assessment.
Teaching learning process.
Right to Education Act 2009.
Action Research.
Child Development.
Meaning and Concept of learning and its processes.
The Role of Heredity and environment.
Theories of learning and its implication.
Factors Affecting Learning.
Motivation and Implications for Learning.
How Children learn and think.
Personality.
Individual Differences.
Understanding diverse learners.
Sikkim Teacher Eligibility Test Syllabus – Mathematics
Addition and Subtraction.
Measurement.
Division.
Time.
Weight.
Data Handling.
Volume.
Money.
Patterns.
Decimal Fractions.
LCM & HCF.
Pedagogical issue
Geometry.
Numbers.
Shapes & Spatial Understanding.
Multiplication.
Sikkim TET 2018 Syllabus – Language – I
Unseen Prose Passage.
Framing Questions Including Wh-questions.
Unseen Prose Passage.
Teaching Learning Materials.
Principles of Teaching English.
Comprehensive & Continuous Evaluation.
Development of Language Skills, Teaching Learning Materials.
STET 2018 Syllabus – 2nd Language
Unseen Prose Passage.
Modal Auxiliaries, Phrasal Verbs and Idioms, Literary Terms.
Unseen Poem.
Basic knowledge of English Sounds and their Phonetic Transcription.
Principles of Teaching English, Communicative Approach to English Language Teaching, Challenges of Teaching English.
Sikkim TET Syllabus For Paper – II
Mathematics:
Algebra.
Compound Interest Discount.
Ratio and Proportion.
Introduction to Algebra; Algebraic identities, polynomials.
Basic geometrical ideas
Geometry.
Number System.
Playing with Numbers.
Knowing our Numbers.
Negative Numbers and Integers.
Whole Numbers.
Cube root Profit & Loss.
Fractions Exponents; surds, squares, cube, square root.
Symmetry: (reflection).
Understanding Elementary Shapes
Quadrilateral.
Constructions (using Straight edge Scale, protractor, compasses).
Data handling, statistics.
Mensurations; circle, sphere, cone, cylinder, triangles
Science:
Metals & Nonmetals.
Compounds.
Soil.
Carbon.
The World of the Living organisms, microorganism, and diseases.
Acids, base, salt.
Food.
Components of food.
Sources of food.
Materials.
Cleaning food.
Air.
Materials of daily use.
Change of matter.
Water.
Molecule.
The structure of an Atom.
Natural Phenomena.
Soun.
Sources of energy.
Natural Resources.
Pollution.
Environmental concerns; regional & national.
Pedagogical issues.
Moving Things People and Ideas.
Food; production & management.
The Universe.
Effect of population growth & human activities in the environment.
Motion.
Force.
Electric current and circuits.
Work & Energy.
Light.
Magnets & magnetism.
Sikkim TET Syllabus For Social Studies/ Sciences:
Geography:
Planet: Earth in the solar system.
Air.
The environment in its totality: natural and human environment.
Human Environment: settlement, transport and communication.
Water.
Agriculture.
Resources: Types- Natural and Human.
Geography as a social study and as a science.
Globe.
History:
When, Where and How.
First Farmers and Herders.
Earliest Societies.
Regional Cultures.
Colonialism and Tribal Societies.
Rural Life and Society.
Women and reform.
The Revolt of 1857-58.
The Nationalist Movement.
Challenging the Caste System.
India After Independence.
The First Cities.
The First Empire.
New Ideas.
Political Developments.
Contacts with Distant Lands.
New Kings and Kingdoms.
Culture and Science.
Architecture.
Sultans of Delhi.
Social Change.
Creation of an Empire.
The Establishment of Company Power.
Social and Political Life (Civics):
State Government.
The Constitution.
Unpacking Gender.
The Judiciary.
Parliamentary Government.
Pedagogical issues.
Social Justice and the Marginalized.
Diversity.
Local Government.
Government.
Democracy.
Making a Living.
Understanding Media.
Useful Links
Sikkim TET Syllabus 2018 – Download