Students Download TS DEECET Syllabus 2020 and TS DEECET 2020 Exam Pattern for the exact preparation of the exam. With the Advertisement, DSE, Telangana informed Telangana DEECET Exam Pattern 2020. So, observing that, Students may find the Subjects involved in the exam nothing but TS DEECET Syllabus 2020 and try to concentrate on the topics to increase the individual knowledge. Because if the student gets more marks, they may have a better rank. So, aspirants need to make the learning process multiple times with the Telangana DEECET Syllabus 2020. All the subjects are to be learned by the Student because every subject has the weightage and marks in the exam.

TS DEECET Syllabus 2020 Details
| | |
| --- | --- |
| Organization Name | Department of School Education, Government of Telangana |
| Exam Name | Telangana Diploma in Elementary Education Common Entrance Test (TS DEECET) – 2020 |
| Admitting Courses | Diploma in Elementary Education (D.El.Ed), Diploma in Pre-School Education (D.P.S.E) |
| Category | Entrance Exam Syllabus |
| Official Website | deecet.cdse.telangana.gov.in |
Telangana DEECET Syllabus 2020
Department of Secondary Education, Telangana released TS DEECET 2020 Syllabus and Exam Pattern at deecet.cdse.telangana.gov.in. So, students appearing for the exam shall maintain proper idea on the Telangana DEECET Syllabus 2020 by using the specified Topics. At first, look at the TS DEECET Exam Pattern 2020 and make a plan of covering the total subjects contained in the Telangana DEECET Syllabus 2020. As there are Telugu, Urdu, and English Medium, almost all the topics in Part I, II, III are the same except the Department student applied for. In Part I, GK and Teaching Aptitude are given for 10 Marks with 10 questions. In Part II, General English, General Telugu/ General Urdu contains for 30 Marks with 30 questions. In Part III, Maths, Physics, Bilogy, and Social Studies are given with 60 Questions for 60 Marks. Means TS DEECET Exam is given with 100 Questions for 100 marks.
Related Links
Telangana DEECET Exam Pattern 2020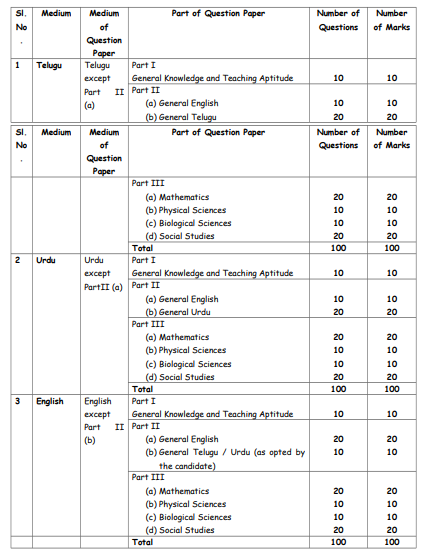 Telangana TTC Entrance Exam Syllabus 2020 – Subject Wise
Part A
General Knowledge
Countries and Capitals
Knowledge of Current Events
Important days
General Politics
Science- Inventions and Discoveries
India and Its Neighboring Countries
National Current Affairs
International Current Affairs
History
Culture
Abbreviations
Economic Scene
Scientific Research
Indian Constitution
Teaching Aptitude
To examine the skillfulness of the contestants in teaching aptitude
Part B
General English
Spotting the Errors.
Idioms & phrases.
Spellings Check.
Re-arranging sentences.
Comprehensive skills.
Sentence formation.
Sentence completion.
Synonyms.
Antonyms.
Spelling mistakes.
Telugu, Urdu
Recognize correct tense
Select the correct voice
Comprehension
Plural forms
Match the words and phrases
Fill-ups
Select the correct question tags
Part- C
Mathematics
Algebra
Number System
Whole Numbers
Constructions
Negative Numbers and Integers
Basic geometrical ideas (2-D)
Understanding Elementary Shapes
Mensuration
Symmetry
Quadrilateral
Data handling, statistics also
Introduction to Algebra
Cube root Profit & Loss
Geometry
Fractions Exponents
Ratio and Proportion
Compound Interest Discount
Physical Sciences
Electrostatics
Atom Molecules and Nuclei
Circular Motion
Current Electricity
Electromagnetic Induction
Electrons and photons
Kinetic Theory of Gases
Radiation
Rotational Motion
Simple Harmonic Motion
Thermionic Emission
Wave
Theory of Light
Semi-Conductors
Properties of Fluids
Magnetic effect of electric current
Gravitation
Biological Sciences
Photosynthesis
Pollution
Domestication of plants
Evolution
Fertilizers
Genes
Locomotion
Nervous coordination
Bioenergy Biotechnology
Circulation
Reproduction
Respiration
Classification of Chordata
Community health services and measures
Conquest of land
Domestication of animals
Social Studies
History
Geography
Political life & Social life
Useful Links
Telangana Diploma in Elementary Education Common Entrance Test Syllabus 2020: Download