UPPCL JE Syllabus 2020 with UPPCL JE Trainee Exam Pattern of Civil is disclosed by the Uttar Pradesh Power Corporation Limited and the Contenders may Gather it from upenergy.in and can get maximum knowledge on the Subjects given under UPPCL Junior Engineer Syllabus 2020. As per the topics are given, all must plan accordingly by seeking the help of the UPPCL Junior Engineer Exam Pattern. Those who follow the UPPCL JE Civil Exam Syllabus will easily crack the exam because they get the knowledge on subjects on what the exam paper is given.
UPPCL JE Syllabus 2020 | UPPCL JE Trainee Syllabus PDF
UPPCL Junior Engineer Syllabus 2020 PDF in Hindi and English is given where aspirants can do the preparation based on their convenience. For aspirant's sake, UPPCL gives question paper in English and Hindi Languages. So, get do the preparation for the exam using the Given UPPCL JE Trainee Syllabus 2020. There is no chance for skipping any topic of the Given Syllabus PDF because all the Topic marks will be summed up to select the contenders. To have a basic idea once refer to the UPPCL JE Trainee Exam Pattern 2020 and do the exam practice accordingly, then all must do complete the preparation very easy with less span of time. If an applicant has less span of time for covering any Subject, at least try to cover the basic information for trying to find a similar answer in the exam.
Also, Check: UPPCL JE Recruitment 2019
Overview Of UPPCL JE Syllabus 2020
| | |
| --- | --- |
| Name Of The Organization | Uttar Pradesh Power Corporation Limited (UPPCL) |
| Name Of The Posts | Junior Engineer Trainee (Civil) Posts |
| Number Of Posts | 31 Posts |
| Category | Syllabus |
| Advertisement Date | 21.11.2019 |
| Initial Date Of Registration | 05.12.2019 |
| Last Date To Apply | 26.12.2019 |
| Final Date To Pay Fee through SBI Challan | 28.12.2019 |
| Official Website | upenergy.in |
UPPCL Junior Engineer Trainee Civil Exam Pattern 2020
Subjects
No of Questions
Marks
Duration
Technical Syllabus
150
150
3 Hours
General Awareness/ Knowledge
20
20
Reasoning
20
20
General Hindi
10
10
Total
200 Questions
200 Marks
UPPCL JE Trainee Question Paper contains Four sections namely as given on the table for 200 Questions for 200 Marks as mentioned above and the contender needs to score maximum score in the exam. As the Time duration is 03 hours of time having 0.25 Negative marking, candidates' groundwork must be in a way to qualify the exam with the provided UPPCL JE Trainee Civil Exam Syllabus.
Civil Engineering Syllabus
Canal Head Works
Cross Drainage Works
Dams
Water Logging and Drainage
Flood Protection
Irrigation Management
Fluid Mechanics
The strength of Materials & Theory of Structures
Design of Reinforced concrete structures
Steel & Machinery structures
Soil Mechanics and Foundation Engineering
Surveying
Building Materials and construction
Water supply and sanitation for public building
Water Resources Engineering
Rain Fall & Run-off
Water Requirement of Crops
Lift Irrigation
Flow Irrigation
Reasoning Syllabus
Situation Reaction Test.
Statement – Arguments.
Logical Sequence of Words.
Deriving Conclusions from Passages.
Logic.
Alphabet Test.
Eligibility Test.
Data Sufficiency.
Theme Detection.
Logical Venn Diagrams.
Analogy.
Puzzle Test.
Classification.
Coding-Decoding.
Series Completion.
Alpha Numeric Sequence Puzzle.
Inserting The Missing Character.
Number, Ranking & Time Sequence.
Clocks & Calendars.
Statement – Conclusions.
Arithmetical Reasoning.
Mathematical Operations.
Direction Sense Test.
General Knowledge/ Awareness Syllabus
Indian History.
Indian Economy.
General Polity.
Indian & World Geography.
Indian Constitution.
Science & Technology
 Current Affairs – International & National.
Indian Culture & Heritage.
Events related to India and its neighboring countries.
General Hindi Syllabus
Comprehension.
Phrases/Muhavare.
Grammar.
Plural Forms
Antonyms.
Vocabulary.
Synonyms.
Fill in the Blanks.
Error Detection.
Translation of Sentences.
UPPCL Junior Engineer Syllabus 2020 @ upenergy.in
This UPPCL JE Syllabus PDF 2020 of Civil contains Civil Technical Subjects, GK, Reasoning, and General Hindi. So, all these must be covered within the exam by planning accordingly. Although some have more topics and some have fewer topics that are to be learned. Be good at the basics because they will make a contender get to notice a solution. As there is negative marking even, answer to only known questions to get maximum marks. So, don't waste time in UPPCL JE Syllabus 2020 in Hindi PDF Download as it provided free of cost. After completion of it, revise them again and solve UPPCL JE Civil Previous Papers for coming to a conclusion about the answering capacity of the applicant and there is a chance for them to repeat the preparation if they are still lagging in getting a score on particular subject, they can go for seeking the Tricks for particular Subject to gain the best score.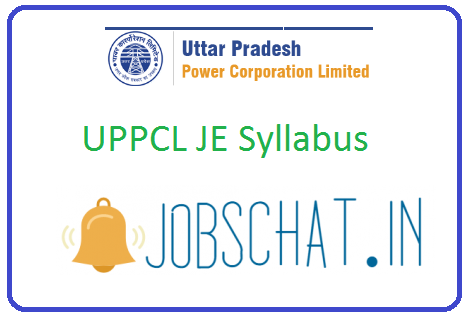 Download UPPCL JE Exam Pattern 2020
UPPCL Junior Engineer Civil Exam Pattern 2020 is provided at this page and advising all to follow it and learn the Subjects in a systematic way. Because those who cover the Maximum Marks awarding subjects first and then come to remaining ones, it will be easy for attaining the score. Otherwise, they may not cover all the topics which lead to not qualifying for the exam. As there are questions also from Technical Subjects maximum time must be fixed to that because maximum marks can be attained at that topic. To compete with the competition, this UPPCL JE Exam Syllabus is only helpful to every contender. As the Syllabus PDF is avail here, directly download it and continue the groundwork.
Also, Check: UPPCL Junior Engineer Previous Papers
Useful Links
UPPCL Junior Engineer Trainee (Civil) Syllabus 2020: Download
Only Based on this UPPCL JE Trainee Syllabus exam questions will be offered and who are good at this will easily get enough marks to achieve the Job by getting eligibility for the Interview. Also, follow the Other Exam Question Papers also which may those questions also come in the exam and for exam solving ideas contact www.upenergy.in.