UPPCL JE Syllabus 2020 Electrical, Electronics/Telecommunication, Civil along with UPPCL JE Trainee Exam Pattern is disclosed by the Uttar Pradesh Power Corporation Limited. Contenders may collect the UPPCL JE Syllabus in Hindi from upenergy.in to get maximum knowledge of the exam Subjects. As per the UPPCL Junior Engineer Exam Pattern 2020 given, all must plan the syllabus preparation according to it. Those who follow the UPPCL Junior Engineer Syllabus 2020 will easily crack the exam because they have done the proper preparation of the examination subjects.
UPPCL JE Syllabus 2020-2021 Details
| | |
| --- | --- |
| Name Of The Organization | Uttar Pradesh Power Corporation Limited (UPPCL) |
| Name Of The Posts | Junior Engineer Trainee (Civil) Posts |
| Number Of Posts | 212 Posts |
| Category | Syllabus |
| Official Website | upenergy.in |
UPPCL Junior Engineer Syllabus 2020-2021
UPPCL JE Syllabus in Hindi Electrical, Electronics/Telecommunication, and English is given for aspirant's sake. To have a basic idea of UPPCL JE Exam Pattern 2020-2021 once refer to this page, then do the exam preparation accordingly. Candidates, be good at the basics because learning of basic topics of the UPPCL JE Examination is helpful to score minimum qualifying marks. As there is negative marking even, answer to only known questions to get maximum marks. After completion of reading the UPPCL Junior Engineer Syllabus 2020-2021, revise them again to gain the best score.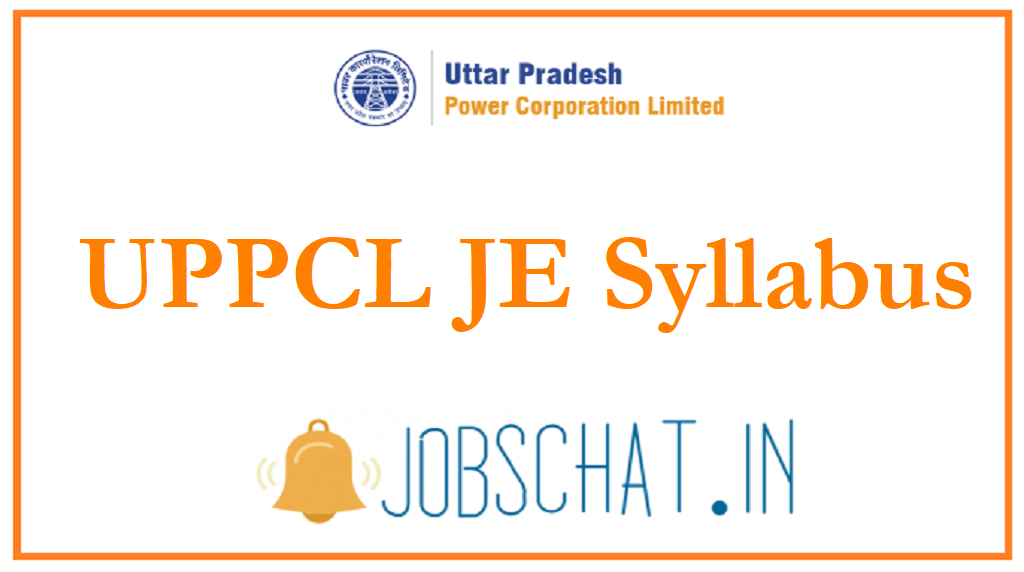 UPPCL JE Syllabus in Hindi Electrical, Electronics/Telecommunication
 UPPCL JE Exam Pattern 2020 is provided on this page and advising all to follow it and learn the Subjects in a systematic way. Try to read the exam topics which have more marks weightage first and then come to remaining ones, so that it will be easy for attaining the score. Otherwise, they may not cover all the topics which lead to not qualifying for the exam. If you observe UPPCL JE Syllabus in Hindi Electrical, Electronics/Telecommunication, then you will find that more questions are from Technical Subjects so maximum time must be fixed to that because maximum marks can be attained on that topic. To compete with the competition, this UPPCL JE Exam Syllabus is only helpful to every contender. As the Syllabus PDF is available here, directly download it and continue the preparation.
Related Links
UPPCL JE Exam Pattern 2020
Exam Subjects
No of Questions
Total Marks
Exam Duration
Technical Syllabus
150
150
3 Hours
General Awareness/ Knowledge
20
20
Reasoning
20
20
General Hindi
10
10
Total
200 Questions
200 Marks
Imp Points About UPPCL Junior Engineer Exam Pattern:-
UPPCL JE Trainee Exam contains Four sections namely Technical Subjects, GK, Reasoning, and General Hindi.
The total number of questions asked in the exam are 200 Questions
 0.25 Negative marking is there.
The exam duration is 3 Hours.
UPPCL JE Syllabus 2020-2021-
Electrical Engineering Syllabus
Digital Electronics.
Electrical machines.
Digital Signal Processing.
Measurements, Instrumentation, and Transducers.
Analytical instrumentation.
Electrical Circuits and Fields.
Control systems.
Industrial Instrumentation.
Computer Control of Processes, Networks.
Communication Engineering.
Power Electronics and Drives.
Power Systems.
Electronics Engineering
Electronic Components & Materials
Electronic Devices and circuits
Digital Electronics
Linear Integrated Circuit
Microprocessor and Microcontroller
Electronic Measurements
Communication Engineering
Data communication and Network
Computer Programming
Basic Electrical Engg.
Telecommunication Engineering
Digital Systems
Digital Signal Processing
Fuzzy logic and Neural Networks
VHDL and VLSI
Digital Communication
Embedded System
Microprocessors and Micro Controllers and Microwaves
Civil Engineering Syllabus
Canal Head Works
Cross Drainage Works
Dams
Water Logging and Drainage
Flood Protection
Irrigation Management
Fluid Mechanics
The strength of Materials & Theory of Structures
Design of Reinforced concrete structures
Steel & Machinery structures
Soil Mechanics and Foundation Engineering
Surveying
Building Materials and construction
Water supply and sanitation for public building
Water Resources Engineering
Rain Fall & Run-off
Water Requirement of Crops
Lift Irrigation
Flow Irrigation
Reasoning Syllabus
Situation Reaction Test.
Statement – Arguments.
Logical Sequence of Words.
Deriving Conclusions from Passages.
Logic.
Alphabet Test.
Eligibility Test.
Data Sufficiency.
Theme Detection.
Logical Venn Diagrams.
Analogy.
Puzzle Test.
Classification.
Coding-Decoding.
Series Completion.
Alpha-Numeric Sequence Puzzle.
Inserting The Missing Character.
Number, Ranking & Time Sequence.
Clocks & Calendars.
Statement – Conclusions.
Arithmetical Reasoning.
Mathematical Operations.
Direction Sense Test.
General Knowledge/ Awareness Syllabus
Indian History.
Indian Economy.
General Polity.
Indian & World Geography.
Indian Constitution.
Science & Technology
 Current Affairs – International & National.
Indian Culture & Heritage.
Events related to India and its neighboring countries.
General Hindi Syllabus
Comprehension.
Phrases/Muhavare.
Grammar.
Plural Forms
Antonyms.
Vocabulary.
Synonyms.
Fill in the Blanks.
Error Detection.
Translation of Sentences.
Useful Links
UPPCL JE Syllabus 2020-2021 Pdf: Download