Union Public Service Commission released the UPSC CDS 2 Exam Syllabus 2018 along with recruitment, for the applied aspirants to prepare. So, candidates can download the UPSC CDS 2 2018 Exam Syllabus from upsc.gov.in which is available in PDF Format and start the groundwork to appear for the exam with the highest confidence to score more marks.
UPSC CDS 2 Exam Syllabus 2018
UPSC CDS 2 2018 Exam Syllabus: The Candidates who are searching for UPSC Combined Defense Services Exam Syllabus are in the right place for preparation. We have placed the Entire CDS Exam Topics subject wise and in PDF Format, which helps the aspirants to prepare well. Open the link to check it. We insist the aspirants apply firsts and then download and start the preparation as per the required schedule covering all the topics before the exam date. As it is a Central Govt Job exam, the difficulty levels will be very high. So, those who learn and perform well in the CDS test only will get shortlisted for next rounds.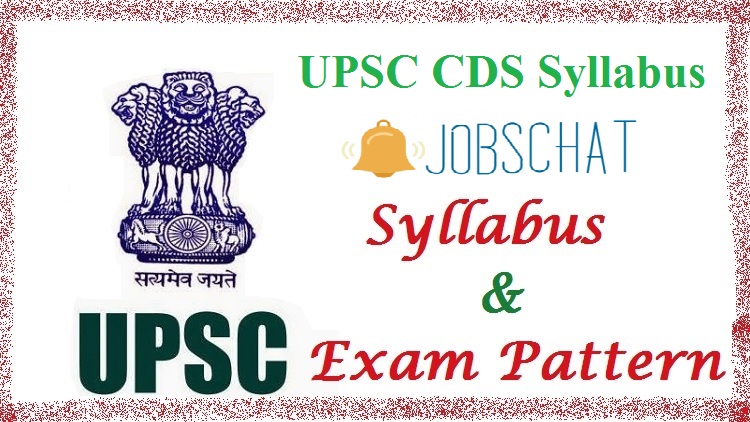 Also, Check: UPSC CDS II Exam Notification 2018
Check UPSC Combined Defense Services Exam Pattern
We insist the Applied Aspirants check Exam Pattern Union Public Service Commission CDS Syllabus. This is necessary because aspirants will get an idea of the topics covered in the exam regularly along with the model of questions asked frequently in the exam. It means simply checking the Previous Papers of UPSC CDS Exam. So, candidates will prepare for the exam effectively. They are good at some areas and dull at some. Concentrate more on more weight age section and less on remaining topics without fail. Then only the fulfilment will be done to secure the top score. Everyone needs to remember that Those who secure a high score in Written test only be eligible for Further rounds.
Brief Information About UPSC CDS 2 2018 Exam Syllabus
| | |
| --- | --- |
| Name Of The Organisation | Union Public Service Commission (UPSC) |
| Name Of The Exam | Combined Defence Service Examination(II), 2018 |
| Number Of Posts | 414 Posts |
| Category | Syllabus |
| Exam Date | Update Shortly |
| Official Website | www.upsc.gov.in |
Also, Check: UPSSSC Yuva Kalyan Adhikari Admit Card 2018
Download UPSC CDS Syllabus 2018
UPSC Every Year conducts this Combined Defense Services Exam to recruit various candidates. So, we check the Previous Exam UPSC CDS 2 Exam Syllabus and modify it according to the present CDS Exam pattern. This makes the aspirants make more intensive groundwork and have a top score. We also advise the aspirants to find the Previous UPSC CDS 2 Exam Cut-Off Marks, to improvise the speed of preparation to reach that score atleast. Save the valuable time and revise the topics as many times as possible to have a complete idea of topics not to prepare them once again.
After the complete Preparation of UPSC CDS 2 Exam Syllabus 2018 once attend the mock test organised by many websites and check the performance like time controlling answering exact questions etc which improves the confidence level of aspirants. Also, concentrate on fundamentals and formulas. Everyone knows that Written test has its importance in any exam. Officials will consider the score of this for shortlisting of eligible aspirants. Follow up the steps to download the UPSC CDS Exam Syllabus. For more latest jobs go for jobschat.in
S NO
Subject
Marks 
Duration
1
English
100
2 hours
2
General Knowledge
100
3
Elementary Mathematics
100
Total
300
Check UPSC CDS Test Pattern – Officer's Training Academy
S NO
Subjects
Marks
Time Duration 
1
English
100
2 hours
2
General Knowledge
100
Total
200
UPSC CDS 2 Exam Syllabus 2018
UPSC CDS 2 2018 Exam Syllabus – English
Synonyms
Antonyms
Reading Comprehension
Para Jumbles
Error Spotting
Jumbled Sentences
Sentence Correction
Fill in the Blanks
UPSC CDS GK Syllabus
Knowledge of current topics
History of India and Geographical issues
Indian Economy covered in CDS Exam Syllabus
Books and Authors name
Indian Navy & Military
Monuments of India
Religions
Banking Sector
Universities included in CDS Exam Syllabus
Books & Authors covered in CDS Exam Syllabus
Taxation
Sports – Awards etc.
UPSC CDS Exam Syllabus – Maths
1.  Arithmetic

Number System – Natural numbers, Integers, Rational & Real numbers. Fundamental operations
Unitary method – time & distance, time & work, percentages, applications to simple and compound interest, profit and loss, ratio and proportion, variation.
 Multiples and factors
Elementary Number Theory
Euclidean algorithmPrime and composite numbers.
 Division algorithm.
Tests of divisibility by 2, 3, 4, 5, 9 and 11.
.H.C.F. and L.C.M.
Factorisation Theorem.
2. Algebra

Basic Operations
Simple factors,
Remainder Theorem,
H.C.F., L.C.M.
Theory of polynomials, s
Quadratic equations,
The relation between its roots & coefficients (Only real sources to be considered).
Simultaneous linear equations in two unknowns-analytical and graphical solutions.
Rational expressions and conditional identities,
Laws of indices.
3. Trigonometry
Sine x,
cosine x,
Simple trigonometric identities,
Values of sin x, cos x & tan x, for x = 0, 30, 45, 60 and 90 degrees,
Tangent x when 0 < x < 90 degrees,
Use of trigonometric tables.
Simple cases of heights and distances.
4. Geometry
Lines and angles,
Plane and plane figures,
Theorems on

 Properties of angles at a point
 Parallel lines,
 Sides and angles of a triangle,
Congruency of triangles,
Similar triangles,
The concurrence of medians and altitudes,
Properties of angles, sides, & diagonals of a parallelogram, rectangle, and square
Circles & its properties including tangents and normals, (ix) Loci.
5. Mensuration
Areas of squares,
rectangles,
triangle, & circle.
Areas of figures which can be split up into these characters (Field Book),
Surface area & volume of cuboids,
Surface area and size of spheres.
6. Statistics
Collection and tabulation of statistical data,
Measures of central tendency.
Graphical representation frequency histograms, bar charts, pie charts, etc.
How To Check UPSC CDS 2 Exam Syllabus 2018:
Aspirants who have applied for this recruitment can open www.upsc.gov.in
On Home Page find the available link.
Click on it and select UPSC CDS 2 2018 Exam Syllabus option.
Open it and check Syllabus and download by clicking on the 

download button

.
Take a Hard Copy and use it for preparation.
Keep it for future usage.
Important Links
UPSC CDS 2 Exam Syllabus 2018 – Download Here