Andhra University Recruitment 2018 is issued by the AU officials for the selection of 337 Posts in Assistant And Associate Professor Job in various Subjects and Inviting Online Applications for the Candidates to apply for both AU Asst and Associate Professor Jobs in Online By sending the Online Applications from site @ andhrauniversity.edu.in before 02nd Feb 2018.
Andhra University Recruitment 2018
AU Assistant Professor Recruitment 2018: Andhra University, Vizag announced a huge Notification for the filling of both Associate and Assistant Professor Jobs both in Phase 1 and 2 which are of total 337 vacancies. So, the Candidates who want to make their life happy by securing the Andhra Pradesh Govt Job, can simply open this AU Asst Associate Professor Notification 2018, and find their eligibilities to send their both Online And Offline Applications. The vacancies are available in Various Subjects. So, the applicants just simply go through the Notification once and can apply to their desired subject without any delay to free from N/w problems before 02.02.2018. So, Stay tuned to the jobschat.in to grab any further job news if any incorporated here.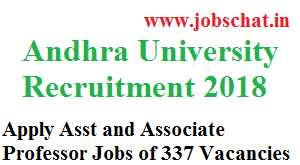 Also, Check: AP Postal MTS Results 2018
AU 337 Asst and Associate Professor Job Advertisement
Andhra University One of the Leading University of India, Announce the Job openings every Year in a cyclical Manner. In the same way, the Andhra University Assistant Professor Notification released announced along with Associate professor Jobs of total 337 Posts. Interested Seekers should apply for this posts by checking the jobs once. The AU Verifies all the Applications received and shortlisting the Applications is done. And the Call Letter is issued for those only to attend the Interview which is Feb 2018. So, the Applicants should Concentrate more on Syllabus to crack the Interview round, Because Experienced Candidate also competes for this Jobs.
Andhra University Recruitment 2018 Overview
ఆంధ్ర విశ్వవిద్యాలయాల రిక్రూట్మెంట్ 2018 ను అజిస్ట్రేట్ మరియు అసోసియేట్ ప్రొఫెసర్ జాబ్లో వివిధ అంశాల్లో 337 పోస్టులను ఎంపిక చేయాలని మరియు ఆన్లైన్లో దరఖాస్తులను ఆన్లైన్ దరఖాస్తులను పంపడం ద్వారా ఆన్లైన్లో అస్ అస్స్ట్ మరియు అసోసియేట్ ప్రొఫెసర్ జాబ్స్ కోసం దరఖాస్తు చేసుకోవటానికి అభ్యర్థుల కోసం ఆన్లైన్ దరఖాస్తులను ఆహ్వానించింది. సైట్ @ ఆంధ్ర విశ్వవిద్యాలయం.
Organization Name: Andhra University
Posts Name: Assistant, Associate Professor Posts
No. Of Vacancies: 337 Jobs
Application Start Date: 06th Jan 2018
Application End Date: 02nd February 2018
Job Category: Govt Job
Apply Mode: Online
Job Location: Vishakapatnam, Andhra Pradesh
Official Website: andhrauniversity.edu.in
Andhra University Vacancies: 
Assistant Professors (phase-I)-217
Assistant Professors (Phase-II)-104
Associate Professors (Phase-I)-13
Associate Professors (Phase-II)-03
AU Asst Professor Vacancies:
Group-I: Total – 88 Posts
Politics & Public Administration: 08 Posts
Sanskrit: 02 Posts
Economics: 08 Posts
Education: 04 Posts
English: 04 Posts
Social Work: 02 Posts
Sociology: 05 Posts
Telugu: 04 posts
Theatre Arts: 02 Posts
Yoga: 04 Posts
Anthropology: 04 posts
Commerce & /management Studies: 06 Posts
Hindi: 05 Posts
History & Archaeology: 06 Posts
Human Resource Management: 03 Posts
Journalism & Mass Communication: 03 Posts
Law: 05 Posts
Library & Information Science: 04 Posts
Philosophy: 04 Posts
Physical Education: 03 Posts
Group-II: Total – 78 Posts
Pharmaceutical Sciences: 11 Posts
Physics: 06 Posts
PNCO: 04 Posts
Botany: 05 Posts
Environmental Sciences: 01 Posts
Geography: 03 Posts
Geology: 06 Posts
Psychology: 05 Posts
Statistics: 02 Posts
Zoology: 04 Posts
Applied Mathematics: 04 Posts
Biochemistry: 04 Posts
Geophysics: 04 Posts
Human Genetics: 03 Posts
Inorganic Chemistry: 02 Posts
Marine Living Resources: 02 Posts
Mathematics: 02 Posts
Meteorology & Oceanography: 05 Posts
Nuclear Physics: 01 Posts
Organic Chemistry: 04 Posts
Group-III: Total: 51 Posts
Humanities, Basic Sciences: 03 Posts
Instrument Technology: 04 Posts
Electronics & Communication Engineering: 07 Posts
Engineering Mathematics: 03 Posts
Geo-Engineering: 03 Posts
Marine Engineering: 03 Posts
Chemical Engineering: 05 Posts
Civil Engineering: 05 Posts
Computer Science & Systems Engineering: 02 Posts
Electrical Engineering: 04 Posts
Mechanical Engineering: 06 Posts
Metallurgical Engineering: 02 Posts
Architecture: 04 Posts
Also, Check: APGENCO JAO Admit Card 2018
Andhra University Recruitment 2018 Stipulations For Asst Professor
Educational Qualifications:
Aspirants must qualify M.Sc/ MA/ M.Ed and other in relevant field with 55% of marks with relevant experience to apply for this Andhra University Assistant Professor Recruitment 2018.
Age Limit:
According to the Andhra University Recruitment 2018, The Candidates must possess the age limits within the 18 to 56 years.
Application Fee:
As per the Andhra University Recruitment 2018 Advertisement, the aspirants need to pay the following fee
General/ OBC Candidate: Rs.1,000/-
SC/ ST Aspirants: Rs.500/-
Selection Procedure:
The Andhra University Authorities will shortlist the Applicants based on Interview/ Screening Test.
Pay Scale:
The Candidates will get the Monthly Package of Rs.5,600/- to Rs.39,100/- along with GP of Rs.6,000/-
Clear Steps To Apply Andhra University Recruitment 2018:
Candidates must open the Andhra University HomePage @ www.sche.ap.gov.in
On the Home page, Find the Andhra University Asst Professor Notification 2018 among the updates.
Open that and go through the Qualifications, details and applying procedure.
Then open the Andhra University Online Application link and provide the details and upload the photo and other documents and pay the fee in any nationalised bank.
Submit the Application before the due date and download a xerox copy of this Andhra University Asst Professor Phase I application form which is essential for an interview.
Address to Send Offline Applications:
To
The Andhra University(AU), Walter junction, Visakhapatnam, Andhra Pradesh – 530003.
Useful Dates:
Application Start Date: 06.01.2018
Application End Date: 02.02.2018
Andhra Pradesh 337 Asst And Associate Professor Job Openings
So, the Candidates can apply for Andhra Pradesh Asst Professor Group I, II, III Posts and Associate Professor Posts fastly by following the Procedure given below. Clearly, the Links for each post is given below and the candidates can get complete information without searching another portal. The Higher Officials as per the Educational and Age factors shortlist the Applications and select the aspirants for the Interview. The selected aspirants will get the salary as per the Norms gave. So, stay tuned to this page to know the Upcoming SSC Job also.
Useful Links:
Officials AU Associate Professor Notification 2018
Official Andhra University Asst Professor Advertisement 2018
Andhra University Recruitment 2018 Online Application
AU Asst Professor Login Page Link