Haryana Staff Service Commission released the HSSC Female Supervisor Result 2018 along with Merit List PDF of Final on 07th August 2018 on its site hssc.gov.in. So, aspirants hunting for this Female Haryana Supervisor Results can check the Merit List which is available along with Interview date which is issued on this HSSC web portal.
HSSC Supervisor (Female) Final Result 2018 Out !
Latest Info(07th August 2018): Haryana Staff Selection Board Announced the HSSC Female Supervisor Final Result on 07.08.2018 and applicants can view it.
HSSC Female Supervisor Result 2018
Haryana SSC Supervisor Result 2018: Haryana SSC Board issued an Important Information for the Female Supervisor Posts which is nothing but the announcement of HSSC Female Supervisor Result along with Answer Keys. As per the Notification, the HSSC conducted the Examination for aspirants in Haryana to fill up the 2,508 Posts on 19th Nov 2017. And the Candidates had performed well and after that, they have been waiting for the selected category whether they have qualified or not. So, for all those candidates queries they must visit www.jobschat.in and view this HSSC Supervisor Results article which is provided to know their Secured marks along with Haryana Female Supervisor Qualified List from the following link given by entering their Reg No and DOB.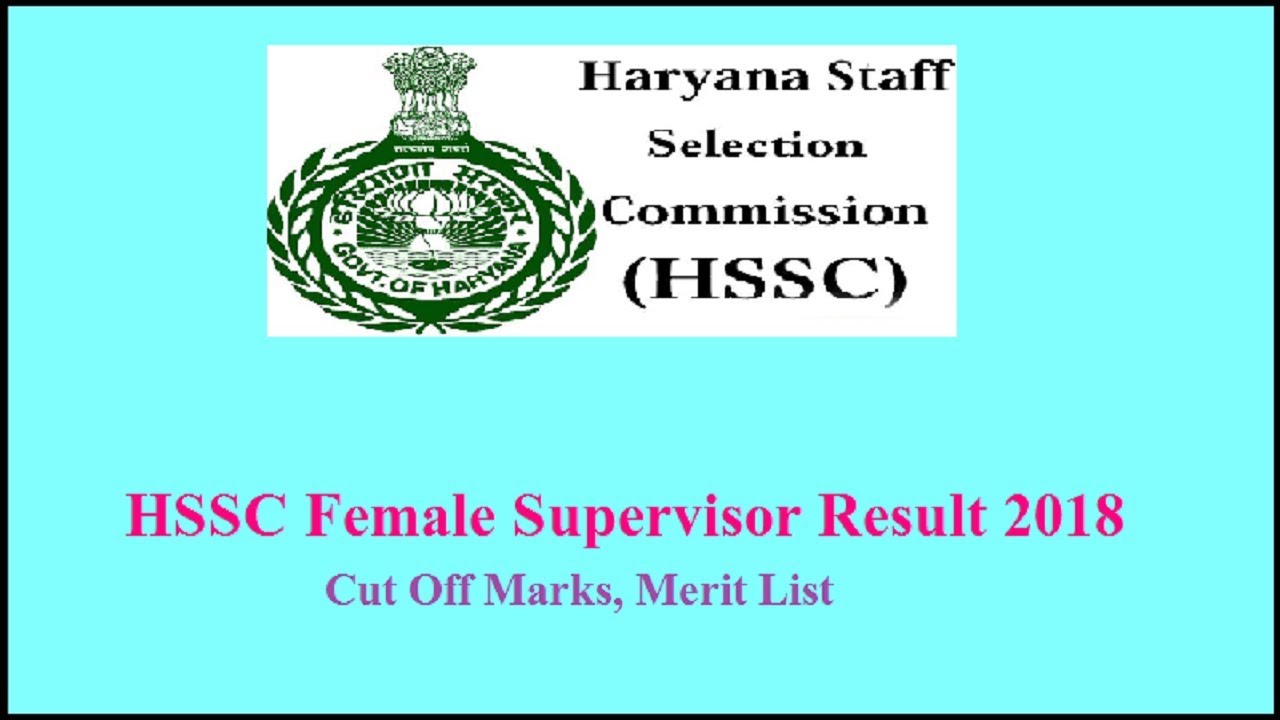 Also, Check: Punjab And Haryana HC Clerk Result 2018
Haryana SSC Female Supervisor Cut-Off Marks And Score Cards
HSSC Supervisor(Female) Score Cards with the Cut-Off marks is incorporated here where aspirants must verify their Sectional wise marks and Total Marks achieved and also check the Haryana Female Supervisor Cut-Off marks on what basis the Cut-Off marks are decided. The Candidates who achieved the Minimum marks which are given in the table only qualified for the Interview level and they will be intimated the HSSC Female Supervisor Interview date shortly through registered email. So, the aspirants must ready with all the necessary documents that are to be verified by the Interviewer with this Score Cards and Results handout also.
HSSC Female Supervisor Result 2018 Details
ਹਰਿਆਣਾ ਸਟਾਫ ਸਰਵਿਸ ਕਮਿਸ਼ਨ ਨੇ ਆਪਣੀ ਵੈਬਸਾਈਟ hssc.gov.in 'ਤੇ 07 ਫਰਵਰੀ 2018 ਨੂੰ ਮੈਰਿਟ ਲਿਸਟ ਪੀਡੀਐਫ ਨਾਲ ਐਚ ਐਸ ਐਸ ਸੀ ਮਾਮੇ ਸੁਪਰਵਾਇਜ਼ਰ ਦੀ ਪਰਿਭਾਸ਼ਾ 2018 ਰਿਲੀਜ਼ ਕੀਤੀ. ਇਸ ਲਈ, ਇਸ ਮਹਿਲਾ ਹਰਿਆਣਾ ਸੁਪਰਵਾਇਜ਼ਰ ਦੇ ਨਤੀਜੇ ਲਈ ਸ਼ਿਕਾਰ ਉਮੀਦਵਾਰ ਮੈਰਿਟ ਲਿਸਟ ਨੂੰ ਚੈੱਕ ਕਰ ਸਕਦੇ ਹਨ ਜੋ ਇੰਟਰਵਿਊ ਦੀ ਤਾਰੀਖ ਦੇ ਨਾਲ ਉਪਲਬਧ ਹੈ ਜੋ ਕਿ ਇਸ HSSC ਵੈਬ ਪੋਰਟਲ ਤੇ ਜਾਰੀ ਕੀਤੀ ਗਈ ਹੈ.
Name of Organization: Haryana Staff Service Commission
Post Names: Female Supervisor/ Anganwadi
Total Vacancy: 2,508 Vacancies
Department Name: Haryana Child Development Department
Category: Result
Exam Date: 19th Nov 2017
Result Status: 07th Feb 2018
Final Result: 07th August 2018
Official website: www.hssc.gov.in
HSSC Female Supervisor Cut-Off Marks:
| | | |
| --- | --- | --- |
| Sr. No | Name of Category | Cut off Marks (Qualifying Marks) |
| 1 | For General (UR) Candidates | 150 to 156 Marks |
| 2 | For OBC Candidates | 142 to 149 Marks |
| 3 | For SC Candidates | 130 to 140 Marks |
| 4 | For ST Candidates | 123 to 129 Marks |
| 5 | For PH Candidates | 115 to 120 Marks |
Also, Check: PSTET Admit Card 2018
HSSC Anganwadi Supervisor(Female) Merit List, Interview Date
Candidates must check the Haryana Anganwadi Supervisor Merit List because it is equipped with all the Qualified aspirant's list to Interview round, where their Reg No is only printed on it. All must check it whether they are qualified or not for an interview and also check the Haryana Female Supervisor Answer Keys which is also announced. As per this Answer Keys, the Marks is awarded to the aspirants. So, the aspirants need to check that list and must aware of the Answers to each question and must repeat in the further examination if any applied by them. So, candidates must follow up the steps provided to know their Score as it announced on site www.hssc.gov.in. In addition to this, the candidates also search for the Latest Railway Jobs to apply.
Procedure To Check HSSC Female Supervisor Result 2018:
Aspirants must Go to the HSSC Main Page once @ www.hssc.gov.in
On the Home Page Find Results Tab available.
Open it and Find the HSSC Female Supervisor Results link placed.
Open the link and fill details of aspirants like Reg No and DOB/ Password as per the criteria.
Within a short span of time, the HSSC Supervisor Results will be displayed on the computer screen.
Qualified contenders must download and take this copy and also find the Interview Notice For Supervisor(Female) Posts given.
Important Links And Dates
| | |
| --- | --- |
| Exam Date | Completed |
| HSSC Result 2018 Of Female Supervisor (Written Test) | Download Here |
| Final Results Declared Date | 07th August 2018 |
| HSSC Supervisor(Female) Final Result 2018 | Download Here |