B.Tech, B.Pharmacy, M.Tech, M.Pharmacy, MBA, MCA JNTUK Previous Papers Semester Wise for all Regulations released. Both Regular, Supply Exams JNTUK Previous Question Papers of R16, R19, R13, R10 regulations are available. Students who joined the Course Download JNTU Kakinada Previous Papers of a particular course to know the Model of the Question Paper. All the JNTUK affiliated colleges held the Exam with the JNTUK Question Paper issued by JNTUK. All the JNTUK UG, PG Courses Previous Question Papers for Free to all the students. So, every student access all the Regulations JNTU Kakinada Old Question Papers of all Regular, Supply exams that are held till now to know all the questions that are asked.
JNTUK Previous Papers
JNTUK Previous Papers Set Wise of previously Completed UG, PG Courses of the R19, R16, R13, R10 Regulations. So, Students refer to all the JNTU Kakinada Previous Question Papers such that they may expect the type of questions that come in the JNTUK Semester Examination. B.Tech contains Branches like Civil, Mechanical, Electrical, etc, and so on. So, all the Branches' JNTUK Previous Papers are provided for the student's practice sake. Not only the B.Tech, but they also find B.Pharmacy, M.Tech, M.Pharmacy, MBA, MCA courses JNTU Kakinada Old Question Papers. They know how the JNTUK changed the Structure of the Question Paper of every course for every Regulation change.
JNTU Kakinada UG, PG Question Papers – All Regulations
Related Links
JNTUK Model Papers PDF
Students also find JNTUK Model Papers PDF. This means they find the scope for how many questions they can answer with the Given JNTU Kakinada B.Tech Model Paper. Students may find Just only one or two years of JNTUK Previous Papers from the College Library. But, from Jobschat.in, they can access all the Previously held R19, R16, R10, R03 Regulations JNTUK Question Papers PDF. By that analysis, students analyze their knowledge and continue learning the JNTUK Syllabus. From JNTU Fast Updates, students may Download the Syllabus, Time tables, Results of all UG, PG Courses.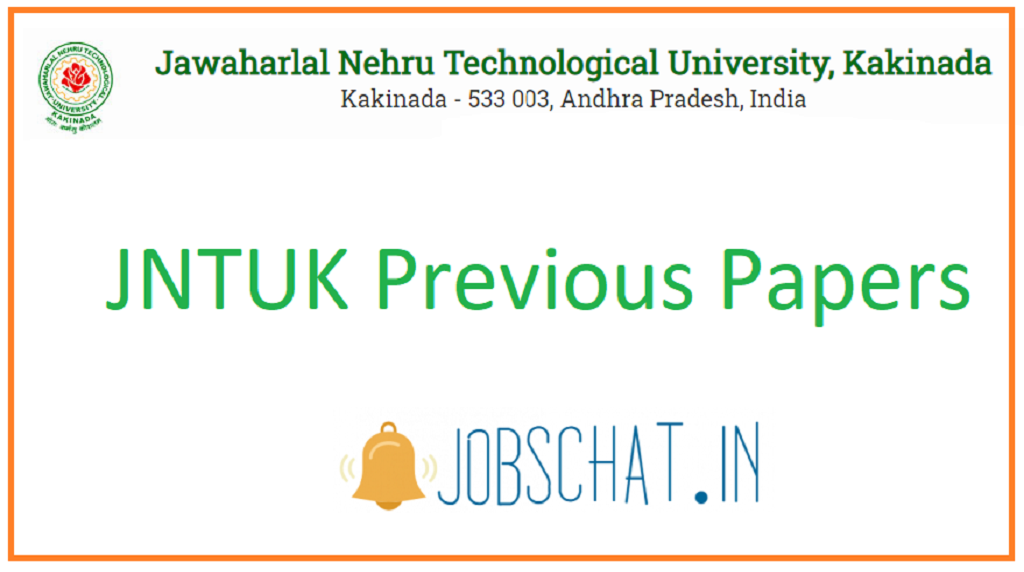 JNTUK B.Tech Question Papers
Regular, Supply JNTUK B.Tech Question Papers of 1-1, 1-2, 2-1, 2-2, 3-1, 3-2, 4-1, 4-2 of all the Regulations, Set Wise available. There is no chance of a repetition of Questions in the JNTUK Regular Previous Paper to the JNTUK Supply Question Paper of any Year, any Semester. In the Exam, there is a choice and it depends on the regulation. So, according to that students need to prepare the only important Units completely, so, that, they should answer all the questions of the JNTUK Question Paper. Then only, the student Pass all the Subjects and gain good marks.