Maha Metro Rail Corporation Limited Authorities provided the Maha Metro Syllabus 2021 on the official website www.mahametro.org. So, candidates who have applied for the recruitment go through the Pune Metro Exam Pattern 2021 and then refer to Pune Metro Syllabus 2021 before preparation begins. So, candidates get the MMRCL Syllabus 2021 for the exam on this web page. On our page, we also provide the Pune Metro Exam Pattern 2021 along with the check the Maha Metro Syllabus 2021 PDF of Supervisory Posts.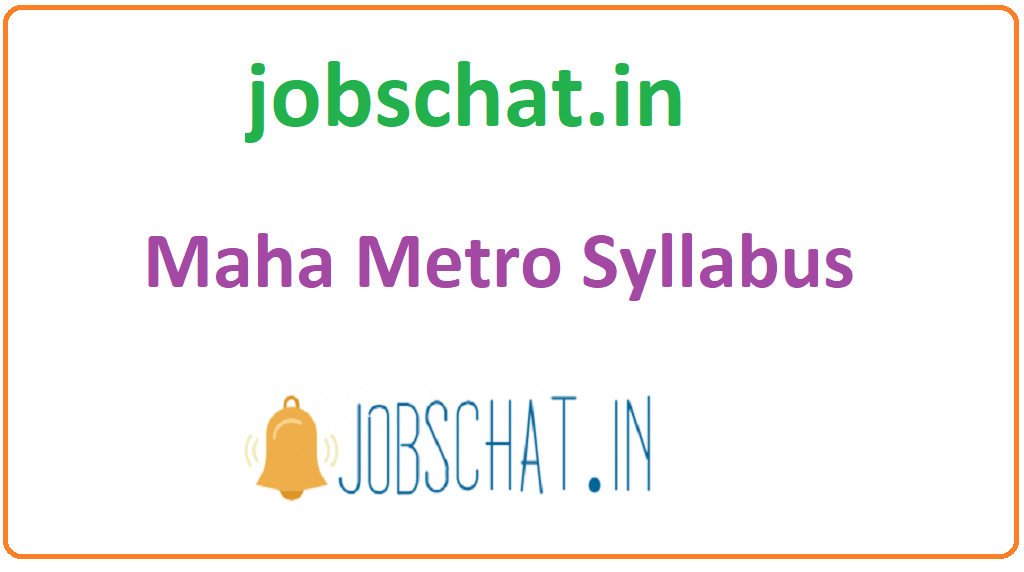 Maha Metro Syllabus 2021 details
| | |
| --- | --- |
| Name of the Organization | Maharashtra Metro Rail Corporation Limited |
| Name of the Positions | Supervisory Posts (Station Controller/ Train Operator/ Train Controller, Section Engineer, Junior Engineer) |
| Number of Posts | 86 Posts |
| Category | Syllabus |
| Location | Pune, Maharashtra |
| Official Website | www.mahametro.org |
Pune Metro Syllabus 2021
Maha Metro Syllabus 2021 for the 86 posts of Station Controller/ Train Operator/ Train Controller, Section Engineer, Junior Engineer Vacancy given by the MMRCL Officials. The exam will be online and also the duration for the exam also mentioned on the Maha Metro Exam Pattern 2021. So, candidates must observe the exam pattern. The officials not released exam dates but the Board members will soon conduct the exam. So, candidates don't waste your time and start preparing for the exam with MMRCL Syllabus 2021. Some of the Applicants are facing problems in how to prepare to give their best in the exams. Those ones have to know the Pune Metro Syllabus 2021 for the Junior Engineer post by following the Pune Metro Exam Pattern 2021. The candidates maintain the time schedule for the solving of each question which helps in exams to manage given time for the exam. Nowadays the competition level of the exams is high. So, first candidates are aware of the Maha Metro Syllabus 2021 by downloading it and exam pattern. After that, start the exam preparation.
Related Links
Maha Metro Exam Pattern 2021
Subject Names
Questions
Duration
Part I: Marathi Language
15
2 Hours
Part II:

General Awareness
Logical Ability
Quantitative Aptitude

35
Part III: Knowledge of Discipline/ Domain/ Trade
100
Total
150 Questions
Negative Marking: 1/3 mark of each wrong answer
Maha Metro Syllabus 2021
Marathi Language
Articles.
Verb.
Adverb.
Error Correction.
Fill in the Blanks.
Vocabulary.
Tenses.
Comprehension.
Unseen Passages.
Idioms & Phrases
Subject-Verb Agreement.
Sentence Rearrangement.
Antonyms
Synonyms.
Grammar etc.
General Awareness
Famous Days & Dates
Famous Books & Authors
Current Affairs
Rivers, Lakes, and Seas
Artists
Famous Places in India
Tourism
Indian Economy
Culture
General Science
Countries and Capitals
Indian History
Indian Parliament
Indian Politics
sports
Logical Ability
Binary Logic
Blood Relations
Cubes
Calendars
Venn Diagrams
Syllogism
Introduction to Logic
Logical Connectives
Number and Letter Series
Logical Sequence and Matching
Seating Arrangement
Clocks etc.
Quantitative Aptitude
Average
Data Interpretation
Work & Time
Data Sufficiency
Time & Distance
Profit & Loss
Mixtures & Allegations
Simplification
Simple Interest & Compound Interest
Surds & Indices
Mensuration – Cylinder, Cone, Sphere
Number Series
Number Systems
Ratio & Proportion, Percentage
Permutation, Combination &Probability
Sequence & Series
Simplification
Linear Equation
Percentage
Quadratic Equation
Problems of Ages
Time and Work
Profit and Loss etc.
Domain Related Syllabus
Electrical Engineering
Analog Circuits.
Digital Circuits.
Control Systems.
Electromagnetic
Networks, Signals, and Systems.
Electronic Devices.
Engineering in Mathematics.
Communications also.
Engineering 
Steel Structures.
Engineering Mechanics.
Solid Mechanics.
Fluid Mechanics.
Structural Analysis.
Construction Materials and Management.
Concrete Structures.
Geotechnical Engineering.
Transportation Engineering.
Foundation Engineering.
Water Resources Engineering.
Surveying.
Hydraulics.
Irrigation.
Hydrology.
Environmental Engineering etc.
Mechanical Engineering
Applied Thermodynamics.
Balancing of Reciprocating Masses.
CAD/CAM/CIM.
Fluid Mechanics.
Measurement & Metrology.
Manufacturing Planning & Control.
Internal Combustion Engines.
Industrial Engineering & Enterprise Resources Planning.
Electronics 
Automotive Engines.
Analog Electronics.
Basics of Circuits and Measurement Systems.
Control Systems and Process Control.
Digital Electronics.
Transducers, Mechanical Measurement, and Industrial Instrumentation.
Electrical and Electronic Measurements.
Signals, Systems, and Communications.
Analytical, Optical Instrumentation.
Mechanical
Production Technology.
The Strength of Materials and Design.
Material Science and Metallurgy.
Mechanics.
Thermodynamics.
Heat Transfer.
Computer Engineering
OS
Knowledge of C++
Object-Oriented designing
Operating Systems – DOS
JavaScript
Image processing
VLSI
Embedded System
Window Services
ASP.NET
ADO.NET
Proposing and creating architecture and re-usable libraries in.NET
Networking with LAN/WAN
Novel
PHP
MS SQL Server
Oracle PL_SQL Architecture
JSON
The query will be an added plus
Grid Computing, Distributed
Java & JavaScript
Manageable switch/router & wireless LAN with the network security
Firewall & antivirus
UML
Image processing, Digital signal processing
Window OS client & server & Linux OS-client & server.
Web Services
Important Links
Maha Metro Syllabus 2021: Click Here
Computer Science and Information Technology