TANCET Syllabus 2021 along with TANCET Exam Pattern 2021 is officially announced by Anna University for the Students who enrolled for TANCET Notification. So, it's time for them to Prepare the Topics involved based on TANCET Exam Syllabus 2021 their Opted Course as the Topics may change for every Course. Also, refer to TANCET Exam Pattern 2021 to get an idea of the Time Duration and Topics on which the questions will be asked. Then it will be very simple to make the preparation of respective Subjects involved in the Tamil Nadu Common Entrance Test Syllabus 2021.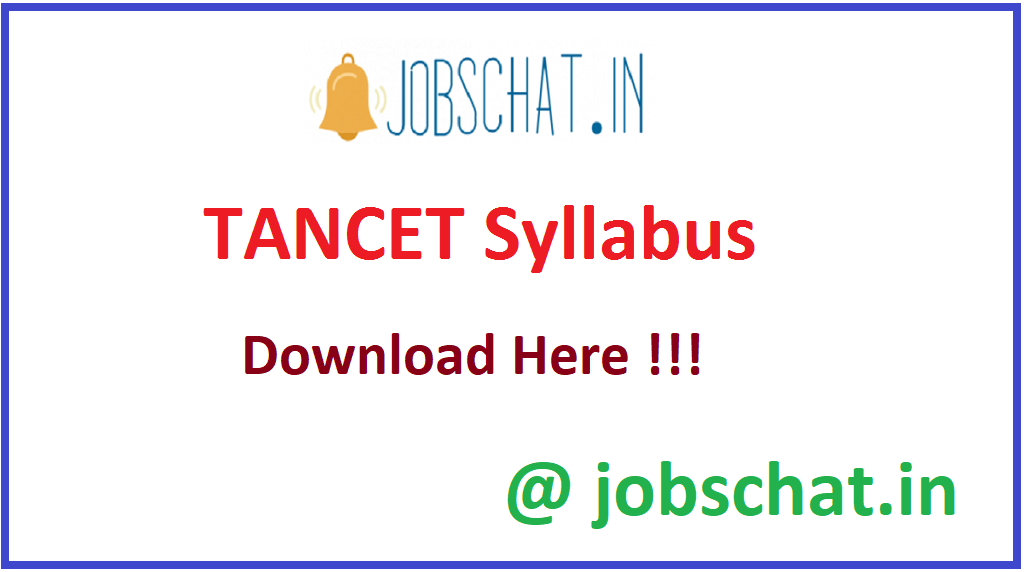 Details About TANCET Syllabus 2021
| | |
| --- | --- |
| Name Of The University | Anna University, Tamil Nadu |
| Name Of The Exam | Tamil Nadu Common Entrance Test (TANCET) – 2021 |
| Courses Offered | MBA, MCA, M.Tech, M.Arch, M.Plan Programmes |
| Category | Entrance Exams Syllabus |
| Location | Universities of Tamil Nadu |
| Official website | www.annauniv.edu |
TANCET 2021 Syllabus
TANCET Syllabus 2021 For MBA, MCA, M.Tech, M.Arch, M.Plan PDF is Given clearly to the students who are searching for Respective Anna University TANCET Exam Syllabus PDF for the best scoring of marks. As everybody knows TANCET is an Entrance Exam for which Students enrolled to get admission into Recognized Universities & Colleges of Tamilnadu State. To get the best college admission, students have to score more marks. For those students, this TANCET 2021 Syllabus will definitely help. So, without any delay, aspirants may Find the Tamil Nadu Common Entrance Test Syllabus 2021. Download link given below and after downloading it, do continue their preparation based on the Course which they applied and make it revision a number of times for remembering the topics and also find the Hall Ticket now from this portal.
Aspirants have to score more than TANCET Eligibility Mark to get the pass and to attend the counseling process. That's why to gather TANCET Exam Syllabus 2021 PDF available at www.annauniv.edu and try to solve those Topics and questions simultaneously for making themselves strong for answers to any type of question that appears in the exam. So, be the one who possesses complete knowledge of the Tamilnadu Common Entrance Test Syllabus 2021. We also offer the TANCET Exam Pattern here.
TANCET Exam Pattern 2021
As most of the students Apply For EEE Course, they will search for TANCET Syllabus 2021 For EEE PDF and start the groundwork fastly because the topics to be covered in it are very difficult and more. If those are covered in a proper manner and schedule, within a short span of time, Contenders cover all of the topics involved in the TANCET 2021 Syllabus. Also, View the TANCET Exam Pattern 2021 and try to give more importance to those topics which have more weightage in the exam. After getting proper and complete knowledge of topics covered in the TANCET Exam Syllabus 2021 solve Previous Papers to know the aspirant's preparation level and Time management skills in answering the questions within the Given Time duration of the TANCET Examination.
Related Links
TANCET Exam Pattern 2021
Master Of Business Administration (MBA)
Topics
Number of Questions/ Total Marks
Time Duration

Identify Critically the data and apply the Data to Business Decisions from given Typical Business Situations
Solving Mathematical Problems at
graduate-level including Plus Two or
equivalent
Determining Data Sufficiency for answering certain questions using the given data and the knowledge of Mathematics and use of day-to-day facts
English Comprehension
English Grammar

100 Questions/ 100 Marks
2 Hours
Master Of Computer Application (MCA)
Serial Number
Sections
Total Questions/ Total Marks
Time Duration
1
Quantitative Ability
100 Questions/ 100 Marks
2 Hours
2
Analytical Reasoning
3
Logical Reasoning
4
Computer Awareness
M.Tech/ M.E/ M.Arch/ M.Plan:
Parts
Subject
Number of Questions/ Total Marks
Time Duration
Part I
Engineering Mathematics
20/ 20
2 Hours
Part II
Basic Engineering and Sciences
35/ 35
Part III
Part III (different for different courses)
60/ 60
Useful Links
Download TANCET Syllabus 2021: Click Here