Telangana Postal Circle once again announced the Telangana Postal MTS Recruitment 2018 Notification on 09th December 2017. The Telangana State wants to recruit 33 posts of MTS in various circles. Aspirants need to apply online using the site telanganapostalcircle.in before the due date 08-01-2018.
Telangana Postal MTS Recruitment 2018
Telangana Postal Circle MTS Notification 2018: Postal Department released the MTS Staff Posts in Telangana Circle. Telangana State employments news is updated on this page. So, the candidates who are hunting for Telangana Govt Jobs can use this Telangana MTS Recruitment. The notification is released on 09-12-2017. Most of the Candidates who possess SSC or ITI started applying for this without any delay in Online to avoid server problems. Among the 33 Vacancies, the Posts are allotted to the Centres below. Canddiates can also select the priority also while applying. Scroll bottom to check all the details provided and visit the site telanganapostalcircle.in to know more details about Syllabus place.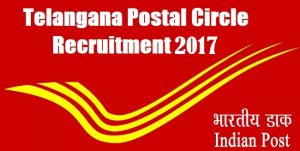 Also, Check Telangana Postal MTS Syllabus 2018
Telangana Postal Circle MTS Jobs Notification 2018
Every State In India is going to issues this MTS Staff Recruitment every year in a periodical way. Likewise, the Telangana Postal Circle MTS Recruitment Notification is also issued to recruit 33 Posts in MTS to replace them in AO, other posts. So, this is a better opportunity for the SSC/ITI aspirants to settle in Govt Job. But for all the States The MTS Qualifications and age limits is similar and the Telangana MTS Online Application should be submitted. So, the Candidates need to enrol for this before the due date i.e 08th Jan 2018 by paying the fee which is altered for the Reservation aspirants and get ready for the selection rounds. Along with this Postal Jobs, Candidates also find the Police Jobs also to apply.
Telangana Postal MTS Recruitment 2018 Details
తెలంగాణ పోస్టల్ సర్కిల్ మరోసారి తెలంగాణ పోస్టల్ MTS రిక్రూట్మెంట్ 2018 నోటిఫికేషన్ ప్రకటించింది 09 డిసెంబర్ 2017 న. తెలంగాణ రాష్ట్ర వివిధ సర్కిళ్లలో 33 పోస్ట్లు MIT రిక్రూట్మెంట్ కోరుకుంటున్నారు. 08-01-2018 తేదీన ముందు టెల్లంగ్యాపోస్టల్ సర్కిల్ సైట్ను ఉపయోగించి ఆన్లైన్లో దరఖాస్తు చేయాలి.
Name Of Organization: Telangana Postal Circle
Name Of Posts: Multi-Tasking Staff
No. Of Posts: 33 Posts
Applying Mode: Online
Job Location: Telangana
Application Starting Date: 09th December 2017
Application Ending date: 08th January 2018
Official Website: telanganapostalcircle.in
Also, Check Telangana Postal Circle GDS Recruitment 2017
Credentials Of Telangana Postal MTS Recruitment 2018
Educational Qualifications:
According to the TS Postal MTS Recruitment 2018 Notification, The Aspirants who are applying for this should possess SSC or Matriculation or ITI from a recognised institution to apply.
Age Limit:
The Candidates who are going to apply for this should not possess a maximum age of 25 Years. age relaxation is also be allowed for the reserved aspirants.
Application Fee:
Male Candidates and Ex-Servicemen (OC/OBC): Rs. 100/- (application fees) + Rs.400/-(Examination Fee)
Female Candidates/ Ex-Servicemen (SC/ST): Rs.100/- (application fees)+ No exam fees
Selection Procedure:
Those who apply for Telangana MTS Recruitment 2018,
Written  Test
Interview
Shortlisting of Applications
Salary Details:
The shortlisted aspirants will get the salary of Rs.18,000/- per month along with GP and other allowances.
How To Apply Telangana Postal MTS Recruitment Notification 2018:
First The Candidates visit the official site telanganapostalcircle.in
On the Homepage, contenders need to find the Telangana MTS Recruitment Notification 2018.
Open it and find the qualification details that are listed.
Eligible aspirants can find the applying link and fill the equivalent details with important documents.
And Submit the applications before the due date in Online Mode.
Take Telangana Applied Application Form.
Latest Telangana State Postal MTS Job Vacancy Notification 2018
According to the Latest Telangana State Postal Circle MTS Job Vacancy Recruitment, only 33 Posts are going to be shortlisted for the available vacancies. Though the Vacancies are low, the competition for this is very high. So, aspirants should start the preparation immediately using the Previous Papers after paying the fee before 11-01-2018. Offline Mode of Applications will be accepted by Telangana Authorities.  Schedule of Exam is revealed soon after the Telangana MTS Recruitment Ending date. Finally, aspirants visit the Telangana MTS Notification once to clarify their doubts regarding applying procedure and exam details.
Important dates:
Application Starting Date: 09th December 2017
Application Ending date: 08th January 2018
Last Day To Pay Fee: 11th Jan 2018
Useful Links:
Official Telangana Postal MTS Recruitment 2018 Notification
Online Application Of Telangana MTS Recruitment 2018