UCIL Apprentice Syllabus 2020 followed by Mining Mate-C, Graduate Operational Trainee, Winding Engine Driver-B & Other Posts Syllabus is also made available and one can use them for knowing what the topics are involved in the Exam. With this help, one will know that all the topics and will learn them with proper revision by following the UCIL Mining Mate Exam Pattern 2020. All must know that the exam papers are prepared as per the UCIL Apprentice Exam Pattern. So, don't neglect them at any cost.
UCIL Apprentice Syllabus 2020
All the Job applicants are searching for UCIL Mining Mate Syllabus 2020 because all they know that those topics only covered in the Syllabus and if the applicant does get improve knowledge on that Topics they definitely get a high score in the exam. For that, first of all, need to Download UCIL Apprentice Syllabus and make a plan of action to cover the entire topics involved. Because if you neglect at least one topic even, it leads to the incompletion of the preparation and may make the aspirant not to answer the sufficient marks in the exam. That's why one must maintain complete ideology and Practice even by covering the entire topics of the UCIL Apprentice Exam Syllabus 2020 which is uploaded by Jobschat.in
UCIL Apprentice Syllabus 2020 Details
| | |
| --- | --- |
| Department Name | Uranium Corporation of India Limited (UCIL) |
| Posts Names | Graduate Operational Trainee, Apprentice, Mining Mate-C, Winding Engine Driver-B & Other Posts |
| Posts Count | 136 Posts |
| Category | Syllabus |
| Online Applications Commencement Date | 18.05.2020 (10.00 AM) |
| Last Date Of Application Submission | 22.06.2020 (10.00 AM) |
| Official Site | www.ucil.gov.in and www.uraniumcorp.in |
UCIL Apprentice Exam Pattern 2020
Sl.No
Name Of The Subjects
Number Of Questions
Number Of Marks
Time Duration
1
General English
10
10
2 Hours
2
General Knowledge/  Awareness
10
10
3
Reasoning
10
10
4
Numerical Ability
10
10
5
Technical Subjects
80
80
Total
120
120
One must follow the www.uraniumcorp.in Apprentice Exam Pattern 2020 to have an idea of the Subjects questions and its marks that are asked in the exam. If they used the Pattern, they will come to know that 120 questions will be there in the exam for 120 marks with a time duration of 2 hours with no negative marking.
UCIL Apprentice Syllabus 2020 – Topic Wise
General Knowledge/ Awareness
Tourism spots of Historical Importance
Sculptures
National Dance
Handicrafts
Music & Literature
Countries and capitals
Scientific observations
Indian Culture
International issues
Famous Places in India
Economic issues in India
National and international current affairs
Artists
 World organizations
Important Dates
Books And Author
New inventions
Tribes
Musical Instruments
Political Science
About India and it's neighbouring countries
Important Places
History of India
Geography of India
Science and innovations
English
Prepositions
Transformation
Fill in the blanks
Error Correction (Phrase in Bold)
Sentence Completion
Error Correction (Underlined Part)
Substitution
Synonyms
Antonyms
Passage Completion
Sentence Arrangement
Idioms and Phrases
Active and Passive Voice
Spotting Errors
Spelling Test
Joining Sentences
Sentence Improvement
Para Completion
Numerical Ability
Fundamental Arithmetical Operations
Ratios and Proportions
Pie Charts
Discount
Line Chart
Percentages
Mixtures & Allegations
Profit & Loss
Whole Numbers
Number Systems
Rate of Interest
Bar Charts
Decimals & Fractions
Time and Distance
Table Charts
Time & Work
Data Interpretation
Mixture & Allegation
Reasoning
Analogies
Decision Making.
Spatial Visualization.
Analysis.
Judgment.
Arithmetical Number Series.
Problem Solving.
Relationship Concepts.
Coding & Decoding.
Verbal and Figure Classification.
Arithmetic Reasoning.
Statement Conclusion.
Non-Verbal series.
Observation.
Similarities & Differences.
Visual Memory.
 Spatial Orientation.
Discrimination.
Syllogistic Reasoning.
UCIL Mining Mate Exam Pattern 2020
One must have a complete awareness of all the subjects involved in UCIL Mining Mate Syllabus 2020 for the easy answer of questions in the exam. For that, all need to start the groundwork since from the date of application submission. Then only they will find sufficient time for making prepare the topics completely from the basics onward. And before exam preparation starting, all need to keep an eye on UCIL Mining Mate Exam Pattern 2020 available at www.ucil.gov.in because it gives an idea about the topics that covered in the exam like questions count, marks count and Exam marks etc. If the applicant does their own preparation without checking the UCIL Apprentice Exam Pattern 2020, they don't know which Subject contains high weightage and will go on their own knowledge preparation that will not make them crack the Written Test.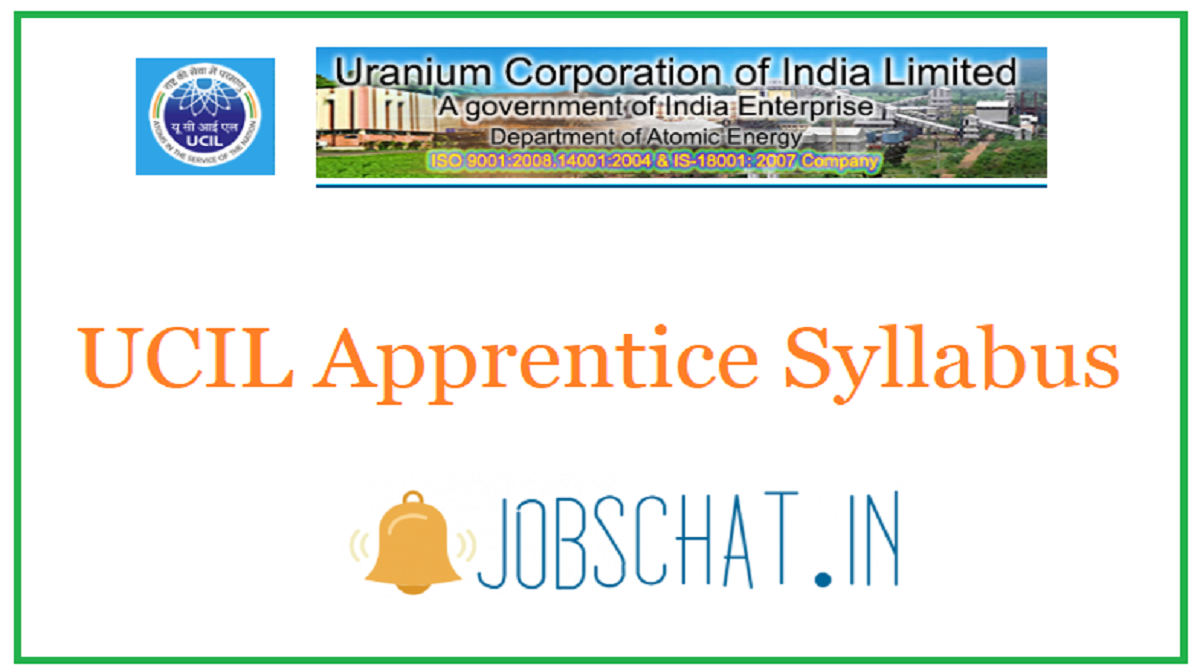 UCIL Mining Mate Syllabus 2020
If you want to get the marks easily, attaining sufficient knowledge on the UCIL Mining Mate Syllabus 2020. As we offered the Official Topics here, candidates can save their time and easily start concentrating on the topics which will make you knowledgeable in all the factors when the exam date arrives. That's why the candidate must be patient while learning the topics of the www.ucil.gov.in Mining Mate C Syllabus 2020 because some till take fewer to learn and some take more time if it is a problematic part. So, don't waste your valuable time which is available now and do work probably in a way to complete maximum topics. If you do complete the UCIL Winding Engine Driver Syllabus 2020 practice that by taking the Previous Papers and make sure to rectify the mistakes that still do.
Also, Check: UCIL Apprentice Recruitment
Download Links
UCIL Apprentice Syllabus 2020: Download
Also, Check: UCIL Apprentice Previous Papers
If you feel difficult in preparing any part of the UCIL Apprenticeship Syllabus 2020, one must not confuse and with cool nature need to start and schematically continue their groundwork till they attained the confidence in covering entire topics.
Frequently Asked Questions
What is the UCIL Apprenticeship Exam Pattern 2020?
Follow Jobschat.in to know the UCIL Apprenticeship Exam Pattern 2020 to know how the question paper is made.
Where can I Download UCIL Mining Mate Syllabus 2020?
From this page, you will get all the topics UCIL Mining Mate C Syllabus 2020.