Tata Consultancy Services accepts Applications from Experienced Professionals through TCS iBegin 2021. For Any Experienced to apply for TCS Job Openings across India, use the TCS iBegin Registration for Experienced Professionals. It's like TCS Nextstep Registration for Freshers. Experienced candidates with a minimum of 3 Years of Experience are eligible for the designations AWS Solution Engineer, GCP Cloud Developer & Other mentioned at ibegin.tcs.com/iBegin/. TCS iBegin Eligibility Criteria is also mentioned for the candidate's verification by Jobschat. If the applicants matched their profile with all those details, they can register or log in using the TCS iBegin 2021 Link and apply for the Positions.
TCS Recruitment for Service Desk Role Executive Update !
Latest Update (22nd September 2021): TCS issued the Job Opportunity for the Degree (BA) Qualification Candidates for the Service Desk Role Executive. The Candidates are asked to apply for the Role on or before 30th September 2021. If any previous related experience, it will be an added benefit for the candidates.
TCS Recruitment for Service Desk Role Executive Registration Link: Apply Now
TCS iBegin 2021 Synopsis
| | |
| --- | --- |
| Company Name | Tata Consultancy Services |
| Freshers/ Experienced | Experienced Professionals |
| Position Names | AWS Solution Engineer, GCP Cloud Developer, Azure Solution Developer, SAP Consultant, PLM Drive, RTR COE, TearnCentre Developer, React JS, Automation Testing & Other |
| Vacancy Count | Multiple in Number |
| Category | Private Jobs |
| Job Location | Across India |
| Industries | Banking & Financial, IT, HI-Tech, Insurance, Manufacturing, Retail & Other |
| Services | Cloud, Consulting, IoT, Cognitive Business Operations, Cyber Security & Other |
| Official Site | ibegin.tcs.com/iBegin/ |
TCS iBegin Portal Details For Experienced
TCS does not accept any Jobs Registration through TCS iBegin For Freshers. So, the Experienced candidate with at least 3 Years of experience having the Skills mentioned below should register by following the procedure given below. Even experienced candidates must apply for TCS Off Campus, Walk-Ins only through TCS iBegin Portal. Then only the selection drives for the experienced professionals will be held. Having the TCS iBegin Registration, the candidates must apply for the Positions in any of the locations like Hyderabad, Chennai, Kochi, Bangalore, etc,.
The Candidates who successfully registered for TCS iBegin Portal Details for Experienced if forget the password must retrieve it by providing the OTP shared to the candidate's Email ID after choosing the "Forgot Password?". If the Applicants want to "How To Delete TCS iBegin Login Account" please log on to the TCS iBegin portal and follow the instructions to delete the Account.
Concerned Links
TCS iBegin Eligibility Criteria
Practical Knowledge of various programming languages like C, C++, Java, etc
Ability to work in rotational shifts
Candidates must and should understand the nature of the Business Culture.
Also, candidates must have a minimum of 60% aggregate marks in 10th, 12th, Graduation
Excellent communication skills, Analytical and logical thinking ability
Those who have more than 3 years of work experience are willing to be a part of TCS iBegin
Able to do work in a team and solve any basic technical problems
Candidates who appeared in TCS Interview in the past 6 months are not eligible.
TCS iBegin Necessary Skills
Soft Skills
Communication Skills
Aptitude Solving Skills
Technical Skills
Language Skills
Knowledge of Special language Skills
TCS iBegin Selection Rounds
By conducting the Interview, the TCS will recruit the candidates for the Posts registered using TCS iBegin Portal.
What is the method of TCS iBegin Registration 2021?
The Applicants first go to the TCS iBegin Portal ibegin.tcs.com/iBegin
TCS iBegin Job Searching Page is opened.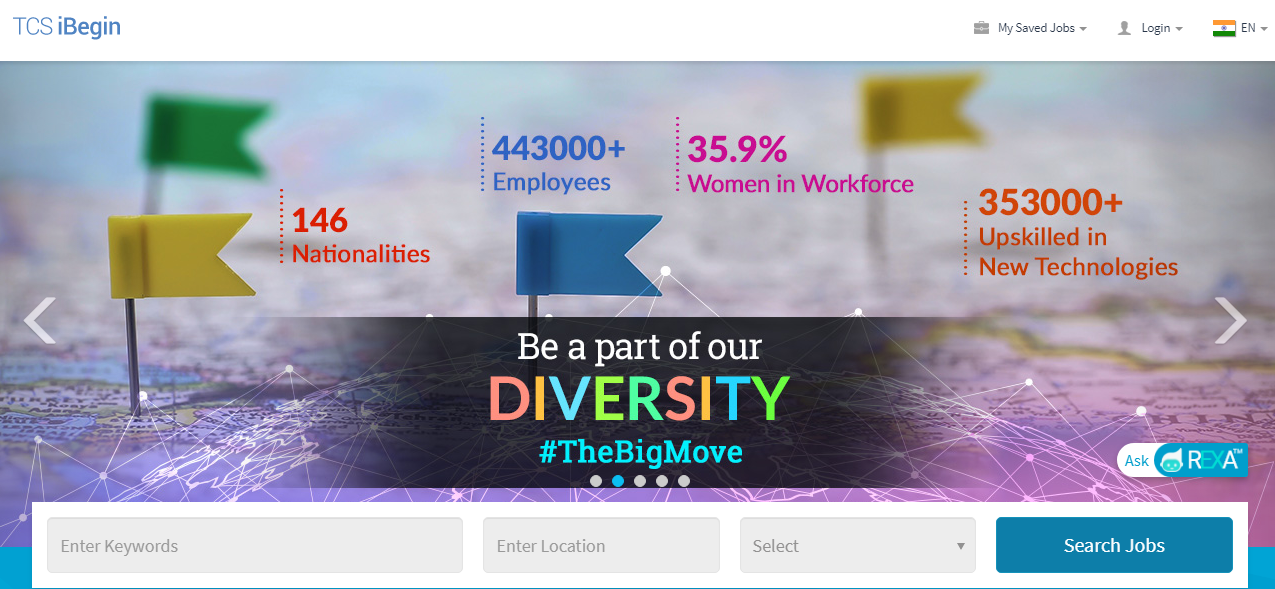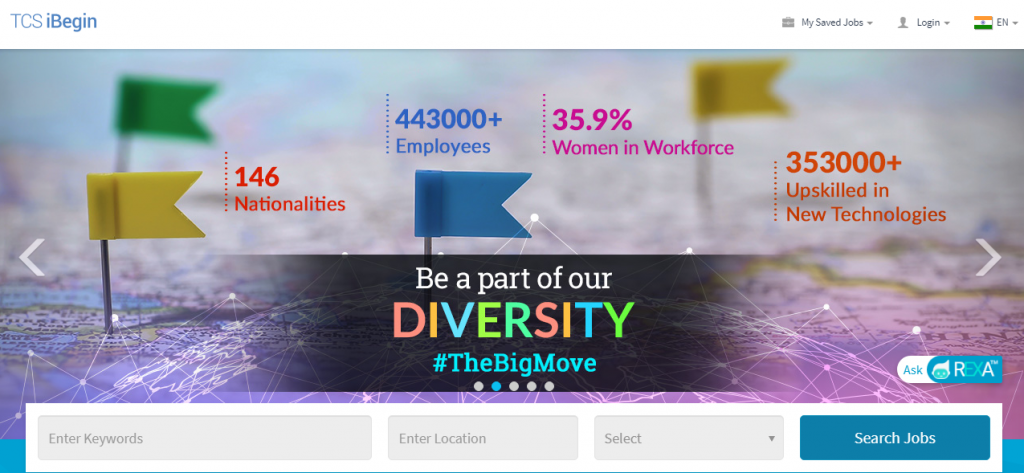 The Candidates who do not have registration click on "Register with Us"
Then provide the basic details, upload the resume, and finish the registration.
Then click on Login and login with Email id, Password.
Search the Posts by Job Title, Experience, and Location.
Then apply for the designation for which the Experienced Professionals want to apply.
Important Links