BSNL Apprentice Recruitment Notification 2020 is released on 04.03.2020 at www.bsnl.co.in for the purpose of providing 100 BSNL Apprentice Jobs for Telangana Circle and requesting the Contenders to enroll for this BSNL Telangana Apprentice Recruitment 2020 through MHRD NATS portal www.mhrdnats.gov.in from 04th to 12th March 2020 and in BSNL Site till 16.03.2020. So, aspirants initially go and refer to the BSNL Apprentice Notification for knowing the dates, qualifications, and registration format.
BSNL Apprentice Recruitment 2020 | 100 BSNL Apprentice Job Vacancy
BSNL, Telangana Region announced BSNL Apprentice Notification 2020 for the intake of 100 Diploma and Graduation completed Students in the related discipline. BSNL will provide One Year training for the selected students. Those who completed their Graduation, Diploma in the years 2018, 2019 and 2020 only have the option to enroll for the disciplines available. As students can maximize their job opportunities by completing Apprenticeship Training of the corresponding BSNL Apprentice Recruitment 2020. So, don't get a delay in registration because the student first enrol in NATS Portal on or before 12.03.2020 and in BSNL Portal through 16.03.2020 and a hand out of the Certificates attached BSNL Apprentice Application must be sent, So, that BSNL Board definitely plan for the Interview on 19th March 2020 and will hire those who performed well.
Also, Check: All India Exam Admit Cards
BSNL Apprentice Recruitment 2020 Particulars
| | |
| --- | --- |
| Name Of The Board | Bharat Sanchar Nigam Limited (BSNL) |
| Post Name(s) | Graduate and Technician Apprentice Posts |
| Number Of Vacancies | 100 Posts |
| Category Of The Job | Central Government Jobs |
| Training Location | BSNL, Telangana |
| Initial Date To Apply | 04th March 2020 |
| End Date To Apply in NATS Portal | 12th March 2020 |
| Last Date To Apply for BSNL | 16th March 2020 |
| Documents Submission to BSNL, Telangana For Document Verification | 18th March 2020 |
| Interview Date | 19th March 2020 |
| Mode Of Registration | Online Mode |
| Official Website | www.bsnl.co.in And www.mhrdnats.gov.in |
Eligibility Criteria
Educational Background
Graduate Apprentices: A Degree in Engineering or Technology in the relevant discipline during 2018, 2019 and 2020.
Technician (Diploma) Apprentices: Diploma in Engineering or Technology in the relevant discipline during 2018, 2019 and 2020.
Age Limitations
Age Limits will be as per the Apprenticeship Rules for the applicants of BSNL Apprenticeship Recruitment 2020.
Application Fee
There is no Registration Fee for the applicant to send their BSNL Apprentice Application Form.
Selection Rounds
Certificate Verification
Interview
Stipend Information
Graduate Apprentices: Rs.4984/-
Technician (Diploma) Apprentices: Rs.3542/-
BSNL Apprentice Vacancy Details
Graduate Apprentices: 75 Seats
Technician (Diploma) Apprentices: 25 Seats
How To Apply For BSNL Apprentice Recruitment 2020?
Initially, all must go to the MHRD NATS Portal portal.mhrdnats.gov.in
Click on Enroll if you are a new User, otherwise choose Login.
New User can Register and then catch a Unique Enrollment Number.
Then Click the Establishment Request Menu and Open Establishment.
Then Upload Resume by choosing the Establishment name.
Type 'BHARAT SANCHAR NIGAM LIMITED' and Search.
 Click on apply now and Apply again and take a copy of the BSNL Apprentice Application Form and submit to the address below.
Document Submission and Interview Venue:
O/o PGM TD, BSNL Bhavan, Adarsh Nagar, Hyderabad – 500063
BSNL Apprentice Notification 2020
BSNL Apprentice Official Notification 2020 is launched for BSNL, Telangana region and it's the opportunity for all students of India who possess the qualification. But, Training will be provided in BSNL Telangana Region. So, the contender must use this opportunity and do the registration in www.mhrdnats.gov.in as well as the applicant need to submit a hard copy with all the attached documents to BSNL, Telangana region, So, that all can be fast and not miss any of the required document because it may affect on the contender selection process. And the last date to submit hard copies at BSNL, Telangana is 18.03.2020 and the Interview is on 19.03.2020. If the applicant clears the Interview then only they get placed on the Training Session for a tenure of One Year. Once the applicant gets training in BSNL Board as per the BSNL Apprentice Recruitment 2020 definitely they will be hired by an MNC company.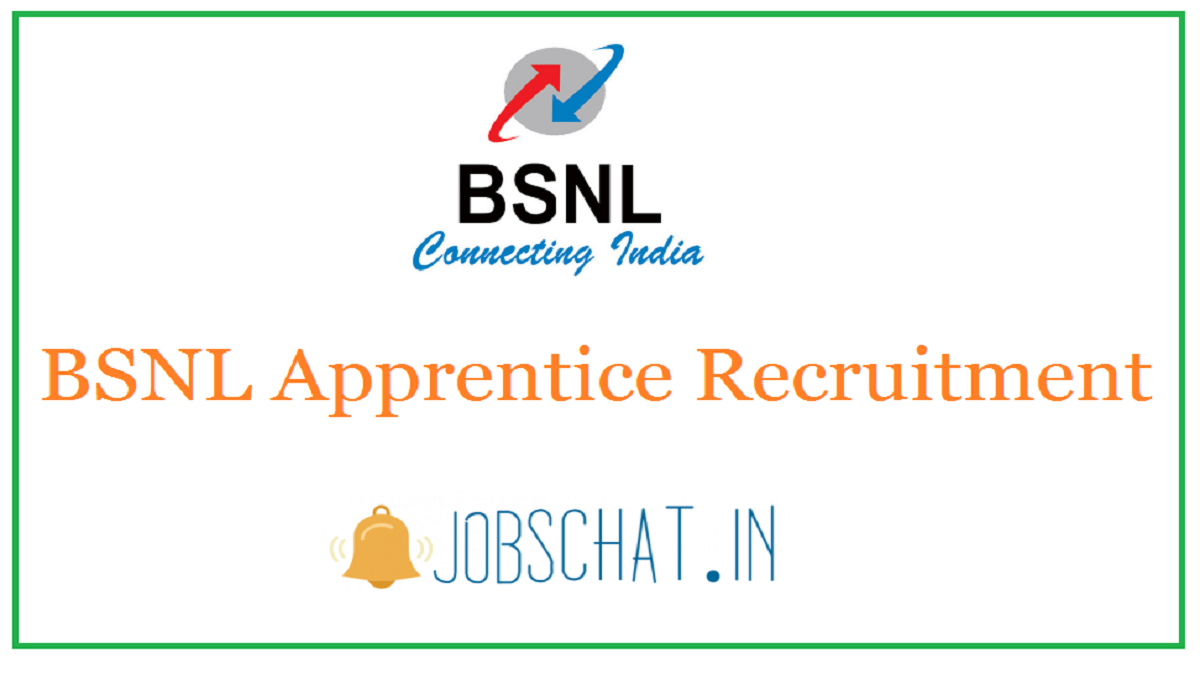 100 BSNL Telangana Apprentice Vacancy Online
Among the 100 Seats available For Graduate Candidates 75 Seats are fixed and 25 are fixed for Diploma. So, contenders who possess both are not allowed to enroll for both of the BSNL Apprentice Recruitment 2020 because the interview will be held for both of them at the same time and date. So, those who have a Diploma and Graduation must choose Graduation Apprentice while applying to 100 BSNL Apprentice Vacancy because they can multiply their Job opportunities if they possess the Apprentice certification. That's why all over India, contenders who are viewing for the Apprenticeship Training, must use this www.bsnl.co.in Apprentice Recruitment 2020 Notification to compete among others to get take the Training.
Also, Check: All India Sarkari Results
Important Links
Official BSNL Apprentice Recruitment Notification 2020: Download
Online BSNL Apprentice Application Form: Register Now
As both the BSNL Apprentice Notification and Application Link of Telangana Region is updated here, all the contenders who want to enroll for these Positions must fastly do the registration as there is less time. If you want to go through the qualifications, age criteria, etc once can follow them given by Jobschat.in and get ready with all the original documents to appear for the Interview on 19.03.2020 along with a submitted BSNL Apprentice Job Application.
Frequently Asked Questions
Are there any Age Limits to apply For BSNL Apprentice Job Vacancy?
Yes, Applicants of this BSNL Apprentice Recruitment 2020 must have the age as per the Apprenticeship Norms.
Is there any fee for the applicants to enroll for the BSNL Graduate and Diploma Apprentice Posts?
No, BSNL don't accept any application Fee from the contenders who are registering for the BSNL Apprentice Jobs by sending the Application.
What is the Interview Date of BSNL Apprentice Jobs?
All applicants of BSNL Apprentice Jobs must appear for the Interview on 19.03.2020