RITES Limited released RITES Apprentice Recruitment Notification 2020 on 14.01.2020 for 100 providing Training for 100 seats of ITI, Diploma, Graduate Apprentice on various regions and for that inviting the RITES Apprentice Application Form in Online mode and the contenders who are interested can get more information from rites.com or from RITES Apprentice Notification for fulfilling the registration process as it will be available from 15th to 31st January 2020.
RITES Apprentice Recruitment 2020 | 100 RITES Apprenticeship Jobs
RITES Apprenticeship Notification 2020 is streaming now and the Job Seekers who are thinking to increase their Job gaining Skills must go in noticing the information which is given for confirming their eligibility by checking the details that are given. As there 100 Apprentice Seats available for ITI, Diploma, Graduate, those who possess ITI, Diploma, and Graduation must enroll in these RITES Apprentice Recruitment 2020 by using the Application activated by the officials through "www.apprenticeship.gov.in" and "boat-srp.com". Keep in mind that the registration process for the 100 RITES Limited Apprentice Jobs will continue till 31.01.2020 only. No extension for the Recruitment will be done at any point. That's why fast complete the application submission for the rites.com Apprentice Recruitment Application within the given timing.
Also, Check: All India Railway Jobs
RITES Apprentice Recruitment 2020 Particulars
| | |
| --- | --- |
| Name Of The Board | Rail India Technical and Economic Service (RITES) |
| Name Of The Posts | ITI, Diploma, Graduate Apprentice Posts |
| Number Of Posts | 100 Posts |
| Category Of The Job | Central Government Jobs |
| Advertisement Date | 14th January 2020 |
| Starting Date To Apply | 15th January 2020 |
| Last Date To Apply | 31st January 2020 (till 03.00 PM) |
| Apply Mode | Online Mode |
| Training Location | Across India |
| Official website | rites.com |
Eligibility Criteria
Educational Qualifications
Contenders who grab the following qualification after 2017 are eligible for applying to RITES Apprentice Recruitment 2020.
Graduate Apprentice: B.E/B.Tech in Automobile, Electrical, Mechanical Departments.
Trade Apprentice: Pass in ITI in Trades of Mechanical, Electrical Discipline.
Diploma Apprentice: Diploma in Automobile, Electrical, Mechanical, Braches.
Age Limits & Relaxation
Age Limits for the applicants will be applicable as per the Latest Apprentice Act of India.
Application Fee
There is no Registration Fee for anybody who is the applicant of the 100 RITES Apprentice Jobs.
Selection Rounds
RITES Board will hire the contenders for Apprentice Training to fill the 100 RITES Apprenticeship Vacancy with the rounds of
Academic Merit
Personal Interview
Stipend
Graduate Apprentice: Rs.14,000/-
Trade Apprentice: Rs.10,000/-
Diploma Apprentice: Rs.12,000/-
RITES Apprentice Vacancy Details
Graduate Apprentice: 07 Seats
Trade Apprentice: 63 Seats
Diploma Apprentice: 30 Seats
Region-wise Seats Availability
RES Site
Graduate
Diploma
ITI
NTPC, Talcher
01
05
NTPC, Farakka
02
06
KoPT, Kolkata
03
07
MbPT
01
01
NTPC, Rihand
02
03
NTPC, Mouda
01
01
02
NTPC/ Bongaigaon
01
02
VPT/RINL/CONCOR
01
02
02
NTPC, Sipat
02
05
SAIL, Bokaro
01
05
Bandel
Guha Mines
02
Kolaghat
01
01
NTPC, Kahalgaon
02
05
SAIL, Rourkela
01
02
Angul
ISP/ SAIL, Burnpur
01
01
NTPC, Darlipalli
01
01
NSPCL/ Bhilai
01
01
01
BSP/ Bhilai
01
01
SAIL/ Boilanj
01
01
DFC/ L&T, Bhagega
01
01
DFC/ L&T , Marwar
01
02
Kaliganagar
01
01
KUBNL/Kanti
01
DVC/ Koderma
01
Paradip
03
05
Murmugoa
01
01
LPGCL/ Lalitpur
01
Adani Port Dhamra
01
Total
100
Process Involved in Applying to RITES Apprentice Recruitment 2020:
All Interested Ones initially, Open RITES Portal at rites.com
Further, they can move towards the Vacancies Section of Career under RITES Board.
Choose "View Document" against Vacancy Number PERS/26/10/Apprentice/1/2020.
Download RITES Apprentice Notification and get complete vacancy details, qualification process, etc and applying format.
Then go to "www.apprenticeship.gov.in" for doing ITI Apprenticeship Registration and "boat-srp.com" for Graduate and Diploma Apprentice registration.
Then take a print out of the RITES Apprentice Application which is to be shown during the Interview.
Download RITES Apprenticeship Notification 2020
At rites.com, RITES Limited Apprenticeship Recruitment 2020 Notification for the year 2019-20 is given. That means RITES Limited will hire the contenders and provide Training for One Year as per Apprentice Rules. For that even, most of the contenders across India showing interest. But, the thing is the contenders who are having B.Tech as the qualification must confine to register for only Graduate Apprentice Posts among the available ones as per RITES Apprenticeship Notification 2020. Likewise, all must go towards registering themselves for the Trades they belong to among the available 100 Posts of the RITES Apprenticeship Vacancy 2020.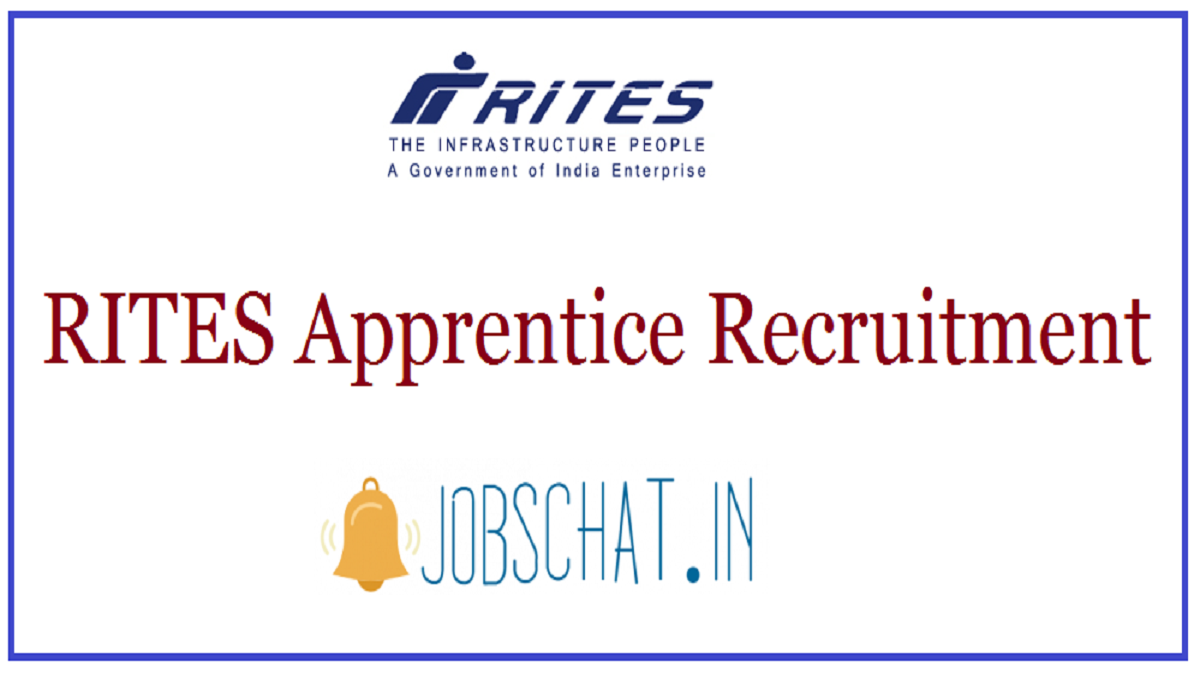 Apply For 100 RITES Limited Apprentice Vacancy @ rites.com
Contenders those who get Training by getting applied through RITES Apprenticeship Recruitment 2020 have multiple Job Opportunities as they have skill. To achieve that skill, all will goes in applying. During the selection process, RITES will do consider both Academic merit and Interview performance for choosing the best contenders for Training. So, all get ready for Interview by preparing the technical skills, because those who gave the best performance in the Interview only have the chance of getting selected for 100 RITES Limited Apprentice Vacancy. And the Training will be provided under Various Departments which are notified on the RITES Apprenticeship Notification 2020. A proper stipend also is given during the One Year Training period.
Also, Check: East Coast Railway Apprentice Result 2020
Useful Links
Official RITES Apprentice Recruitment Notification 2020: Download
Online RITES Apprentice Application Form: Register Now (For ITI Candidates) and Enroll Now (For Diploma and Graduate Candidates)
Contenders even get the utmost data related to RITES Limited Apprentice Jobs of all Trade, Diploma and Graduate Apprentice Posts. So, use that data and RITES Board also informed that all must sign that they will take complete training for one year. Otherwise, the penalty for breaking the stipend period also be applied for those who discontinue the training and this rule is already disclosed with the RITES Apprentice Recruitment Notification 2020 itself.